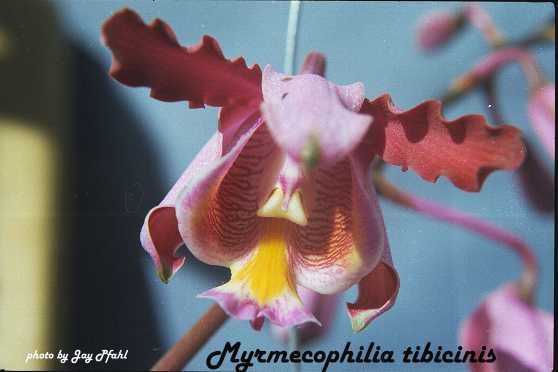 !Myrmecophila tibicinis [Bateman ex Lindley] Rolfe 1917 SUBGENUS Chaunoschomburgkia
Photos by © Jay Pfahl



to


Common Name The Trumpet Player's Myrmecophila
Flower Size 2 to 3" [5 to 7.5 cm]
A giant sized, warm to hot growing epiphyte and sometimes lithophyte with several leaves that is found from Mexico, Guatemala, Belize, Honduras, Costa Rica, Venezuela and Colombia in seasonally dry deciduous forests on trunks and larger branches often in full sun at elevations of 300 to 600 meters, it has huge, 18" [45 cm], sulcate, conic to cylindric pseudobulbs that are hollow and have a entrance at the base so that in the wild there are always ants living in them. There are 2 to 5 apical, elliptic-ovate leaves that blooms in the spring to 15' [450 cm] long, erect, paniculate spikes with the successively opening, fragrant flowers in a cluster at the apex so thought must be put into space so the spikes don't get broken. .
These plants bloom in March or April and can be grown with year round watering although it is better to give less through the winter. These plants must be mounted on a large wood mount as they do not like to be disturbed, and it does not take long for it to cover a branch.
It can be confused with M brysiana but differs in having larger magenta flower with a larger column while M brysiana has much smaller yellow flowers with shorter columns.
The dried pseudobulbs of this species can be fashioned to make a trumpet to call the children home from their playtime hence the common name.
Synonyms Bletia tibicinis [Batem] Rchb.f 1862; Cattleya tibicinis Beer 1854; *Epidendrum tibicinis Bateman ex Lindley 1838; Laelia tibicinis [Batem. ex Lindley] L.O.Wms. 1941; Myrmecophila grandiflora (Lindl.) Carnevali & J.L.Tapia & I.Ramírez 2001; Schomburgkia brysiana var intermedia Jones 1972; Schomburgkia grandiflora (Lindl.) Sander 1901; Schomburgkia intermedia (H.G.Jones) Withner 1993; Schomburgkia tibicinis [Batem. ex Lindley] Batem. 1841; Schomburgkia tibicinis var grandiflora Lindley 1845
References W3 Tropicos, Kew Monocot list , IPNI ; The Orchids of Mexico and Guatemala Bateman 1843 as Schomburgkia tibicinisdrawing fide; Xenia Orchidaceae vol 2 Rchb.f 1862 as Bletia tibicinis; Die Orchideen Schlechter 1915 as Schomburglia tibicinis; Atlas des Orchidees Cultivees Constantin 1920 as Schomburgkia tibicinis drawing fide; AOS Bulletin Vol 26 No 2 1957 as Laelia tibicinis drawing fide; AOS Bulletin Vol 26 No 10 1957 drawing as Laelia tibicinis; AOS Bulletin Vol 28 No 5 1959 as Laelia tibicinis; AOS Bulletin Vol 28 No 10 1959 as Schomburgkia tibicinis photo fide; AOS Bulletin Vol 30 No 9 1961; AOS Bulletin Vol 32 No 1 1963 as Schomburgkia tibicinis photo fide; AOS Bulletin Vol 32 # 10 1963 as Schomburgkia tibicinis; Encyclopedia of Cultivated Orchids Hawkes 1965 as Laelia tibicinis; Flora de Venezuela Foldats Volumen XV Part 3 1970; Die Orchideen 3 Auflage Bd 1 Sonderabdruck aus Schlechter Lieferung 10 576 - 632 Brieger, Maatsch and Senghas 1977; Orquideologia Vol 12 3/4 1977/8 photo plant only; AOS Bulletin Vol 47 No 6 1978; AOS Bulletin Vol 48 No 5 1979 as Laelia tibicinis; Orquídea (Mexico City), n.s., 7[3]: 1979 as Schomburgkia tibicinis; Icones Planetarum Tropicarum plate 1050 Dodson 1984 drawing fide; AOS Bulletin Vol 54 No 6 1985 as Schomburgkia tibicinis photo fide; Flora Novo-Galaciana Vol 16 Orchidaceae Mc Vaugh 1985; An Introdution to the Orchids of Mexico Wiard 1987 photo fide; Orquídea (Mexico City), n.s., 11: 117 1988 as Myrmecophila left photo fide; Cattleyas and Their Relatives Withner Vol 3 1990 drawing/photo fide; Orchids Travel By Air A Pictoral Safari Mulder, Mulder-Roelfsema and Schuiteman 1990 as Schomburgkia tibicinis photo fide; The Manual Of Cultivated Orchid Species Bechtel, Cribb & Launert 1992 photo fide; Native Colombian Orchids Vol 4 COS 1992 photo fide; Icones Planetarum Tropicarum plate 1566 Atwwod 1993 drawing fide; AOS Bulletin Vol 65 No 7 1996 drawing fide; Guatemala Y Sus Orquideas Behar & Tinschert 1998 as Schombergkia tibicinis photo fide; AOS Bulletin Vol 70 No 12 2001 photo fide; Harvard Pap. Bot. 5 #2: Carnevali etal. 2001; Manual de Plantas de Costa Rica Vol 3 Hammel, Grayum, Herrera and Zamora 2003 drawing fide; AOS Bulletin Vol 75 No 3 2006 drawing fide; Orchids of Costa Rica Vol 1 Morales 2009 photo fide; AOS Bulletin Vol 79 #7 2010 photo fide; Orchid Digest Vol 77 #2 2013 photo fide; AOS Bulletin Vol 82 #11 2013 photo fide; Guia de Orquideas de Chiapas Carlos Rommel Beutelspacher Baigts 2013 photo fide; Orchid Digest Vol 78 #3 2014 photo fide; Orchid Digest Vol 80 #1 2016 photo fide; AOS Bulletin Vol 85 #9 2016 photo fide; Orchid Genera and Species in Guatemala Archila, Szlachchetko, Chiron, Lipinska, Mystkowska and Bertolini 2018; Vanishing Beauty, Native Costa Rican Orchids Vol 2 Lacaena to Pteroglossa Pupulin 2020 photo fide
--------------------------------------------------------------------------------------
--------------------------------------------------------------------------------------