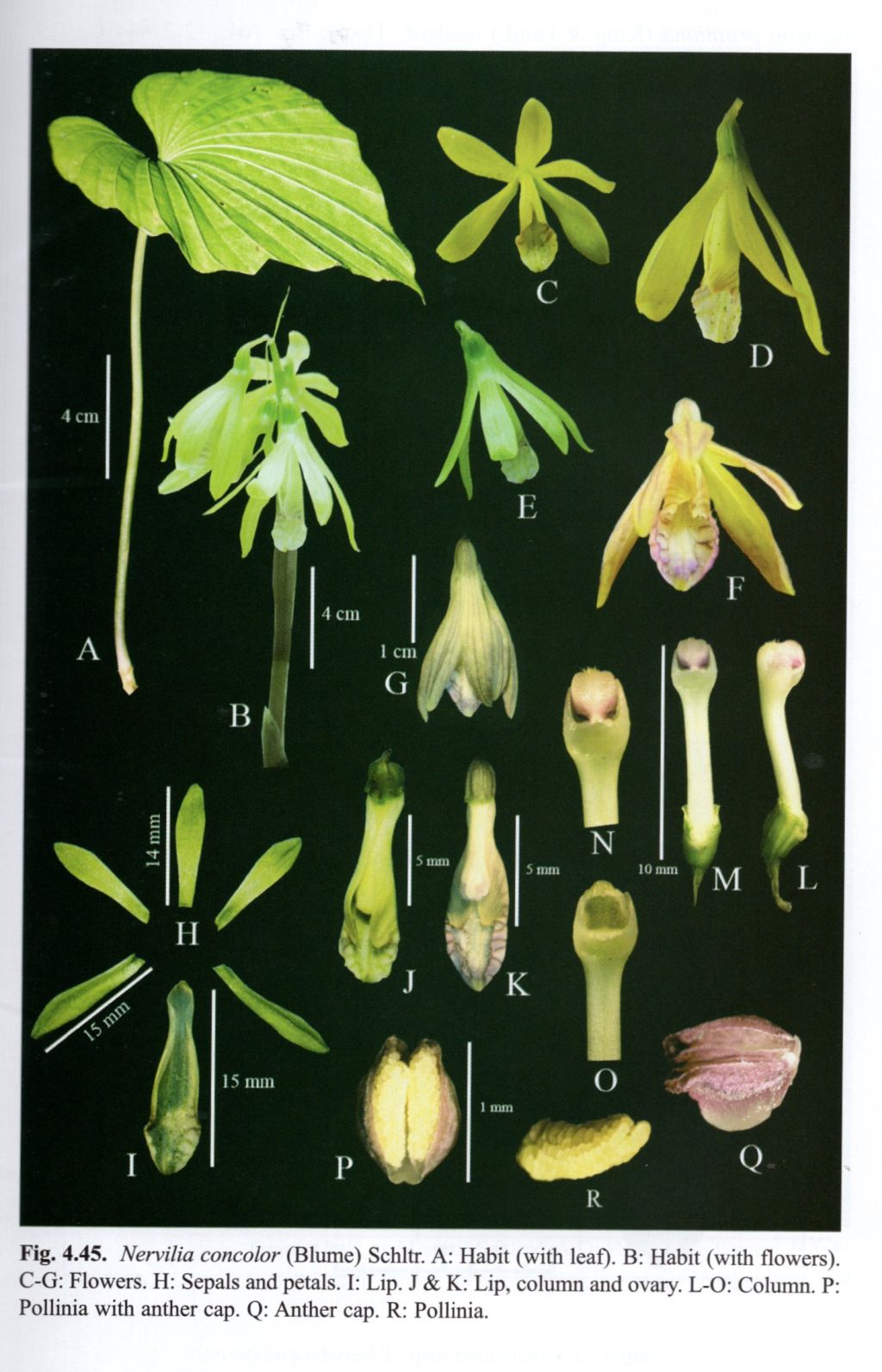 Nervilia concolor (Blume) Schltr. 1911 SECTION Nervilia
LCDP Photo by © Jeewan Singh Jalal
Photo by © Ka Dai
Photos by Donald Tan
Photo courtesy of Andy's Orchids Copyright © 2002 All rights reserved.





Common Name The Single Colored Nervilia - Australia - The Tall Sheild Orchid - In Thailand Wan phra chim - in China Guang Bu Yu Lan
Flower Size 1" [2.5 cm]
Found from Bangladesh, eastern Himalayas, India, Nepal, Pakistan, western Himalayas, Chinese Himalayas, Andaman Islands, Laos, Myanmar, Thailand, Vietnam, Borneo, Java, Sumatra, Lesser Sunda Islands, Malaysia, Mollucas, Philipines, Sulawesi, Papua and New Guinea, Solomon Islands, Queensland Australia, Fiji, Niue, New Caledonia, Samoa, Tonga, Vanuatu, Wallis & Futna, Marianas, the Carolines and Taiwan in rainforests at elevations of sealevel to 2300 meters as a miniature to small sized, hot to cold growing terrestrial with 1" [2.5 cm] tubers each producing a single, long petiole, widely plicate, kidney-shaped, light green leaf with radiating veins and a concentric semi-circle of brown blotches around the middle of the leaf, and blooms on an erect, to 12" [to 30 cm] long, few flowered inflorescence that arises in the spring and summer with the rather nondescript flowers appearing before the leaf emerges.
Varies greatly within it's large range, with larger and smaller lips, with more or less ornamentation through the mid lobe and diferent shapes to the trilobed, lip apex,
In India and the Malaysian penninsula leaves of this species are boiled and then drinking the liquid after childbirth to alleviate potential illnesses.
Synonyms Aplostellis aragoana [Gaud.] Ridl. 1924; Aplostellis flabelliformis [Lindl] Ridl. 1924; *Cordyla concolor Blume 1825; Epipactis carinata Roxb. 1832; Nervilia aragoana Commons ex Gaudich. 1826; Nervilia carinata (Roxb.) Schltr. 1911; Nervilia flabelliformis [Lindl.]Tang & Wang 1951; Nervilia scottii (Rchb.f.) Schltr. 1911; Nervilia tibetensis Rolfe 1913; Nervilia yaeyamensis Hayata 1912; Pogonia carinata (Roxb.) Lindl. 1840; Pogonia concolor (Blume) Blume 1849; Pogonia flabelliformis Lindl. 1840; Pogonia gracilis Bl 1858; Pogonia nervilia Bl. 1849; Pogonia scottii Rchb.f. 1872; Roptrostemon concolor (Blume) Lindl. 1840
References W3 Tropicos, Kew Monocot list , IPNI ; A Century of Indian Orchids Vol 5 Hooker 1895 as Pogonia scottii drawing fide; A Century of Indian Orchids Vol 5 Hooker 1895 as Pogonia carinata drawing fide; Orchids of Burma Grant 1895/1995 as Pongonia [sic] carinata and Pongonia [Sic] flabelliformis and Pongonia [sic] scottii; The Orchids of Sikkim-Himalaya Part 1 King & Pantling 1898 as Pogonia scottii drawing fide; Die Orchideen Von Java J.J.Smith 1905 as Pogonia gracilis; Die Orchideen Von Java J.J.Smith 1905 as Pogonia flabelliformis; The Orchids of North-Western Himalaya Vol IX Part II Duthie 1906 as Pogonia flabelliformis drawing fide; The Orchids of North-Western Himalaya Vol IX Part II Duthie 1906 as Pogonia carinata drawing fide; Die Orchideen Von Java Figuren Atlas J.J.Smith 1908 as Pogonia flabelliformis drawing ok?; Icones plantarum formosanarum nec non et contributiones ad floram formosanam Hayata 1912 as N yaeyamensis; The Orchidaceae of German New Guinea Schlechter 1914/1985 drawing good; Die Orchideen Schlechter 1915; AOS Bulletin Vol 27 No 10 1958 drawing as Pogonia scotii; AOS Bulletin Vol 28 No 4 1959; The Orchids of Thailand Seidenfaden & Smitinand 1959 drawing fide; The Orchids of Thailand Seidenfaden & Smitinand 1959 as N concolor; The Orchids of Thailand Seidenfaden & Smitinand 1965 corrections; Encyclopedia of Cultivated Orchids Hawkes 1965; Orchids of Southern Ryukyu Islands Garay & Sweet 1974; Die Orchideen 3 Auflage Bd 1 Sonderabdruck aus Schlechter Lieferung 7 385 - 448 Brieger, Maatsch and Senghas 1975; Indian Orchids, Guide to Identification and Culture Pradhan 1976 drawing fide; Indian Orchids, Guide to Identification and Culture Pradhan 1976 as N carinata drawing fide; Flore de la Nouvelle-Caledonie et Dependences Vol 8 Orchidaceae Halle 1977 drawing fide; AOS Bulletin Vol 47 No 6 1978; Dansk Botanisk Arkiv Bind 32 nr 2 Orchids of Thailand VI Neottiideae Seidenfaden 1978 drawing fide; The Complete Writings on Philippine Orchids Vol 1 Quisumbing 1981; Orchidiana Philipiniana Vol 1 Valmayor 1984; Orchids of Nilgiris Joseph 1987 drawing fide; Orchids of Vanuatu Lewis & Cribb 1989; Orchids of Java Comber 1990 photo fide; The Orchids of the Solomon Islands and Bougainville Lewis & Cribb 1991; Ferns and Orchids of the Mariana Islands Raulerson & Rinehart 1992 photo fide; The Orchids of Penninsular Malaysia and Singapore Wood & Seidenfaden 1992 drawing/photo maybe; Identification of the Orchids [Orchidaceae Juss.] Vietnam Averyanov 1994; The Orchids of Samoa Cribb & Whistler 1996 photo fide; Orchids of Sumatra Comber 2002 photo fide; Orchid Flora Of Kamrup District Assam Iswar Chandra Barua 2001 drawing fide; A field Guide to the Wild Orchids of Thailand Vaddhanaphuti 2001 photo hmm; Lindleyana Vol 17 No 1 2002; Orchids of Bhutan Pearce & Cribb 2002; Flora Malesiana Orchids of the Philippines Vol I Agoo, Shuiteman and de Vogel 2003; A field Guide to the Wild Orchids of Thailand Vaddhanaphuti 2005 photo fide; Flora Malesiana; Orchids of New Guinea Vol IV Schuitman, deVogel 2006; Native Orchids of Australia Jones 2006 photo fide; AOS Bulletin Vol 76 #7 2007 photo fide; The Orchids of India A Glimpse Misra 2007 drawing leaf only ok; Orchids of India A Glimpse Misra 2007 as N scottii; Native Orchids From Gaoligongshan Mountains, China Xiaohua, Xiaodong and Xiaochun 2009 photo collection sheet; A Field Guide to the Orchids of China Singchi, Zhongjian, Yibo, Xiaohua and Zhanhuo 2009 plant only photo ok; Flora of China Vol 25 Zhengyi, Raven & Deyuan 2009; Flora of China Vol 25 Illustrations Zhengyi, Raven & Deyuan 2010 drawing fide to the first photo; The Wild Orchids in Yunnan Xu Xiang Ye & Liu 2010 photos fide; Lankestriana 11(2): 99-177 Whistler & Cribb 2011 photo fide; Turczaninowia 2011, 14(2) : 15–100 Averyanov 2011 drawing/photo fide; Orchids of Odisha Misra 2014 as N aragoana drawing/photo fide; Orchids of Odisha Misra 2014 as N scottii drawing fide; LANKESTERIANA 15(1): 7—50. Jeewan Singh Jalal & J. Jayanthi 2015; AOS Bulletin Vol 86 #3 2016 drawing fide; Turczaninowia 19 (3): 5–58 L. V. Averyanov, Khang Sinh Nguyen etal 2016 ; Lankesteriana Vol 18 [1]: 23–62 Jalal & Jayanth 2018 photo fide; Orchids of Maharashtra Jalal 2018 photo fide; Atlas of Native Orchids of China Vol 1 Jin Xiaohua, Li Jianwu and Ye Deping 2019 photo fide;
--------------------------------------------------------------------------------------------------------------------------
-----------------------------------------------------------------------------------------------------------------------------------------