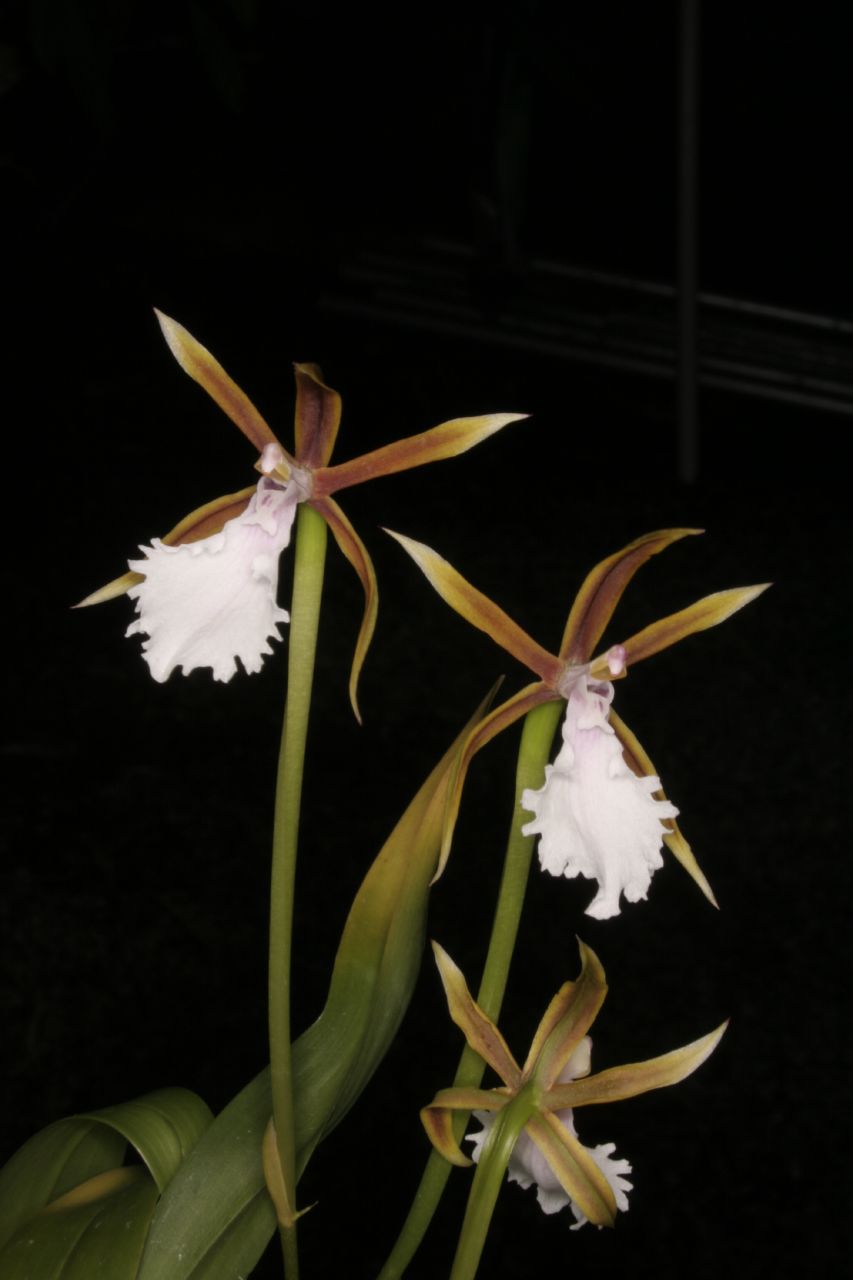 Rhynchostele stellata (Lindl.) Soto Arenas & Salazar 1993 Photo by © Lourens Grobler
Photo by © Eric Hunt
Plant and Flowers in situ in Mexico
Photo by © Weyman Bussey


to


Common Name The Star-Like Rhynchostele
Flower Size 2" [4 to 5 cm]
This species is found in Mexico, Guatemala, Honduras, Costa Rica, Panama and Venezuela as a small sized, cold to cool growing, miniature epiphyte and is found on trees in cloud forests at elevations of 1700 to 3000 meters with ovoid-ellipsoid to cylindrical, slightly laterally compressed pseudobulbs completely enveloped basally by several sheaths that with age dry out and carrying narrowly elliptic to oblanceolate or linear-ligulate, subobtuse to acuminate, narrowed and conduplicate towards the base leaves that blooms in the spring with one or two flowers per erect, axillary, 3 to 6" [8 to 15 cm] long, racemose inflorescence with inconspiculously fragant flowers arising on mature psuedobulbs.
This species has fine roots that are best potted into a fine bark medium where if given good shade and ample water to keep the plant from drying out will create a speciemen plant rapidly as several new psuedobulbs will be created each growth season. A lessening of water is nessasary in the winter months to ensure a good bloom season. This species needs shade and an indicator of too much light is a yellowing of the leaves.
This plant is used in tzotzil folk medicine.
Synonyms Amparoa stellata (Lindl.) Archila 2009; Cymbiglossum stellatum (Lindl.) Halb 1983; Lemboglossum stellatum [Lindley] Halb. 1984; Odontoglossum erosum A. Rich. & Gal. 1845; *Odontoglossum stellatum Lindl. 1841; Oncidium erosum Beer 1854
References W3 Tropicos, Kew Monocot list , IPNI ; Lankester's Epidendra Website CR ; Bonplandia Rchb.f 1854 as O erosum; AOS Bulletin Vol 31 No 7 1962 as Odontoglossum stellatumphoto fide; Encyclopedia of Cultivated Orchids Hawkes 1965 as Odontoglossum stellatum; Venezuelan Orchids Illustrated Vol 4 Dunsterville & Garay 1966 as Odontoglossum stellatum drawing fide; Flora de Venezuela Volumen XV Part 5 Foldats 1970 as Odontoglossum stellatum drawing fide; Las Orquedias De El Salvador Vol 2 Hamer 1974 as Odontoglossum stellatum drawing/photo fide; Orchids of Venezuela, An Illustrated Field Guide Vol 2 Dunsterville & Garay 1979 as Odontoglossum stellatum drawing fide; Las Orquedias de El Salvador Vol 3 Hamer 1981 drawing fide; ORQUIDEA (Méx. ) 8(2) Hagsater 1982 as Odontoglossum stellatum drawing/photo fide; ORQUIDEA (Méx.) 9(2): Halbinger 1984 as Lemboglossum stellatum; Selbyana Vol 10 Orchids of Central America Hamer 1988 as Lemboglossum stellatum drawing fide; *Orquídea (Méx.) 13(1-2): 151. Soto, Salazar y Rojas 1993; Rudolf Schlechter Die Orchideen Band 1C lieferung 33 - 36 2057 - 2308 Brieger 1997 drawing/photo fide; Guatemala Y Sus Orquideas Behar & Tinschert 1998 as Lemboglossum stellatum photo fide; Fieldiana Biology, Flora Costa Ricensis Family # 39 Orchidaceae, subtribes Maxillariinae and Oncidiinae Atwood & Mora 1999 drawing fide; Orchids of Venezuela [An illustrated field guide] Vol. 3 Ramiro and Carnevali 2000 drawing fide; The Pictoral Encyclopedia of Oncidium Zelenko 2002; Manual de Plantas de Costa Rica Vol 3 Hammel, Grayum, Herrera and Zamora 2003; Orchid Species Culture: Oncidium, Bakers 2006; Orquideologia Vol 25 #1 2007 photo fide; AOS Bulletin Vol 76 No 5 2007 photo fide; Icones Orchidacearum fascile 10 plate 1084 Hagsater & Soto 2008 drawing fide; Mille et Une Mini Orchideees Roguenant 2009 photo fide; Guia de Orquideas de Chiapas Carlos Rommel Beutelspacher Baigts 2013 photo fide; AOS Bulletin Vol 83 #9 2014 photo fide; Orchid Genera and Species in Guatemala Archila, Szlachchetko, Chiron, Lipinska, Mystkowska and Bertolini 2018
--------------------------------------------------------------------------------------------------------------------------
---------------------------------------------------------------------------------------------------------------------