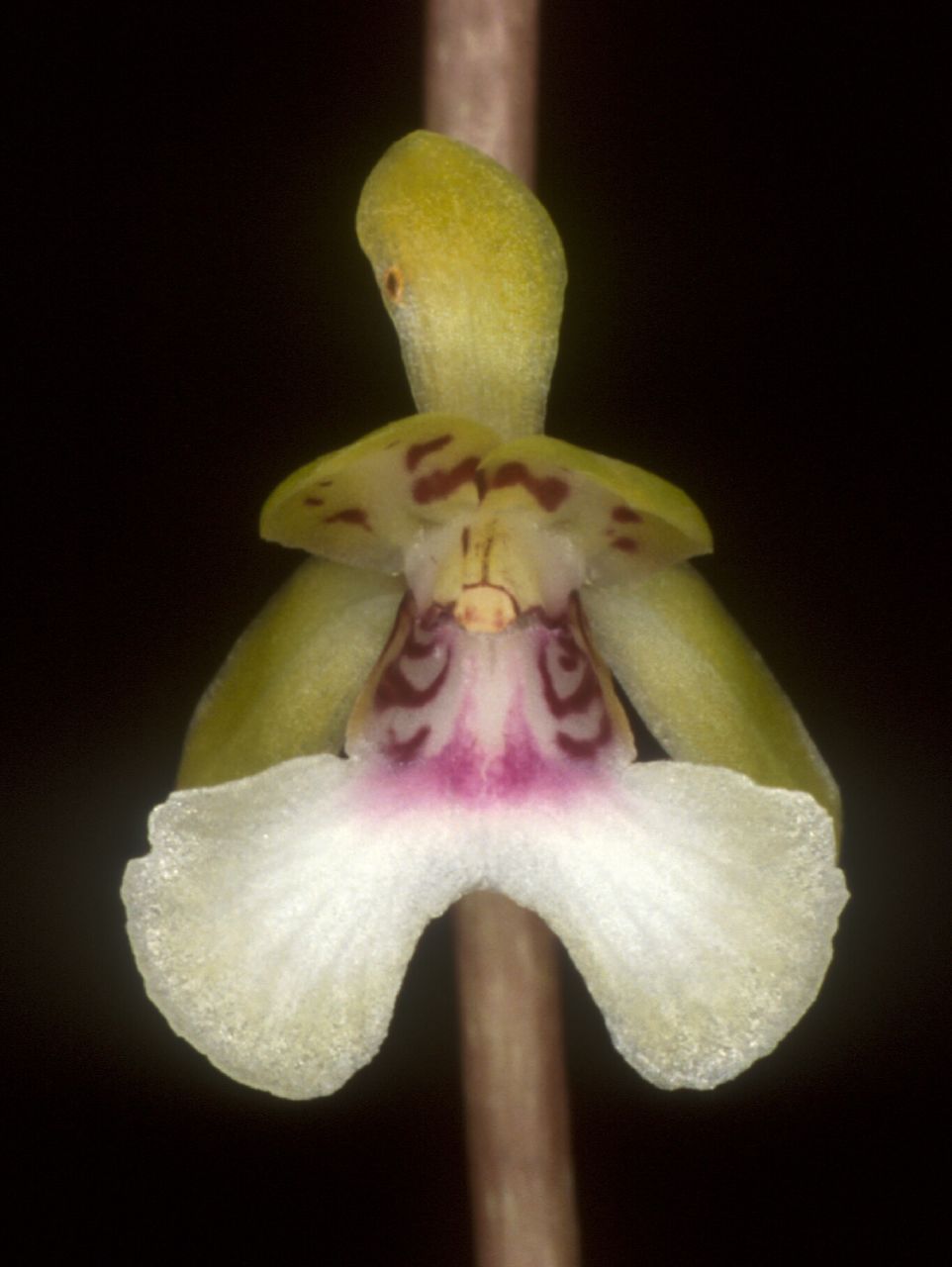 Oeceoclades cordylinophylla (Rchb.f.) Garay & P.Taylor 1976 Photos by © Lourens Grobler.




Common Name The Cordyline-Like Leaf Oeceoclades [A plant in the Lilacaeae]
Flower Size .55" [1.4 cm]
Found in Madagascar and Comoros as a large sized, warm to cool growing terrestrial or lithophyte in deep shade on rocks with close set, adpressed, conical pseudobulbs carrying a single, apical, erect, widely elliptical, acute, coriaceous, finely veined, basally rounded or obtuse into the elongate, terete, petiolate base leaf that blooms in the summer on an erect, arising before the pseduobulb, 16 to 20" [40 to 50 cm] long, narrowly paniculate, several to many flowered inflorescence with branches that can carry shorter secondary, thin branches and 4, thin, distant sheaths.
Synonyms *Eulophia cordylinophylla Rchb.f. 1885; Eulophia lokobensis H.Perrier 1935; Eulophidium cordylinophyllum (Rchb.f.) Summerh. 1957; Eulophidium lokobense (H.Perrier) Summerh. 1957; Lissochilus cordylinophyllus (Rchb.f.) H.Perrier 1941; Lissochilus lokobensis (H.Perrier) H.Perrier 1941
References W3 Tropicos Kew Monocot list , IPNI ;Flora of Madagascar Perrier 1938/85 as Lissochilus cordylinophyllus; Flora of Madagascar Perrier 1939/81 as Lissochilus cordylinophyllus; Flora of Madagascar Perrier 1939/81 as Lissochilus lokobensis Drawing ok; The Manual Of Cultivated Orchid Species Bechtel, Cribb & Launert 1992; Orchids of Madagascar Hermans, Du Puy, Cribb & Bosser 2007 photo fide; Orchid Digest Vol 72 #2 2008 photo fide; Field Guide to the Orchids of Madagascar Cribb & Hermans 2009 photo fide
--------------------------------------------------------------------------------------------------------------------------