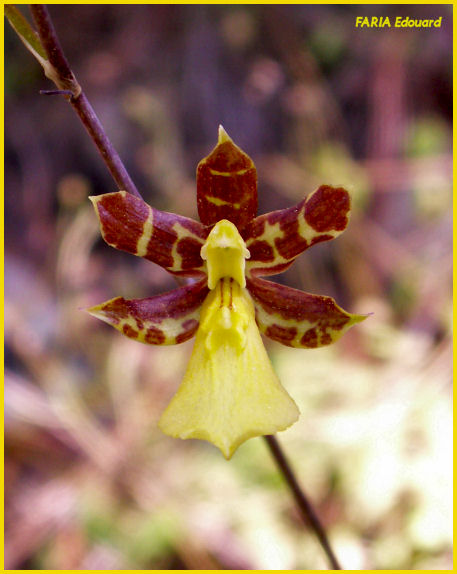 Oncidium graminifolium (Lindl.) Lindl. 1841 SECTION Concoloria
Photo by © Edouard Faria.
Photo by © Noble Bashor.
Photo courtesy of Andy's Orchids Copyright © 2002 All rights reserved.
Photo by © Weyman Bussey




to

Common Name The Grass Leafed Oncidium
Flower Size 3/4" [2 cm]
Found in south western Mexico, Guatemala and Honduras species from dry pine forests at elevations of 1100 to 2500 meters as a small sized, warm to cool growing, terrestrial with ovoid to elliptic, compressed, sulcate, pale green pseudobulb with 4 to 6 basal, subcoriaceous sheaths with the uppermost being leaf-bearing and 2 to 3 apical, narrowly linear-elliptic, deciduous leaves that blooms in the summer through spring on a racemose, sometimes branched, 12 to 30 " [30 to 75 cm] long, erect to arcuate inflorescence arising on a mature pseudobulb with triangular, scarious bracts that has 7 to 15, successively opening, showy flowers which open 2 to 5 at a time all placed at the apex of the inflorescence.
This species is considered by many to be O. brachyandrum but others separate this as a species because it is a terrestrial, has succesive flowers and etal. and the other is epiphytic and has simultaneously opening flowers.
Synonyms Concocidium graminifolium (Lindl.) Romowicz & Szlach. 2006; *Cyrtochilum graminifolium Lindley 1840; Cyrtochilum filipes Lindley 1841; Oncidium filipes [Lindley]Lindley 1855; Oncidium graminifolium var. filipes (Lindl.) Lindl. 1855; Oncidium graminifolium var. holochilum Lindl. 1855; Oncidium graminifolium var. wrayae (Hook.) Lindl. 1855; Oncidium wraye Hook. 1841
References W3 Tropicos, Kew Monocot list , IPNI ; Die Orchideen Schlechter 1915; Atlas des Orchidees Cultivees Constantin 1920 drawing fide; Das Pflanzanreich Regni Vegetabilis Conspectus Odontoglossum/Oncidium Kranzlin 1922; Las Orquedias de El Salvador Vol 3 Hamer 1981 drawing ok; Flora Novo-Galaciana Vol 16 McVaugh 1985; An Introdution to the Orchids of Mexico Wiard 1987 photo fide; Icones Orchidacearum I Plate 72 Hagsater & Salazar 1990 drawing fide; Rudolf Schlechter Die Orchideen Band 1C lieferung 33 - 36 2057 - 2308 Brieger 1997 photo fide; Rudolf Schlechter Die Orchideen Band 1C lieferung 44-45 pg 2763 - 2898 Brieger 2001 as Trigonidium graminifolium photo not?; Orquideas del Estado de Morelos ORQUÍDEA (MÉX.) VOLUMEN 16 NÚMERO ÚNICO enero 2002 drawing/photo fide; The Pictoral Encyclopedia of Oncidium Zelenko 2002; AOS Bulletin Vol 72 No 7 2003 photo fide; Oncidium Vol 1 Koniger 2004 photo/drawing fide; Orchid Species Culture: Oncidium, Bakers 2006; Orchid Digest Vol 71 #2 2007 photo fide; Algunas Orquideas de Mexico Tomo 1 Suarez 2013 photo fide; Orchid Genera and Species in Guatemala Archila, Szlachchetko, Chiron, Lipinska, Mystkowska and Bertolini 2018
--------------------------------------------------------------------------------------------------------------------------
---------------------------------------------------------------------------------------------------------------------