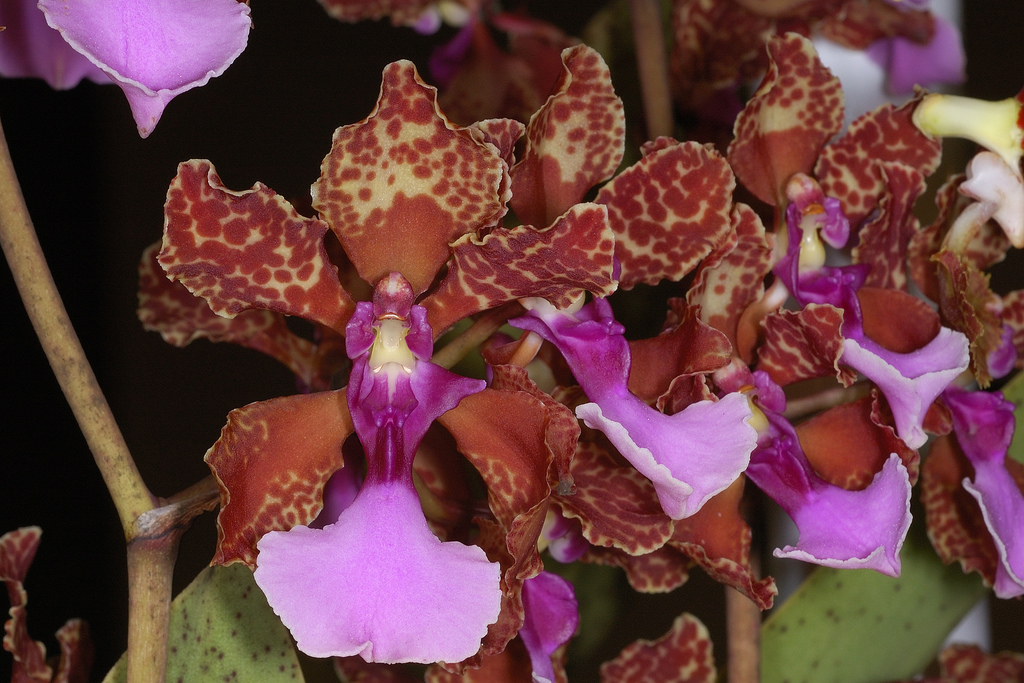 !Lophiaris lanceana (Lindl.) Braem 1993 SECTION Plurituberculata Photo by © Eric Hunt and His Orchid Website.
Flower Closeup Photo by Jay Pfahl



To


and

Common Name Lance's Lophiaris [English Orchid Enthusiast 1800's]
Flower Size 2 1/2" [6.2 cm]
Found in Ecuador, Colombia, Venezuela, the Guianias and Trinidad at elevations of 300 to 500 meters as a medium sized, hot to cool growing plant lacking or with minute pseudobulbs carrying a single apical, coriaceous, oblong-lanceolate, green spotted purple, mule ear leaves that blooms in the summer and fall with fragrant, waxy, long-lasting, variable colored flowers on a basal, 1 1/2' [45 cm] long, few to many [10 to 12] flowered, stout panicle with grey-brown, basal sheaths.
Synonyms Lophiaris fragrans Raf. 1838; Oncidium lanceanum Lindley 1842; Oncidium lanceanum f. aureum Christenson 1991; Trichocentrum lanceanum (Lindl.) M.W.Chase & N.H.Williams 2001
References W3 Tropicos, Kew Monocot list , IPNI ; Symbolae Antillanae Vol VI Orchidaceae Urban 1909 as Oncidium lanceana; Die Orchideen Schlechter 1915 as Oncidium lanceanum; Atlas des Orchidees Cultivees Constantin 1920 as Oncidium lanceanum drawing fide; Das Pflanzanreich Regni Vegetabilis Conspectus Odontoglossum/Oncidium Kranzlin 1922 as Oncidium lanceanum; Iconografia de Orchidaceae Do Brasil Hoehne 1949 as Oncidium lanceanum drawing fide; AOS Bulletin Vol 26 No 7 1957 photo as Oncidium lanceanum; AOS Bulletin Vol 27 no 5 1958 drawing as Oncidium lanceanum; Venezuelan Orchids Illustrated Vol 1 Dunsterville & Garay 1959 as Oncidum lanceanum drawing fide; Native Orchids of Trinidad Schultes 1960 as Oncidium lanceanum; AOS Bulletin Vol 32 No 7 1963 photo as Oncidium lanceanum; AOS Bulletin Vol 32 No 10 1963 as Oncidium lanceanum; Encyclopedia of Cultivated Orchids Hawkes 1965 as Oncidium lanceanum; Flora de Venezuela Volumen XV Part 5 Foldats 1970 drawing fide; Orchidaceae Brasilenses Band 2 Pabst & Dungs 1977 as Oncidium lanceanum drawing fide; Orchids of Venezuela, An Illustrated Field Guide Vol 2 Dunsterville & Garay 1979 as Oncidium lanceanum drawing fide; Fieldiana Biology, Vol 33, 1st Supple. to the Orchids of Peru Schweinfurth 1970 as Oncidium lanceanum; AOS Bulletin Vol 48 No 3 1979 photo; Orquideologia Vol 13 No 3 1979; Orchid Digest Vol 46 No 4 1982 photo fide as Oncidium lanceanum; The Orchids of Surinam Werkhoven 1986 as Oncidium lanceanum photo fide; AOS Bulletin Vol 56 No 3 1987 photo; Venezuelan Orchids Dunsterville 1987 drawing/photo fide; Icones Planetarum Tropicarum Series II Orchids of Peru Plate 0131 Dodson & Bennett 1989 drawing fide; Orchids Travel By Air A Pictoral Safari Mulder, Mulder-Roelfsema and Schuiteman 1990 as Oncidium lanceanumphoto fide; Native Colombian Orchids Vol 3 COS 1991 as Oncidium lanceanum photo fide; *Schlechteriana Vol 4 No 1/2 1993; Rudolf Schlechter Die Orchideen Band 1C lieferung 33 - 36 2057 - 2308 Brieger 1997 photo fide; Venezuela; Paraiso de Orquideas Romero 1997 as Oncidium lanceanum photo fide; Orchids of Venezuela [An illustrated field guide] Vol. 1 Ramiro and Carnevali 2000 drawing fide; Lindleyana Vol 16 No 2 2001 as Trichocentrum lanceanum; Native Ecuadorian Orchids Vol 4 Dodson 2003 as Oncidium lanceanum photo fide; Flora of the Venezuelan Guayana Vol 7 Steyermark, Berry, Yatskievych and Holst 2003 as Trichocentrum lanceanum; Orquideologia Vol. 23 No 2 2004 as Oncidium lanceanum; AOS Bulletin Vol 74 No 11 2005 photo; Orchid Species Culture: Oncidium, Bakers 2006 as Lophiaris lanceana ; The Pictoral Encyclopedia of Oncidium Zelenko 2002 as Trichocentrum lanceanum; Orchid Species Of Peru Zelenko & Bermudez 2009 photo fide as Trichocentrum lanceanum; Orquideas de Roirama Luz & Franco 2012 photo fide;
--------------------------------------------------------------------------------------------------------------------------