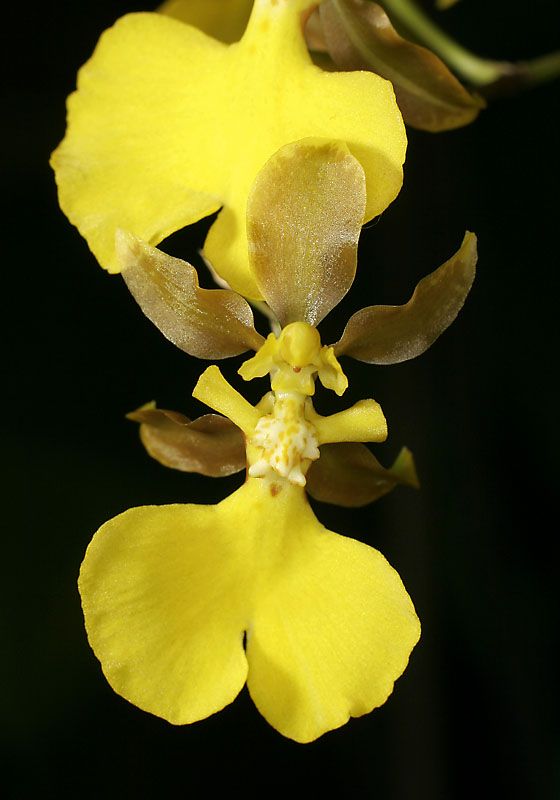 Oncidium suave Lindl. 1843 SECTION Oblongata
Photo by © Kjell Nilsson
Photo courtesy of Weyman Bussey



and EARLY

Common Name The Gentle Oncidium
Flower Size 1/2"+
Found in Mexico at elevations around 1600 meters as a medium sized, cool growing epiphyte with close set, laterally compressed, ancipitous psedudobulbs carrying 2, apical, membranaceous, linear-lanceolate, acute leaves that blooms in the fall and rearly winter on a 2 to 4' [60 to 240 cm] long, thin, wirey, widely paniculate, laxly many flowered inflorescence.
Separated from others in the O reflexum group by the smaller flowers, a little over half an inch, the long, 2-4 foot wiry inflorescence with spaced out flowers. It blooms in the fall and early winter.
CAUTION Many sources cite this species as a synonym of O reflexum, I leave them separate until more references and photos are available.
Synonyms Oncidium liebmannii Rchb.f. ex Kraenzl. 1922; Oncidium wendlandianum Rchb. f. 1854
References W3 Tropicos, Kew Monocot list , IPNI ; Die Orchideen Schlechter 1915; Atlas des Orchidees Cultivees Constantin 1920 drawing good; Das Pflanzanreich Regni Vegetabilis Conspectus Odontoglossum/Oncidium Kranzlin 1922; The Pictoral Encyclopedia of Oncidium Zelenko 2002; Algunas Orquideas de Oaxaca Suarez 2004 photo fide; Orchid Species Culture: Oncidium, Bakers 2006 as O reflexum; Oncidium Vol 3 Koniger 2007 as syn of O reflexum; Oncidium Vol 3 Koniger as O reflexum; Algunas Orquideas de Mexico Tomo 1 Suarez 2013 photo fide
--------------------------------------------------------------------------------------------------------------------------