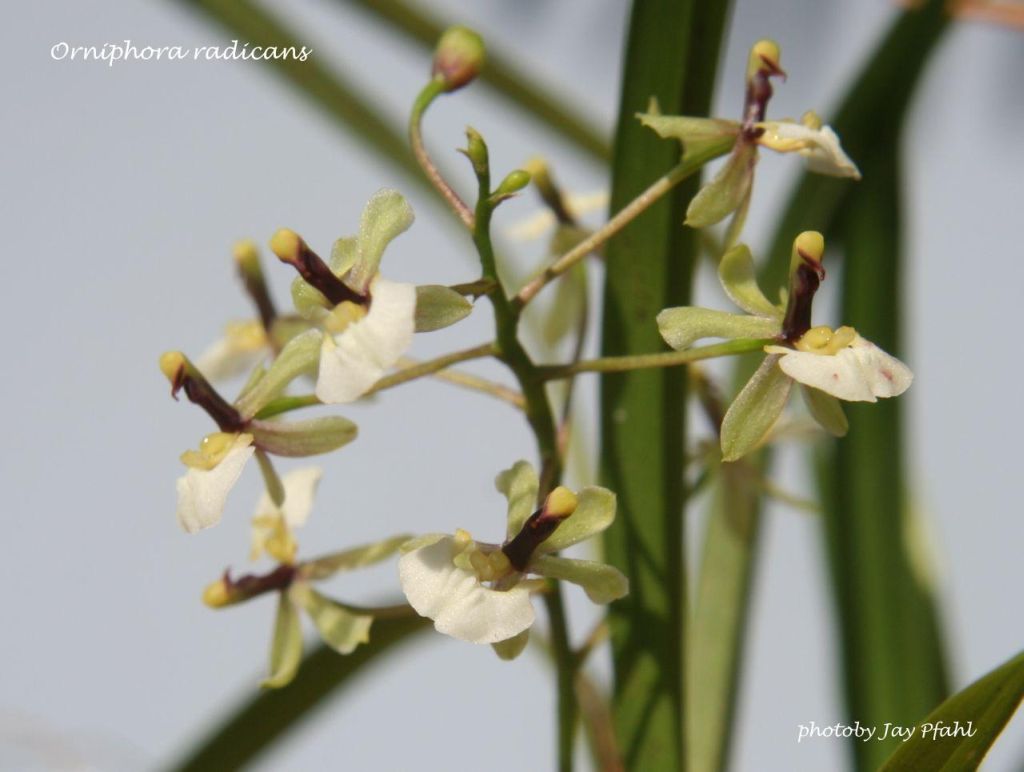 !Ornithophora radicans (Rchb. f.) Garay & Pabst 1951
Inflorescence Photos by © Jay Pfahl.
Front View Photo by © Andy's Orchids Copyright © 2002 All rights reserved.
Another Clone Photo by © Jay Pfahl.
Inflorescence Photo by © Bill Bergstrom



to


and

Common Name The Ground Rooting Ornithophora
Flower Size 1/4" [5mm to 1 cm]
Found in Espirito Santo, Rio de Janiero, Sao Paulo, Parana, Santa Catarina and Rio Grande do Sul states of Brazil near the coast at elevations around 400 meters as a miniature sized, warm to hot growing epiphyte with thin, narrow, oblong-ligulate, compressed, ancipitous pseudobulbs subtended basally by several, distichous, leaf-bearing sheaths and carrying 2 apical, grasslike, cuneate, linear-ligulate, acute, membraneous leaves that blooms in the summer and fall on an arching, slender, 7" [18 cm] long, loosely several flowered inflorescence carrying tiny fragrant honey scented flowers.
Best grown on a slab of tree fern in warm to cool temperatures, moderate shade and kept moist year round except for a short dry rest after the pseudobulb has matured.
Synonyms Gomesa radicans (Rchb.f.) M.W.Chase & N.H.Williams 2009; Ornithophora quadricolor Barb. Rodr. 1882; *Sigmatostalix radicans Rchb. f. 1864
References W3 Tropicos, Kew Monocot list , IPNI ; Die Orchideen Schlechter 1915 as Sigmatostalix radicans; Das Pflanzanreich Regni Vegetabilis Conspectus Odontoglossum/Oncidium Kranzlin 1922 as Sigmatostalix radicans; Iconografia de Orchidaceae Do Brasil Hoehne 1949 as SIgmatostalix radicans drawing fide; Encyclopedia of Cultivated Orchids Hawkes 1965 drawing fide; AOS Bulletin Vol 37 # 6 1968 as Sigmatostalix radicans photo fide; AOS Bulletin Vol 39 No 3 1970; Orchidaceae Brasilense Band II Pabst & Dungs 1977 drawing fide; Orchids Travel By Air A Pictoral Safari Mulder, Mulder-Roelfsema and Schuiteman 1990 photo fide; The Manual Of Cultivated Orchid Species Bechtel, Cribb & Launert 1992 photo fide; Orchid Digest Vol 58 No 4 1994 photo fide; Rudolf Schlechter Die Orchideen Band 1C lieferung 33 - 36 2057 - 2308 Brieger 1997 drawing/photo fide; AOS Bulletin Vol 71 No 4 2002 photo fide; Orchid Species Culture, Odontoglossum/Oncidium Bakers 2005; AOS Bulletin Vol 76 No 8 2007 photo fide; Australian Orchid Review Vol 73 No 2 2008 photo; Mille et Une Mini Orchideees Roguenant 2009 photo fide; Orchids of Brazil Vol 1 Oncidinae Baptista, Harding & Neto 2011 photo fide; Orchid Digest Vol 80 #2 2016 as Gomesa radicans; AOS Bulletin Vol 87 #10 2018 as Gomesa radicans photo fide;
--------------------------------------------------------------------------------------------------------------------------