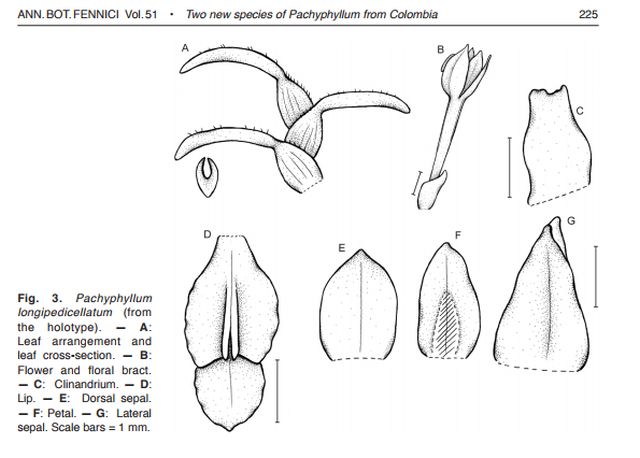 Pachyphyllum longipedicellatum Szlach., Kolan. & Oledrz. 2014 TYPE Drawing by © Szlach. & Kolan. & Oledrz.
Comparison drawing with P hagsateri



Common Name The Long Pedicel Pachyphyllum
Flower Size .12" [3 mm]
Found in Colombia at elevations around 3250 meters as a miniature sized, cold growing epiphyte with a somewhat fractiflex, delicate, branching in the lower part, rather distantly leaved stem enveloped by rounded apically, densely cilate along the margin leaf base sheaths carrying oblong, obtuse, conduplicate, canaliculate, thick, leathery, ciliate margin leaves that blooms in the winter on an axillary, longer than the leaves, few flowered inflorescence with ovate-triangular, acute, margin entire floral bracts and carrying inconspicuous flowers.
"Shallowly and distantly 3-lobed. This species resembles P. hagsateri from which it may be distinguished by the 3–4 times longer pedicel, the shortly clawed lip with erose margins, the elliptic-suborbicular dorsal sepal, the conical-ovoid clinandrium, the narrow leaves with ciliate margins, and by the ciliate margins of the leaf sheaths. In P. hagsateri the lip is sessile and its margins are entire, the dorsal sepal is oblong-ovate, the clinandrium is triangular and its leaves are ovate-elliptic, with entire, recurved margins of the leaf sheaths" Szlach., Kolan. & N. Ol?drzy?ska 2014
Synonyms Fernandezia longipedicellata (Szlach., Kolan. & Oledrz.) Molinari & Mayta 2015
References
W3 Tropicos, Kew Monocot list , IPNI ; *Ann.BOT.Fennici Vol.51 Szlach., Kolan. & Oledrz 2014 and