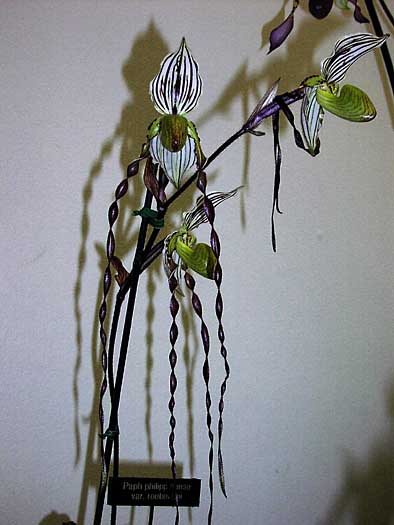 Paphiopedilum roebbelenii [Rchb.f] Pfitzer 1894 SUBGENUS Polyantha SECTION Mastigopetalum Photo courtesy of Eric Hunt, plant grown by Vintage Orchids



Common Name Robbelen's Paphiopedilum [German Orchid Collector 1800's]
Flower Size to almost 9" [to 22.5 cm]
Found on Luzon Island of the Philippines as a medium sized, hot growing epiphyte with clear green, ligulate, leathery leaves that blooms in the spring on an erect, pubescent, to 20" [50 cm] long, several flowered inflorescence with elliptic, pubescent floral bract.
This species is similar in all aspects to P philippinense except this one has larger flowers with longer petals [13 cm].
Synonyms Cypripedium cannartianum Linden 1888; Cypripedium philippinense var. roebelenii H.J.Veitch 1881; Cypripedium roebelenii (H.J.Veitch) Rchb.f. 1883; Cypripedium roebbellini var cannartianum Linden 1888; Paphiopedilum philippinense var roebelinii [Rchb.f] Cribb 1987; Paphiopedilum philippinense [Rchb.f] Stein var cannartianum [Linden] Pfitzer 1903
References W3 Tropicos, Kew Monocot list , IPNI ; Xenia Orchidaceae Vol 3 Reichenbach 1893 as Cypripedium roebelinii drawing fide; Orchid Digest Vol 44 No 5 1980 photo fide; AOS Bulletin Vol 51 No 10 1982 photo; Orchid Digest Vol 47 No 5 1983 photo fide; Orchidiana Philipiniana Vol 1 Valmayor 1984; AOS Bulletin Vol 54 No 6 1985 photo; Orchid Digest Vol 56 No 1 1992 photo; Orchid Digest Vol 59 No 3 1995 as P phil;ippinense var roebelenii photo fide; Rudolf Schlechter Die Orchideen Lieferung 39 2000 as P philippinense var roebelinii; Orchids of the Philippines Cootes 2001 photo fide; Flora Malesiana Orchids of the Philippines Vol I Agoo, Shuiteman and de Vogel 2003 as P philippinense var roebbelenii;

Paphiopedilum roebbelenii Pfitzer f. alboflavum ( O.Gruss ) Braem & Chiron 2003
Detail of Staminode Photos by © Egon Krogsgaard
A yellow green variety.
--------------------------------------------------------------------------------------------------------------------------