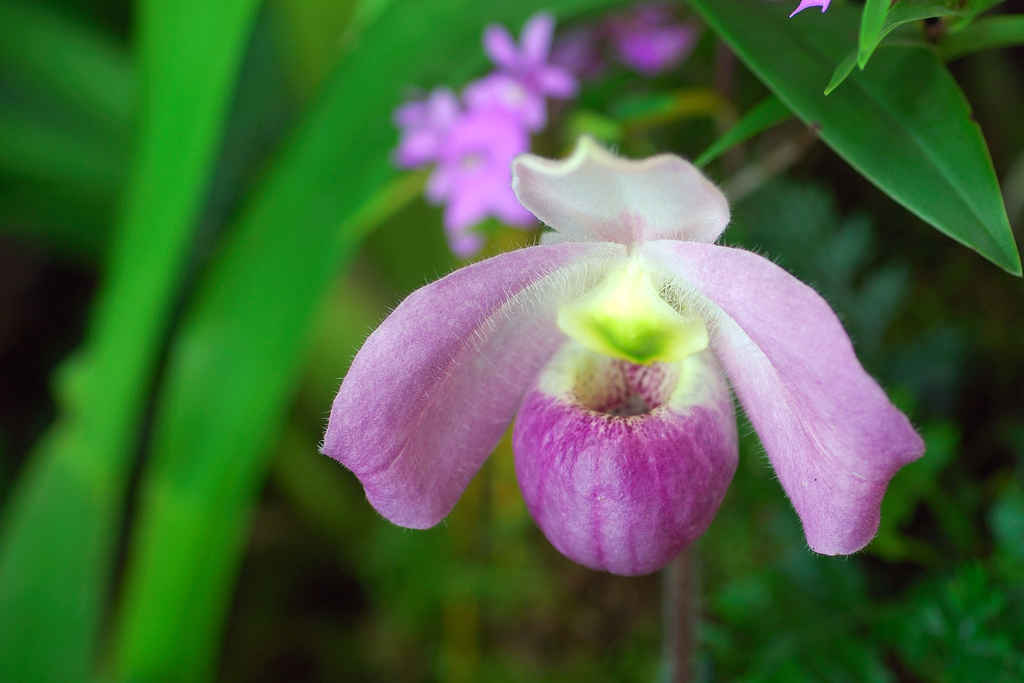 Paphiopedilum vietnamense O. Gruss & Perner 1999 SUBGENUS Parvisepalum Karasawa & Saito 1982 Photo by © Eric Hunt and His Orchid Website.
Another Flower Photo by © Lourens Grobler
Another Flower Photo by Dr Clark Riley


to

LATE

and EARLY

Common NameThe Vietnamese Paphiopedilum
Flower Size 4 to 4 3/4" [10 to 12 cm]
Found only in northern Vietnam as the most range restricted species in Vietnam with an area of less than 200 square miles and is a warm to cool growing lithophyte or rare terrestrial in seasonally wet, primary, evergreen, broadleafed forests on shady vertical limestone bluffs, cliffs and on tops of mountain ridges of northern and northwestern exposure at elevation of 350 to 550 meters often in mossy clumps or partially shaded rock crevices. This orchid has 3 to 5, distichous, coriaceous-leathery, ovate to oblong-elliptic, obtuse and unequally bilobed apically leaves that below are heavily violet spotted, and strongly keeled, and above with fine white to deep green tesselation. Most typical habitats are narrow shelves below overhanging bluffs and the orchid survives a 4 to 5 month dry period during the cooler winter. The erect, 1 to 2 flowered, 6" to 10" [15-25 cm] long, purple violet or purple brown with dense white or light brown haired inflorescence arising from a broadly ovate, acute, pilose, conduplicate floral bract occurs in the late winter and early spring.
Synonyms Paphiopedilum hilamari Sengh. & Schlechter 1999; Paphiopedilum mirabile Cavestro & Chiron 1999; Paphiopedilum vietnamense f. album O.Gruss & Koop. 2008
References W3 Tropicos, Kew Monocot list , IPNI ; Oasis Vol 1 No 2 2000 photo; Oasis Vol 1 No 3 2000 photo; Lindleyana Vol 15 No 4 2000; Rudolf Schlechter Die Orchideen Band 1C lieferung 40 pg 2492 - 2564 Brieger 2000 as P hilmarii photo fide; AOS Bulletin Vol 72 No 5 2003 photo fide; Australian Orchid Review Vol 68 No 5 2003 photo; AOS Bulletin Vol 73 No 4 2004 drawing fide; ; Orchid Digest Vol 70 #3 2006 photo fide; Orchid Digest Vol 72 No 3 2008 as P vietnamense f album photo fide; Orchids of Vietnam, Illustrated survey, part 1 Averyanov 2008; Orchid Digest Vol 73 No 1 2009 photo; Mille et Une Mini Orchideees Roguenant 2009 photo fide; Orchid Digest Vol 76 #4 2012 photo fide
--------------------------------------------------------------------------------------------------------------------------