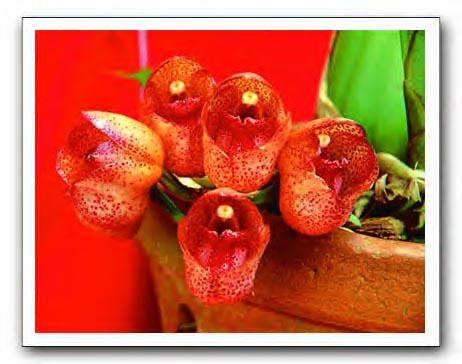 Peristeria cerina Lindl. 1837 Photo by Ken Blackburn and The Orchid Files Website
Drawing Drawing by Miss Drake and the Edwards Botanical Register





Common Name or Meaning The Wax Colored Peristeria
Flower Size 1" [2.5 cm]
Found in Trinidad, Guyana and Brazil in wet forests at elevations of 200 to 1000 meters as a medium sized, hot to warm growing epiphyte with ovoid, slightly flattened pseudobulbs carrying 3 to 4, apical, firmly membraneous, plicate, 5 to 7 nerved, oblong-lanceolate, acute, basally atttenuate leaves that blooms in the spring on a pendant, to 6" [15 cm] long, 4 to 12 flowered inflorescence enveloped basally by vaginate, sheaths and carrying spotless, waxy, yellow, juniper scented flowers.
This species distinguishing factors are the richly pigmented, globose flowers with a transverse labellum and a serrate-crenulate margin.
This myrmecophilus species is often found in conjunction with ants and may benefit from their presence.
Synonyms Lycomormium cerinum (Lindl.) Benth. 1881; Lycomormium minus Kraenzl. 1915; Peristeria violacea (Josst) Foldats 1968
References W3 Tropicos, Kew Monocot list , IPNI ; Die Orchideen Schlechter 1915 photo ok; Flora Brasilica Vol XII VI Hoehne 1942 drawing ok; Native Orchids of Trinidad Schultes 1960; Encyclopedia of Cultivated Orchids Hawkes 1965; Venezuelan Orchids Illustrated Vol 1 Dunsterville & Garay 1959 as Peristeria guttata drawing fide; Flora de Venezuela Volumen XV Part 4 Foldats 1970 as P violaceadrawing fide; Orchids of Venezuela, An Illustrated Field Guide Vol 3 Dunsterville & Garay 1979 as Peristeria guttata drawing fide; Orquideologia Vol 15 #1 Luer & Escobar 1981; Native Colombian Orchids Vol 6 COS 1998 as P guttata photo not = P cerina fide; Rudolf Schlechter Die Orchideen Band 1C lieferung 39 pg 2437 - 2500 Brieger 2000 photo maybe; Orchids of Venezuela [An illustrated field guide] Vol. 3 Ramiro and Carnevali 2000 drawing fide; Flora of the Venezuelan Guayana Vol 7 Steyermark, Berry, Yatskievych and Holst 2003;
----------------------------------------------------------------------------------------------------------