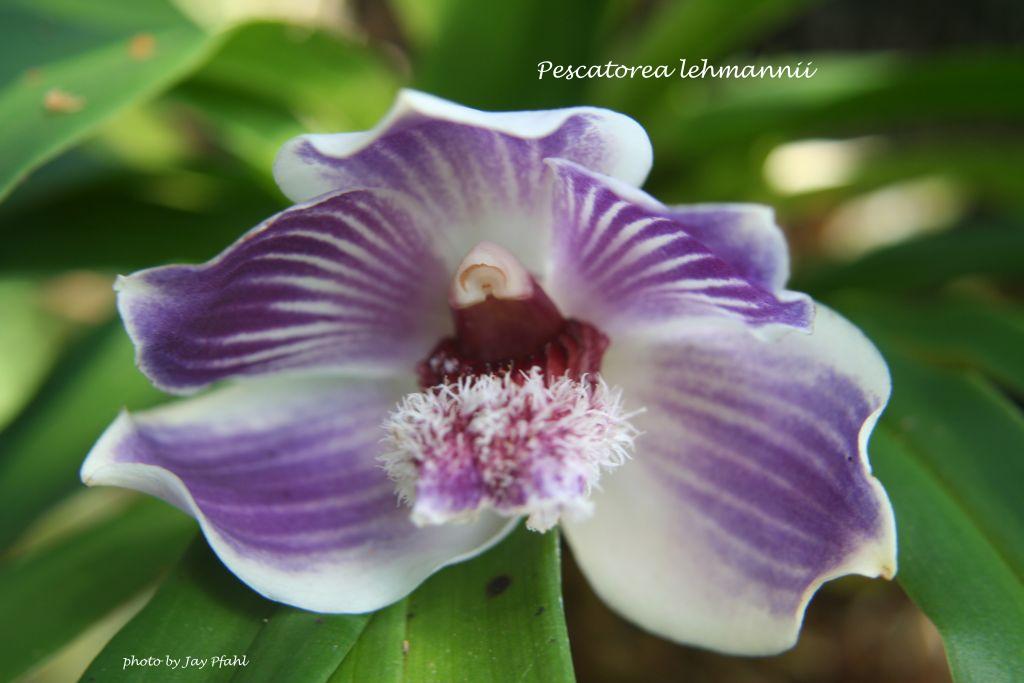 Pescatoria lehmannii Rchb. f. 1879
Photo by © Jay Pfahl.
Photo courtesy of Andy's Orchids Copyright © 2002 All rights reserved.
Photo by Eric Hunt, plant grown by Eddon Orchids



to


to

Common Name Lehmann's Pescatoria [German Orchid Collector - Andean South America 1800's]
Flower Size 3 1/2" [8.5 cm]
A medium sized, warm to cool growing species found in Ecuador and Colombia at elevations of 500 to 1350 meters in extremely wet, humid cloud forests near water on moss covered, horizontally growing tree limbs, with conduplicate, imbricate, leaf-bearing sheaths attenuate to linear-lorate, acute, gradually narrows below into the conduplicate base leaves that blooms in the spring through the fall, often more than once a year on a short, axillary, to 6" [15 cm] long, single flowered inflorescence with a very fragrant, waxy, longlasting flower that is set low within the leaves.
Synonyms Bollea lehmanni Rchb.f 1879; Zygopetalum lehmannii Rchb.f 1879; Pescatorea fimbriata Regel 1879
References W3 Tropicos, Kew Monocot list , IPNI ; Xenia Orchidaceae Vol 3 Reichenbach 1892 drawing fide; Die Orchideen Schlechter 1915; Atlas des Orchidees Cultivees Constantin 1920 drawing fide; Encyclopedia of Cultivated Orchids Hawkes 1965; Orchid Digest Vol 34 #5 1970 photo fide; AOS Bulletin Vol 48 No 5 1979 drawing fide; Icones Planetarum Tropicarum plate 200 Dodson 1980 drawing fide; Native Colombian Orchids Vol 3 COS 1991 photo ok; Rudolf Schlechter Die Orchideen Band 1B lieferung 27 1648 - 1712 Brieger 1993 photo fide; Rudolf Schlechter Die Orchideen Band 1B lieferung 27 1648 - 1712 Brieger 1993 as P dormaniana; AOS Bulletin Vol 64 No 11 1995 photo fide; AOS Bulletin Vol 72 No 9 2003 photo fide; Native Ecuadorian Orchids Vol 4 Dodson 2003 photo fide; Orquideologia Vol. 23 No 2 2004 photo fide; Orchid Digest Vol 71 No 1 2007 photo fide; AOS Bulletin Vol 77 no 1 2008 photo; Huntleya and Related Orchids Harding 2008 photo fide; Orquideología Vol 26 #2 2009 photo fide; AAOS Bulletin Vol 80 #11 2011 photo fide; OS Bulletin Vol 86 #9 2017 photo fide;
--------------------------------------------------------------------------------------------------------------------------