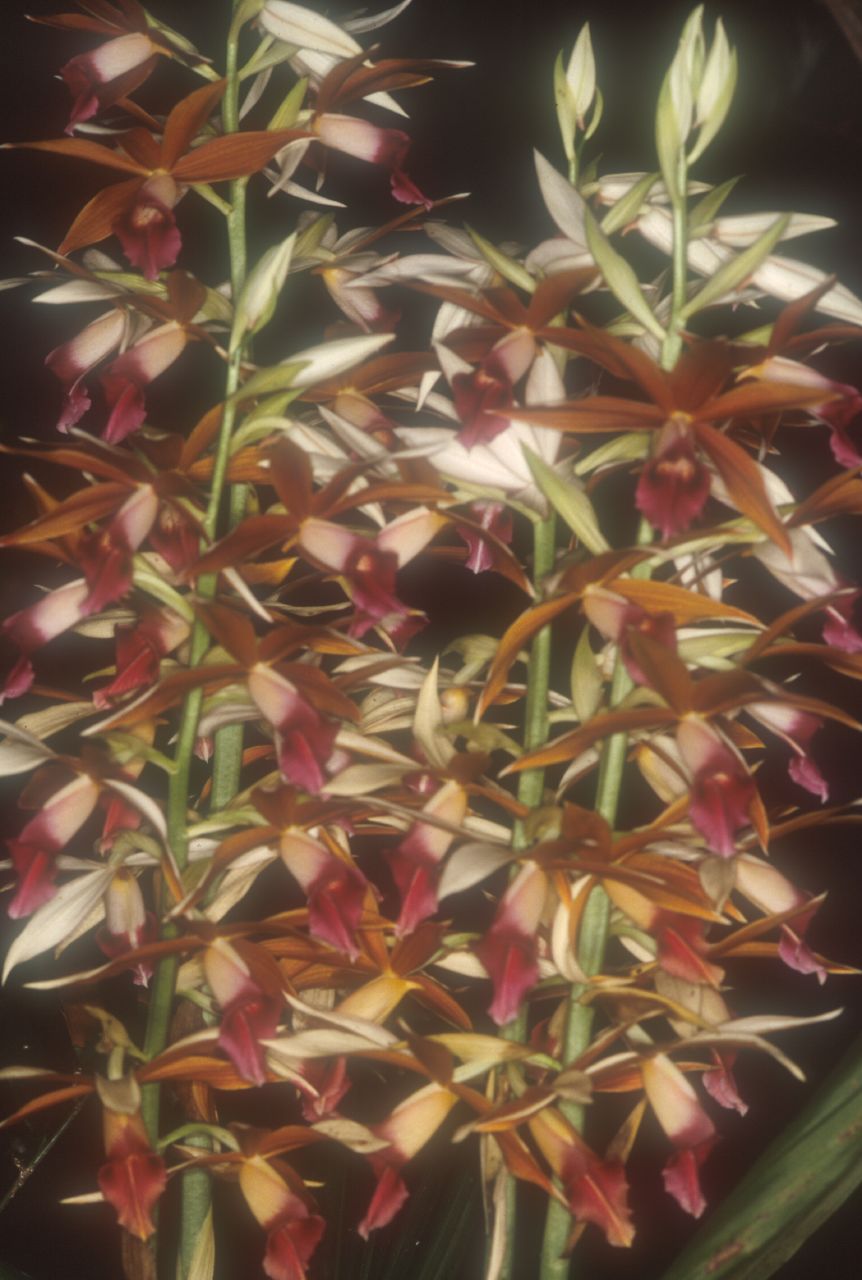 !Phaius tankervilleae (Banks) Blume 1856
Photo By Lourens Grobler
Photo by Dale and Deni Borders



to


Common Name Nun's Orchid - Kunai [tall grass] Orchid - Emma Tankerville's Phaius [English Orchid Enthusiast]- in Thailand Ueang phrao - In Japan- Kaku-ran - Chiru-ran - Sarunkwa-bana - In China He Ding Lan
Flower Size 4 1/2" [11.5 cm]
Found in Fujian, Guangdong, Guangxi, Hainan, Xizang and Yunnan provinces of China, Hong Kong, Taiwan, the Pacific Islands, Malaysia and Indonesia in lower montane woods and in grasslands in moist depressions with black soil at elevations up to 1300 meters as a large sized, hot to cool growing terrestrial with ovoid or conical, green pseudobulbs enveloped basally by several leaf bearing sheaths with elliptic-lanceolate, acuminate, plicate, thin-textured, petiolate leaves that blooms in the spring on a more than 4' [120 cm] long, erect, basal, racemose inflorescence,
After blooming and the fall of the dead flowers, the inflorescence can be cut off and placed on sand in a long, plastic, plant flat and partially covered, put in a deep shaded, humid, well watered area and in 2 to 3 months, plantlets will begin to grow from the old floral bracts. After 6 months they can be transplanted into a pot.
This species has become an invasive species in some countries such as Jamaica and Hawaii. In Papua the smoked flowers are eaten as a contraceptive.
Synonyms Bletia incarvillei R. Br. ?; Bletia tankervilleae R. Br. 1813; Calanthe bachmaensis Gagnep. 1950; Calanthe speciosa Viell. 1861; Dendrobium veratrifolium Roxb. 1832; Limodorum incarvilliae Pers. 1807; Limodorum incarvillei Blume 1825; Limodorum spectabile Salisb. 1796; Limodorum tancarvilleae L'Hér. 1789; *Limodorum tankervilleae Banks 1788; Pachyne spectabilis Salisb. 1812; Phaius bicolor Lindley 1831; Phaius blumei Lindley 1831; Phaius blumei Lindley var assamicus Rchb.f 1882; Phaius blumei Lindley var pulcher King & Pantl. 1898; Phaius carroni F. Muell. 1860 ; Phaius giganteus Hemsl. 1882; Phaius grandifolius Rchb.f 1828; Phaius grandifolius Lour 1790; Phaius grandifolius Lindl.1831; Phaius grandifolius var. superbus Van Houtte 1852; Phaius incarvillei O.Ktze. 1891; Phaius incarvillei O.Ktze. var speciosa; Phaius leucophaeus F. Muell. 1863; Phaius mannii Rchb.f 1878; Phaius oweniae Sander 1894; Phaius roeblingii O'Brien 1895; Phaius sinensis Rolfe 1913; Phaius tahitensis Schltr. 1926; Phaius tankervilleae f. alboflorens S.S.Ying, Coloured Ill. Fl. Taiwan 4: 798 (1992; Phaius tahitensis f. obtusa F.Br. 1930; Phaius tankervilleae f. veronicae S.Y.Hu & Barretto 1976; Phaius tankervilleae var. mariesii Rchb.f. 1882; Phaius tankervilleae var. pulchra (King & Pantl.) Karth. 1989; Phaius tankervilleae var. superbus (Van Houtte) S.Y.Hu 1974; Phaius tenuis Rchb. f. 1857; Phaius veratrifolius (Roxb.) Lindl. 1840; Tankervillia cantoniensis Link 1829
References W3 Tropicos, Kew Monocot list , IPNI ; Bonplandia Rchb.f 1855 as Phajus grandifolius; Otia Botanica Hamburgensia Rchb.f 1878 as Phajus blumei; Otia Botanica Hamburgensia Rchb.f 1881 as Phajus mannii; Orchids of Burma Grant 1895/1995 as P wallichii; The Orchids of Sikkim-Himalaya Part 1 King & Pantling 1898 as Phajus wallichii var assamica drawing fide; Die Orchideen Von Java J.J.Sm. 1905 as P incarvillei; Die Orchideen Von Java Figuren Atlas J.J.Smith 1908 as P incarvillei drawing fide; Symbolae Antillanae Vol VI Orchidaceae Urban 1909; Flora of Jamaica Fawcett & Rendle 1910 as Phaius tancarville drawing ok; Die Orchideen Schlechter 1915; Die Orchideen Schlechter 1915 as P incarvillei photo fide; AOS Bulletin Vol 26 No 2 1957; Flora of Malaya vol. 1 Holttum 1957 drawing fide; AOS Bulletin VOl 30 #2 1961 photo fide; The Orchids of Thailand Seidenfaden & Smitinand 1961 photo fide; AOS Bulletin Vol 31 No 2 1962 as P grandifolius photo fide; AOS Bulletin Vol 32 No 6 1963 as P grandifoliusphoto fide; AOS Bulletin Vol 33 No 3 1964 as P grandifolius photo fide; The Orchids of Thailand Seidenfaden & Smitinand 1965 corrections; AOS Bulletin Vol 35 No 4 1966; AOS Bulletin Vol 35 No 7 1966 as P grandifolius photo fide; AOS Bulletin Vol 36 #4 1967 as P grandifolius; Orchids of Australia Nicholls 1969 drawing fide; Orchid Digest Vol 44 No 1 1980 photo fide; AOS Bulletin Vol 30 No 1 1961 photo; Encyclopedia of Cultivated Orchids Hawkes 1965 photo fide; ; AOS Bulletin Vol 37 No 3 1968 drawing fide; AOS Bulletin Vol 37 No 12 1968 as P grandifolius photo fide; Die Orchideen #2 5-8 tafel 3 Rudolph Schlechter 1971 column only drawing ok; Orchids of Southern Ryukyu Islands Garay & Sweet 1974; The Native Orchids of the United States and Canada Luer 1975 as P_ tancarvilleae drawing/photo fide; Flore de la Nouvelle-Caledonie et Dependences Vol 8 Orchidaceae Halle 1977 as P tancarvilleae drawing/photo fide; The Orchids of Papua New Guinea An Introduction Millar 1978 photo fide; A Revised Handbook to the Flora of Ceylon Dassanayake & Fosberg 1981 drawing fide; Orchidiana Philipiniana Vol 1 Valmayor 1984; AOS Bulletin Vol 54 No 3 1985; AOS Bulletin Vol 56 No 7 1958 photo; Beautiful Thai Orchid Species Kamemoto & Sagarik 1975 photo fide; Indian Orchids, Guide to Identification and Culture Pradhan 1979; Die Orchideen 3 Auflage Bd 1 Sonderabdruck aus Schlechter Lieferung 15 881 - 944 Brieger, Maatsch and Senghas 1984 drawing ok; Die Orchideen 3 Auflage Bd 1 Sonderabdruck aus Schlechter Lieferung 15 881 - 944 Brieger, Maatsch and Senghas 1984 as P mannii; Die Orchideen 3 Auflage Bd 1 Sonderabdruck aus Schlechter Lieferung 15 881 - 944 Brieger, Maatsch and Senghas 1984 as P roeblingii; Die Orchideen 3 Auflage Bd 1 Sonderabdruck aus Schlechter Lieferung 15 881 - 944 Brieger, Maatsch and Senghas 1984 as Phaius veratrifolius; Die Orchideen 3 Auflage Bd 1 Sonderabdruck aus Schlechter Lieferung 15 881 - 944 Brieger, Maatsch and Senghas 1984 as P sinensis; Die Orchideen 3 Auflage Bd 1 Sonderabdruck aus Schlechter Lieferung 15 881 - 944 Brieger, Maatsch and Senghas 1984 as P celebicus; Die Orchideen 3 Auflage Bd 1 Sonderabdruck aus Schlechter Lieferung 15 881 - 944 Brieger, Maatsch and Senghas 1984 as P tahitensis; Flore D'Afrique Centrale [Zaire- Rwands - Burundi] Orhidaceae Premeir parte Geerink 1984 as P mannii drawing fide; AOS Bulletin Vol 56 #7 1987 photo fide; Orchids of Vanuatu Lewis & Cribb 1989 drawing fide; Orchids Travel By Air A Pictoral Safari Mulder, Mulder-Roelfsema and Schuiteman 1990 photo fide; Orchids of Java Comber 1990 photo fide; The Orchids of the Solomon Islands and Bougainville Lewis & Cribb 1991 drawing fide; The Orchids of Penninsular Malaysia and Singapore Wood & Seidenfaden 1992 drawing/photo fide; The Manual Of Cultivated Orchid Species Bechtel, Cribb & Launert 1992 photo fide; Thai Orchid Species Rakpaibulsombat 1992 photo fide; The Plants of Mount Kinabalu Vol 2 Orchids Beaman, Wood, Beaman & Beaman 1993; A Checklist of the Orchids of Borneo Wood & Cribb 1994; Identification of the Orchids [Orchidaceae Juss.] Vietnam Averyanov 1994; The Orchids of Nagaland Deorani and Naithani 1995 drawing fide; Native Orchids of New Caledonia Societe' Neo-Caledonienne D' Orchidophile 1995 photo fide; An Orchid Flora Of Puerto Rico and the Virgin Islands Ackerman 1995 drawing fide; The Orchids of Samoa Cribb & Whistler 1996; Living with Orchids in Sumatra Landau 1996 photo fide; Orchid Digest Vol 61 #2 1997 photo fide; The Wild Orchids of China Tsi, Chen & Mori 1997; AOS Bulletin Vol 67 No 4 1998 photo fide; AOS Bulletin Vol 67 No 4 1998 as P tankervillae var albaphoto fide; Native Orchids of China in Colour Singchi, Zhanhuo and Yibo 1999 photo fide; Orchids of Papua New Guinea Millar 1999 photo fide; Lindleyana Vol 15 No 4 2000; A field Guide to the Wild Orchids of Thailand Vaddhanaphuti 2001 photo fide; Orchids of Sumatra Comber 2001 photo fide; A to Z of South East Asian Orchid Species Vol 1 O'Byrne 2001 photo fide; Orchids of the Philippines Cootes 2001 as P tancarvilleae photo fide; Orchids of Sarawak Beaman, Wood & Beaman etal 2001 photo fide; Lindleyana Vol 17 No 1 2002; The Orchids of Cuba Llamacho & Larramendi 2005 Orchidaceae Antillanae Nir 2000; AOS Bulletin Vol 69 No 9 2000 photo fide; Orchids of Sumatra Comber 2001 photo fide; Beautiful Orchids of Nepal Rajbhandari & Bhattarai 2001; Orchids of Bhutan Pearce & Cribb 2002 photo fide; AOS Bulletin Vol 72 No 8 2003 photo fide; Flora Malesiana Orchids of the Philippines Vol I Agoo, Shuiteman and de Vogel 2003; AOS Bulletin Vol 73 No 2 2004 photo fide; Wild Orchids in Myanamar Vol 2 Tanaka 2004; A field Guide to the Wild Orchids of Thailand Vaddhanaphuti 2005 photo fide; The Orchids of Cuba Llamacho & Larramendi 2005 as P tancarvillaephoto fide;AOS Bulletin Vol 75 No 4 2006 photo fide; Native Australian Orchids Jones 2006 as P tancarvilliae; AOS Bulletin Vol 76 No 1 2007 photo fide; Orchids of India A Glimpse Misra 2007 drawings/photo fide; Flora Malesiana: Orchids of New Guinea Vol 5 Schuiteman & D de Vogel 2008; Malesian Orchid Journal Vol 3 2009 photo fide; Wild Orchids of the Cameron Highlands REACH 2009 photo fide; Native Orchids From Gaoligongshan Mountains, China Xiaohua, Xiaodong and Xiaochun 2009 photo fide; A Field Guide to the Orchids of China Singchi, Zhongjian, Yibo, Xiaohua and Zhanhuo 2009 photo fide; Flora of China Vol 25 Zhengyi, Raven & Deyuan 2009; AOS Bulletin Vol 79 #10 2010 photo fide; Flora of China Vol 25 Illustrations Zhengyi, Raven & Deyuan 2010 as P tancarvilleae drawing fide; The Atlas of Wild Orchids in Hainan Island, China Shenyan and Junmei 2010 photo fide; The Wild Orchids in Yunnan Xu Xiang Ye & Liu 2010 photos fide; AOS Bulletin Vol 80 #6 2011 pollinia only photo fide; The Orchids of Mount Kinabalu Vol 1 Wood, Beaman, Lamb, Chu Lun and Beaman 2011 as P tancarvilleae drawing fide; The Orchids of Mount Kinabalu Vol 2 Wood, Beaman, Lamb, Chu Lun and Beaman 2011 as P tancarvilleae drawing/photo fide; Orchids of Penninsular Malaysia Ong, O'Byrne, Yong & Saw 2011 photo fide; AOS Bulletin Vol 81 #2 2012 photo fide; AOS Bulletin Vol 81 #3 2012 photo fide; The Wild Orchids of Taiwan An Illustrated Guide Lin & Wang 2014 photos fide; Wild Orchids of Myanmar Tuanggyi 2014 photo fide; Orchids of Odisha Misra 2014 drawing/photo fide; AOS Bulletin Vol 84 #8 2015 photo fide; LANKESTERIANA 15(1): 7—50. Jeewan Singh Jalal & J. Jayanthi 2015 Malesian Orchid Journal Vol 17 2016 photo fide; Orchid Digest Vol 82 #2 2018 Photo fide; Orchid Digest Vol 83 #1 2019 photo fide; Atlas of Native Orchids of China Vol 2 Jin Xiaohua, Li Jianwu and Ye Deping 2019 photo fide;

Phaius tankervilleae var. alba [Aiton]Blume
Photo By Jay Pfahl
References W3 Tropicos, Kew Monocot list , IPNI ; AOS Bulletin Vol 66 #4 1997 photo fide
--------------------------------------------------------------------------------------------------------------------------