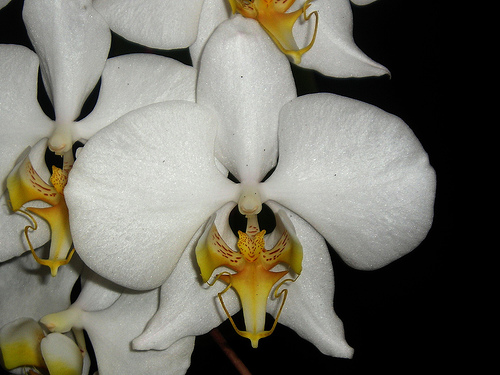 !Phalaenopsis amabilis [L.] Blume 1825 SUBGENUS Phalaenopsis SECTION Phalaenopsis Benth 1883 TYPE for the Section and type for the genus
Photo by © Philip Wojtas
Photo by © Dick Brubaker.
Photo by © Peter Zerche



to


and

Common Name The Lovely Phalaenopsis [This is the national Flower of Indonesia]
Flower Size to 4" [10 cm]
Found in northern Australia, Indonesia, Papua & New Guinea, the Philippines and New Britain in rainforests on trunks and branches overhanging rivers, swamps and streams occuring at elevations up to 600 meters as a medium sized, hot to warm growing, robust, epiphyte with a short, pendulous, robust stem enveloped by imbricating leaf bases and carrying 3 to 5 fleshy or coriaceous, arcuate, pendant, ovate-elliptic, obovate to oblong-oblanceolate, obtuse to subacute, shiny green leaves that blooms in the spring and summer on a slender, to 3' [90 cm] long, racemose or paniculate, laxly few to many flowered inflorescence that has small scarious, triangular bracts and carrying color and size variable, fragrant, showy, long-lasting flowers.
It recieves more light than the average Phal. You can tell if it is receiving the proper light levels if the leaves have a slight reddish cast.
Synonyms Angraecum album majus Rumph 1750; Cymbidium amabile [L.]Roxb. 1832; *Epidendrum amabile L. 1855; Phalaenopsis amabilis f. concolor Baume & Christenson 2006; Phalaenopsis amabilis f. fuscata (Rchb.f.) O.Gruss & M.Wolff 2007; Phalaenopsis amabilis f. marmorata (Rchb.f.) Ames 1908; Phalaenopsis amabilis subsp. moluccana (Schltr.) Christenson 2001; Phalaenopsis amabilis subvar. gloriosa (Rchb.f.) Ames 1908; Phalaenopsis amabilis var aphrodite subvar gloriosa [Rchb.f] Ames 1908; Phalaenopsis amabilis var. aurea (auct.) Rolfe 1886; Phalaenopsis amabilis var. cinerascens J.J.Sm. 1917; Phalaenopsis amabilis var fournieri Cogn. 1898; Phalaenopsis amabilis var. fuscata Rchb.f. 1862; Phalaenopsis amabilis var. gloriosa (Rchb.f.) Brero 1937; Phalaenopsis amabilis var gracillima Burb. 1882; Phalaenopsis amabilis var grandiflora [Lindl.] Batem 1867; Phalaenopsis amabilis var. moluccana Schltr. 1911; Phalaenopsis amabilis var. papuana Schltr. 1913; Phalaenopsis amabilis var ramosa van Deventer 1935; Phalaenopsis amabilis var rimestadiana Linden 1901; Phalaenopsis amabilis var rimestadiana alba Hort 1906; Phalaenopsis aphrodite var gloriosa [Rchb.f] Veitch 1891; Phalaenopsis celebica Vlooten 1932 ; Phalaenopsis gloriosa Rchb.f 1888; Phalaenopsis grandiflora Lindley 1848; Phalaenopsis grandiflora var. aurea auct. 1864; Phalaenopsis grandiflora var. borneensis Corning 1881; Phalaenopsis grandiflora var. fuscata (Rchb.f.) Burb.1882; Phalaenopsis grandiflora var. gracillima Burb. 1882; Phalaenopsis grandiflora var. ruckeri Burb. 1876; Phalaenopsis rimestadiana [Linden] Rolfe 1905; Phalaenopsis rosenstromii F.M. Bailey 1906; Phalaenopsis xelisabethae Hort. 1927; Synadena amabilis [L.]Raf. 1836
References W3 Tropicos, Kew Monocot list , IPNI ; Bonplandia Rchb.f 1857 as P grandiflora; Xenia Orchidaceae Rchb.f 1862; Studies in the Family Orchidaceae Vol 1 Ames 1905; Die Orchideen Von Java J.J.Sm. 1905; Die Orchideen Von Java Figuren Atlas J.J.Smith 1908 drawing fide; Studies in the Family Orchidaceae Fascile 2 Ames 1908; Studies in the Family Orchidaceae Fascile 2 Ames 1908 as P amabils var aphrodite subvar. gloriosa; Orchidaceae of german New Guinea Schlechter 1913 drawing fide; Die Orchideen Schlechter 1915 photo fide; Atlas des Orchidees Cultivees Constantin 1920 drawing fide; AOS Bulletin Vol 26 No 5 1957 drawing fide; AOS Bulletin Vol 31 # 6 1962 photo fide; AOS Bulletin Vol 32 No 6 1963 photo fide; Encyclopedia of Cultivated Orchids Hawkes 1965; AOS Bulletin Vol 36 #5 1967 photo fide; AOS Bulletin Vol 38 #8 1969 drawing fide; ; AOS Bulletin Vol 38 #8 1969 as P amabilis var dayana drawing fide; Orchids of Australia Nicholls 1969 drawing fide; Die Orchideen #1 1-4 tafel 1&2 Rudolph Schlechter 1971 photo plant only; Orchid Digest Vol 38 no 5 1974 photo fide; The Orchids of Papua New Guinea An Introduction Millar 1978 photo fide; The Genus Phalaenopsis Sweet 1980 drawing/photo fide; The Complete Writings on Philippine Orchids Vol 2 Quisumbing 1981; Orchid Digest Vol 46 No 1 1982 photo fide; Orchidiana Philipiniana Vol 1 Valmayor 1984; Orchid Digest Vol 51 No 2 1987 photo/drawing fide; Rudolf Schlechter Die Orchideen Band 1B lieferung 19/20 1129 - 1264 Brieger 1988; Orchids of Java Comber 1990 photo fide; Orchids Travel By Air A Pictoral Safari Mulder, Mulder-Roelfsema and Schuiteman 1990 photo fide; Orchid Species Culture "P" Bakers 1991; Orchid Digest Vol 56 No 1 1992 photo fide; The Manual Of Cultivated Orchid Species Bechtel, Cribb & Launert 1992 drawing/photo fide; The Plants of Mount Kinabalu Vol 2 Orchids Beaman, Wood, Beaman & Beaman 1993; A Checklist of the Orchids of Borneo Wood & Cribb 1994 drawing fide; Orchids of Borneo Vol 1 Chan, Lamb, Shim & Wood 1994 drawing/photo fide; Identification of the Orchids [Orchidaceae Juss.] Vietnam Averyanov 1994; Lowland Orchids of of Papua New Guinea Peter O'Byrne 1994 drawing/photo fide; Orchid Digest Vol 59 No 1 1995 drawing fide; Orchids of Sumatra Comber 2001 photo fide; Orchids of Sarawak Beaman, Wood & Beaman etal 2001; Orchids of the Philippines Cootes 2001 photo fide; A to Z of South East Asian Orchid Species Vol 1 O'Byrne 2001 photo fide; Phalaenopsis, A Monograph EA Christenson 2001 drawing/photos fide; Phalaenopsis A Monograph EA Christenson 2001 as P amabilis var aurea photo fide; Phalaenopsis, A Monograph EA Christenson 2001 as P amabilis var moluccana; Phalaenopsis, A Monograph EA Christenson 2001 as P amabilis ssp rosentroemii photo fide; Orchid Digest Vol 66 #4 2002 photo fide; Lindleyana Vol 17 No 1 2002; Flora Malesiana Orchids of the Philippines Vol I Agoo, Shuiteman and de Vogel 2003; AOS Bulletin Vol 73 No 2 2004 photo fide; Australian Orchid Review Vol 71 No 1 2006 photo; AOS Bulletin Vol 77 #1 2008 photo fide; Flora Malesiana: Orchids of New Guinea Vol 5 Schuiteman & D de Vogel 2008; Orchid Digest Vol 73 #3 2009 photo fide; Malesian Orchid Journal Vol 3 2009 photo fide; AOS Bulletin vol 78 No 11 2009 photo fide; Philippine Native Orchid Species Cootes 2011 photo fide; The Orchids of Mount Kinabalu Vol 1 Wood, Beaman, Lamb, Chu Lun and Beaman 2011 photo ok; The Orchids of Mount Kinabalu Vol 2 Wood, Beaman, Lamb, Chu Lun and Beaman 2011 drawing/photo fide; Orchid Digest Vol 76 #1 2012 photo fide; Orchid Digest Vol 77 #4 2013 photo fide; Genera Orchidacearum Vol 6 Epidendroideae part 3 Pridgeon, Cribb, Chase and Rasmussen 2014 drawing/photo fide; AOS Bulletin Vol 84 #6 2015 photo fide; Of Men and Orchids Part 1 Jenny 2015 drawing fide; Orchid Digest Vol 81 #1 2017 photo fide; Orchid Digest Vol 81 #2 2017 photo fide; Orchid Digest Vol 83 #4 2019 Photo fide;
Phalaenopsis amabilis subsp. moluccana (Schltr.) Christenson 2001
Photo by © Rachmat Setiawan and his Flickr Orchid Photo Webpage
Synonyms Phalaenopsis amabilis var. cinerascens J.J.Sm. 1917; *Phalaenopsis amabilis var. moluccana Schltr. 1911; Phalaenopsis celebica Vlooten 1932
References W3 Tropicos, Kew Monocot list , IPNI ; AOS Bulletin Vol 38 #8 1969 drawing fide; The Genus Phalaenopsis Sweet 1980 as Phalaenopsis amabilis var. moluccana drawing fide; Rudolf Schlechter Die Orchideen Band 1B lieferung 19/20 1129 - 1264 Brieger 1988 as P amabils var moluccana; *Phalaenopsis, A Monograph EA Christenson 2001 drawing fide; AOS Bulletin Vol 84 #6 2015 photo fide; Orchid Digest Vol 83 #4 2019 Photo fide;
Phalaenopsis amablis subsps. rosenstromii [Bail] Christensen 2001
Photo by © Tony Watkinson and the Western Australia Orchid Society


to

LATE


Common Name Rosenstrom's Phalaenopsis - In Australia The Native Moth Orchid
Defined from the species by the shorter, narrowly triangular midlobe of the lip, with inconspicuous teeth at the base. Occuring only in Queensland Australia at elevations of 200 to 500 meters in rainforests on sheltered slopes and along gullies and close to waterfalls as a medium sized, hot to warm growing epiphyte or occasional lithophyte
Synonyms Phalaenopsis amablis var papuana Schlechter 1913; Phalaenopsis amablis var rosenstromii [Bail] Nicholls 1949; *Phalaenopsis rosenstromii F.M. Bailey 1906
References W3 Tropicos, Kew Monocot list , IPNI ; Orchidaceae of German New Guinea Schlechter 1914/85 as Phalaenopsis amablis var papuana Schlechter 1913; AOS Bulletin Vol 27 No 2 1958 photo fide; AOS Bulletin Vol 35 No 4 1966; AOS Bulletin Vol 38 #8 1969 drawingfide; The Genus Phalaenopsis Sweet 1980 as P amabilis var papuana drawing fide; Rudolf Schlechter Die Orchideen Band 1B lieferung 19/20 1129 - 1264 Brieger 1988 as P amabilis var papuana; Orchid Digest Vol 61 #2 1997 photo fide; Orchids of Papua New Guinea Millar 1999 as P rosenstromii photo fide; *Phalaenopsis, A Monograph EA Christenson 2001 photo fide; Native Orchids of Australia Jones 2006 as P rosenstromii photo fide; Orchid Digest Vol 83 #4 2019 Photo fide;
Phalaenopsis amabilis var aurea [Hort] Rolfe 1886
Photo by © The Bernard Lagreelle Orchid Webpage
Synonyms Phalaenopsis amabilis f. fuscata (Rchb.f.) O.Gruss & M.Wolff 2007; Phalaenopsis amabilis var. fuscata Rchb.f. 1862; *Phalaenopsis grandiflora var. aurea auct. 1864; Phalaenopsis grandiflora var. fuscata (Rchb.f.) Burb.1882; Phalaenopsis grandiflora var. ruckeri Burb. 1876
References W3 Tropicos, Kew Monocot list , IPNI ; AOS Bulletin Vol 38 #8 1969; The Genus Phalaenopsis Sweet 1980; Rudolf Schlechter Die Orchideen Band 1B lieferung 19/20 1129 - 1264 Brieger 1988; Phalaenopsis A Monograph EA Christenson 2001 photo fide; AOS Bulletin Vol 84 #5 2015 photo fide;
--------------------------------------------------------------------------------------------------------------------------