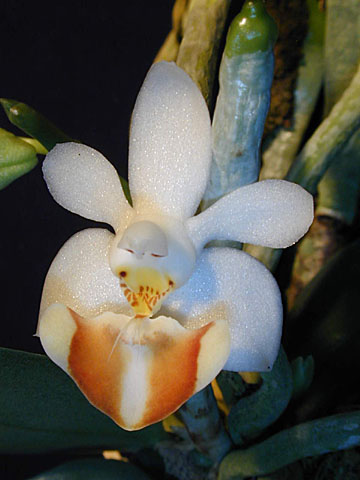 Phalaenopsis lobbii (Rchb. f.) H.R. Sweet 1980 SUBGENUS Parishianae [Sweet] Christensen 2001
Photo by of Andy's Orchids Copyright © 2002 All rights reserved.
Photo by Oak Hill Gardens Copyright © 2002 All rights reserved.




MOSTLY

Common Name Lobb's Phalaenopsis [English Orchid Collector in India 1800's] - In China Luo Shi Hu Die Lan
Flower Size 1" or less [2 to 2.5 cm]
Found in the eastern Himalayas, northeastern India, Bhutan, Sikkim, Myanmar and Vietnam in piedmont or evergreen lowland forests on rough barked trees or humid, mossy, mixed and coniferous forests on mossy branches of old gnarled trees at elevations of 366 to 1200 meters as a dwarf sized, hot to cool growing epiphytic species with broad elliptic leaves about 1.6 to 2.4" [4 to 6 cm] long that blooms from November to mid January on a lateral, 4" [10 cm] long, racemose or paniculate, few flowered inflorescence with small bracts that bear from 3 to 7 sequentially opening, strongly fragrant flowers. The flowers are small, white with sepals larger than the petals. The lip is big with a tan colored stripe.
Do not keep this plant very wet from November to mid January. They can flower more than once a year but most often in the spring.
Synonyms Doritis lobbii (Rchb.f.) T.Yukawa & K.Kita 2005; Doritis lobbii f. flava (O.Gruss & Roellke ex Christenson) T.Yukawa & K.Kita 2005; Doritis lobbii f. flavilabia (Christenson) T.Yukawa & K.Kita 2005; Phalaenopsis decumbens [Griff]Holtman var lobbii ?; Phalaenopsis listeri Berkley 1887; Phalaenopsis lobbii (Rchb. f.) Aver. 1988; Phalaenopsis lobbii f. flava Christenson 2001; Phalaenopsis lobbii f. flavilabia Christenson 2001; *Phalaenopsis parishii var. lobbii Rchb. f. 1870; Polychilos lobbii (Rchb. f.) Shim 1982; Phalaenopsis lobbii var. vietnamensis O.Gruss & Roeth 2006
References W3 Tropicos, Kew Monocot list , IPNI ; AOS Bulletin Vol 38 #4 1969 as P parishii var lobbii photo fide; Orchid Digest Vol 37 No 5 1973 as P parishii var lobbii photo fide; Indian Orchids: A Guide to Identification and Culture Vol 2 Pradhan 1979 as P parishii var lobbii photo fide; The Genus Phalaenopsis Sweet 1980 drawing/photo fide; AOS Bulletin Vol 57 No 2 1988 photo fide; Rudolf Schlechter Die Orchideen Band 1B lieferung 19/20 1129 - 1264 Brieger 1988 drawing fide; AOS Bulletin Vol 60 #2 1991 as P parishii var lobbii photofide; Orchid Species Culture "P" Bakers 1991; AOS Bulletin Vol 61 No 7 1992 photo fide; Identification of the Orchids [Orchidaceae Juss.] Vietnam Averyanov 1994; Orchid Digest Vol 59 No 1 1995 photo fide; Phaleanopsis, A Monograph EA Christenson 2001 drawing/photo fide; Phalaenopsis, A Monograph EA Christenson 2001 as P lobbii f flava photo fide; Phalaenopsis, A Monograph EA Christenson 2001 as P lobbii f flavilabia photo fide; A field Guide to the Wild Orchids of Thailand Vaddhanaphuti 2001 photo fide; Orchid Digest Vol 66 #4 2002 photo fide; Orchids of Bhutan Pearce & Cribb 2002; A field Guide to the Wild Orchids of Thailand Vaddhanaphuti 2005 photo fide; Orchid Digest Vol 71 No 1 2007 photo fide; AOS Bulletin Vol 76 No 5 2007 photo fide; Orchids of India A Glimpse Misra 2007; A Field Guide to the Orchids of China Singchi, Zhongjian, Yibo, Xiaohua and Zhanhuo 2009 photo fide; Flora of China Vol 25 Zhengyi, Raven & Deyuan 2009; Mille et Une Mini Orchideees Roguenant 2009 photo fide; AOS Bulletin Vol 79 #8 2010 photo fide; Orchid Digest Vol 77 #4 2013 photo fide; AOS Bulletin Vol 82 #3 2013 photo fide; Orchid Digest Vol 78 #4 2014 photo fide; AOS Bulletin Vol 84 #6 2015 photo fide; AOS Bulletin Vol 84 #7 2015 photo fide; AOS Bulletin Vol 85 #4 2016 photo fide; A Century of New Orchid Records in Bhutan Royal Government of Bhutan 2017 Drawing/photo fide; Orchid Digest Vol 83 #4 2019 Photo fide; Atlas of Native Orchids of China Vol 2 Jin Xiaohua, Li Jianwu and Ye Deping 2019 photo fide;
Phalaenopsis lobbii f. flava Christenson 2001
Photo © by Eerica Shultz and her Flickriver Orchid Photo Website
References W3 Tropicos, Kew Monocot list , IPNI ; Orchid Digest Vol 83 #4 2019 Photo fide
Phalaenopsis lobbii f. flavilabia Christenson 2001
Photo © by Eerica Shultz and her Flickriver Orchid Photo Website
--------------------------------------------------------------------------------------------------------------------------
------------------------------------------------------------------------------------------------------------------------