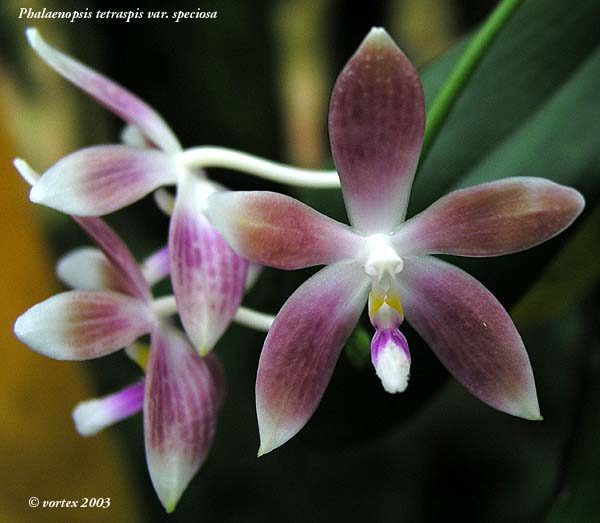 Phalaenopsis speciosa Rchb. f. 1881 SUBGENUS Polychilos SECTION Zebrinae Pfitz 1889 Photo by Nik Fahmi and his Vortex Orchid Page.
var imperatrix Rchb.f 1882 Photo by © Ramon de los Santos
var christiana Rchb.f 1882 Photo by © Charles Wilson



to

LATE

EARLY

Common Name The Beautiful Phalaenopsis
Flower Size 2.1" [5.5 cm]
Found on the Andaman and Nicobar Islands at low elelvations as a medium sized, hot to warm growing epiphyte with flattened roots, a short stem enveloped completely by leaf-bearing sheaths and carrying 4 to 5, elliptic-obovate, tapered at the base, acute to obtuse, convex leaves that blooms in the late spring through earler winter on a arching to subpendant, to 12" [to 30 cm] long, racemose or paniculate inflorescence with showy, very fragrant flowers.
Synonyms Phalaenopsis speciosa subvar. christiana (Rchb.f.) A.H.Kent 1891; Phalaenopsis speciosa subvar. imperatrix (Rchb.f.) A.H.Kent 1891; Phalaenopsis speciosa var. christiana Rchb.f 1882; Phalaenopsis speciosa var. imperatrix Rchb.f. 1882; Phalaenopsis speciosa var. maculata Gower 1890; Polychilos speciosa (Rchb. f.) Shim 1982
References W3 Tropicos, Kew Monocot list , IPNI ; The Orchids of Burma Grant 1895/95; Die Orchideen Schlechter 1915; Atlas des Orchidees Cultivees Constantin 1920 drawing ok; Encyclopedia of Cultivated Orchids Hawkes 1965; AOS Bulletin Vol 35 No 1 1966 drawing fide; AOS Bulletin Vol 37 No 12 1968 drawing fide; AOS Bulletin Vol 37 No 12 1968 as P speciosa var imperatrix drawing fide; AOS Bulletin Vol 37 No 12 1968 as P speciosa var christiana; Orchid Digest Vol 34 #8 1970 photo fide; Indian Orchids A Guide to Identification and Culture Vol 2 Pradhan 1979; Indian Orchids A Guide to Identification and Culture Vol 2 Pradhan 1979 as P specieosa var christiana; Indian Orchids A Guide to Identification and Culture Vol 2 Pradhan 1979 as P speciosa var imperatrix; The Genus Phalaenopsis Sweet 1980 drawing/photo fide; The Genus Phalaenopsis Sweet 1980 as P speciosa var christiana; The Genus Phalaenopsis Sweet 1980 as P speciosa var imperatrix; Rudolf Schlechter Die Orchideen Band 1B lieferung 19/20 1129 - 1264 Brieger 1988; Rudolf Schlechter Die Orchideen Band 1B lieferung 19/20 1129 - 1264 Brieger 1988 as P speciosa var christiana; Rudolf Schlechter Die Orchideen Band 1B lieferung 19/20 1129 - 1264 Brieger 1988 as P speciosa var imperatrix; Orchid Species Culture "P" Bakers 1991; Phalaenopsis, A Monograph EA Christenson 2001 drawing/photo fide; Phalaenopsis, A Monograph EA Christenson 2001 as P speciosa var christiana; Phalaenopsis, A Monograph EA Christenson 2001 as P speciosa var imperatrix; A to Z of South East Asian Orchid Species Vol 1 O'Byrne 2001 photo not = P tetraspis; Orchid Digest Vol 66 #4 2002 as P speciosa var imperatrix photo fide; Orchids of India A Glimpse Misra 2007; AOS Bulletin Vol 85 #8 2016 as P speciosa var christiana photo fide; AOS Bulletin Vol 86 #5 2017 photo fide;
--------------------------------------------------------------------------------------------------------------------------