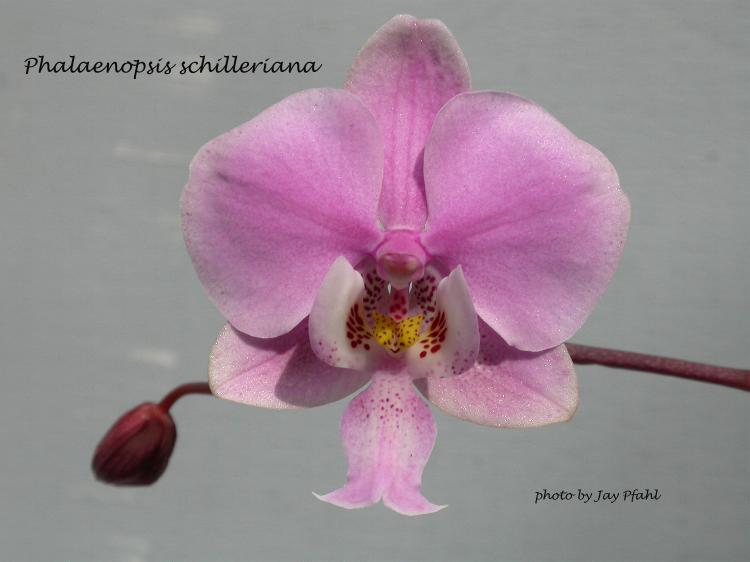 Phalaenopsis schilleriana Rchb.f 1860 SUBGENUS Phalaenopsis SECTION Phalaenopsis Benth 1883
Photo by Jay Pfahl.



to


Common Name Schiller's Phalaenopsis [German Orchid Enthusiast 1800's]
Flower Size 2.2 to 3.6" [5.5 to 9 cm]
Found on Luzon and other smaller surrounding islands of The Philippine archipelago in rainforests, high up on the trees, at elevations of sea level to 450 meters as a large sized, hot growing epiphytic plant with stout, short stems enveloped by imbricate leaf bases carrying fleshy, elliptic, oblong-ellptic, to oblanceolate, obtuse, dark green mottled silver grey leaves, that blooms in the spring on a branching, arching to pendant, to more than 3' [90 cm] long, few to many [3 to 250] flowered inflorescence with small ovate-cucullate bracts carrying showy, delicate, rose petal scented flowers that can be quite stunning.
This orchid likes shade, good humidity and even watering year round and needs a mount instead of a pot to accomodate the pendent inflorescence.
Synonyms Phalaenopsis schilleriana f. immaculata (Rchb.f.) Christenson 2001; Phalaenopsis schilleriana f. purpurea (O'Brien) O.Gruss & M.Wolff 2007; Phalaenopsis schilleriana f. splendens (R.Warner) O.Gruss & M.Wolff 2007; Phalaenopsis schilleriana var. advena Rchb.f. 1885; Phalaenopsis schilleriana var compacta nana Hort. 1890; Phalaenopsis schilleriana var delicata Dean 1877; Phalaenopsis schilleriana var grandiflora van Brero 1935; Phalaenopsis schilleriana var. immaculata Rchb.f. 1875; Phalaenopsis schilleriana var major J D Hook ex Rolfe 1886; Phalaenopsis schilleriana var odorata van Brero 1935; Phalaenopsis schilleriana var pallida Val & Tiu 1984; Phalaenopsis schilleriana var purpurea O'Brien 1892; Phalaenopsis schilleriana var splendens Warn. 1878; Phalaenopsis schilleriana var viridi-maculata Ducharte 1862
References W3 Tropicos, Kew Monocot list , IPNI ; Xenia Orchidaceae Rchb.f 1862 drawing fide; Studies in the Family Orchidaceae Fascile 2 Ames 1908; Die Orchideen Schlechter 1915 photos fide; Atlas des Orchidees Cultivees Constantin 1920 drawing fide; AOS Bulletin Vol 29 No 7 1960 photo fide; AOS Bulletin Vol 33 NO 5 1964; AOS Bulletin Vol 36 #5 1967 photo fide; Encyclopedia of Cultivated Orchids Hawkes 1965; AOS Bulletin Vol 38 #8 1969 drawing fide; ; AOS Bulletin Vol 38 #8 1969 as P schilleriana var advena drawing fide; AOS Bulletin Vol 38 #10 1969 drawing fide; AOS Bulletin Vol 38 #10 1969 as P schilleriana var immaculata; AOS Bulletin Vol 38 #10 1969 as P schilleriana var purpurea; AOS Bulletin Vol 38 #10 1969 as P schilleriana var splendens; AOS Bulletin Vol 39 No 7 1970 drawing; Orchid Digest Vol 38 no 6 1974 photo fide; The Genus Phalaenopsis Sweet 1980 drawing/photo fide; The Genus Phalaenopsis Swett 1980 as P schilleriana var immaculata; The Genus Phalaenopsis Sweet 1980 as P schilleriana var splendens; AOS Bulletin Vol 49 No 4 1980 photo fide; Orchid Digest Vol 45 No 2 1981 photo fide; The Complete Writings on Philippine Orchids Vol 2 Quisumbing 1981; AOS Bulletin Vol 51 No 12 1982 photo fide; AOS Bulletin Vol 54 No 7 1985 photo; Orchidiana Philipiniana Vol 1 Valmayor 1984; ; AOS Bulletin Vol 54 # 8 1985 photo fide; Orchid Digest Vol 51 No 2 1987 photo fide; Rudolf Schlechter Die Orchideen Band 1B lieferung 19/20 1129 - 1264 Brieger 1988 photo fide; Rudolf Schlechter Die Orchideen Band 1B lieferung 19/20 1129 - 1264 Brieger 1988 as P schilleriana var immaculata; Rudolf Schlechter Die Orchideen Band 1B lieferung 19/20 1129 - 1264 Brieger 1988 as P schilleriana var purpurea; Rudolf Schlechter Die Orchideen Band 1B lieferung 19/20 1129 - 1264 Brieger 1988 as P schilleriana var splendens; Orchid Digest Vol 55 No 3 1991 photo fide; Orchid Species Culture "P" Bakers 1991; Orchid Digest Vol 56 No 1 1992 photo; The Manual Of Cultivated Orchid Species Bechtel, Cribb & Launert 1992 drawing/photo fide; Orchid Digest Vol 57 Vol 3 1993 photo fide; Phalaenopsis, A Monograph EA Christenson 2001 drawing/photo fide; A to Z of South East Asian Orchid Species Vol 1 O'Byrne 2001 photo fide; Orchids of the Philippines Cootes 2001 photo fide; Australian Orchid Review Vol 67 No 4 2002 photo; Orchid Digest Vol 66 #4 2002 photo fide; AOS Bulletin Vol 71 No 3 2002; AOS Bulletin Vol 72 No 8 2003 drawing fide; Flora Malesiana Orchids of the Philippines Vol I Agoo, Shuiteman and de Vogel 2003; AOS Bulletin Vol 73 No 2 2004 photo fide; AOS Bulletin Vol 73 No 8 2004 photo fide; AOS Bulletin Vol 80 #6 2011 pollinia only photo fide; Philippine Native Orchid Species Cootes 2011 photo fide; AOS Bulletin Vol 82 #2 2013 photo fide; AOS Bulletin Vol 82 #11 2013 photo fide; AOS Bulletin Vol 84 #6 2015 photo fide; Orchid Digest Vol 80 #2 2016; AOS Bulletin Vol 85 #3 2016 photo fide; AOS Bulletin Vol 85 #4 2016 photo fide; AOS Bulletin Vol 85 #9 2016 photo fide; Orchid Digest Vol 81 #1 2017 photo fide; AOS Bulletin Vol 86 #4 2017 photo fide; Orchid Digest Vol 83 #4 2019 Photo fide
--------------------------------------------------------------------------------------------------------------------------
------------------------------------------------------------------------------------------------------------------------