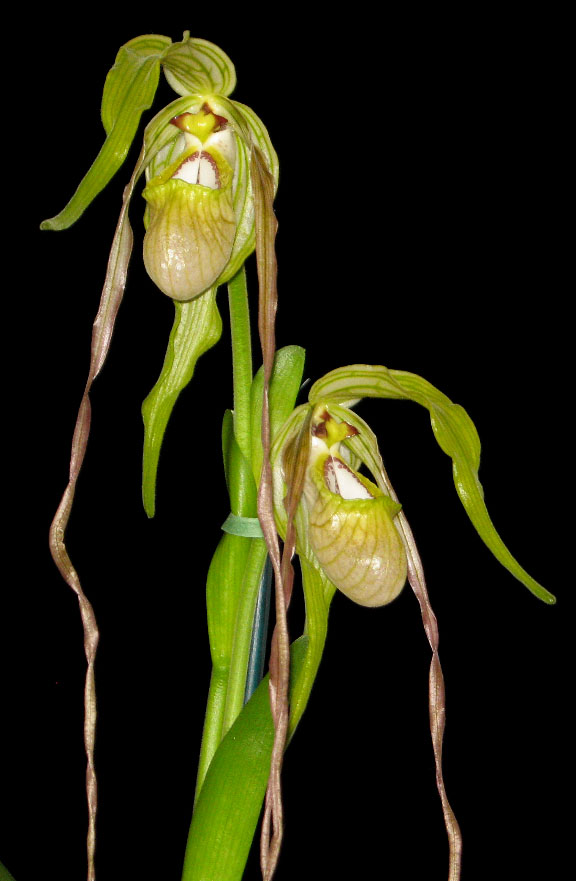 Phragmipedium wallisii [Rchb.f]Garay 1978 SECTION Phragmidedium
Photo by © Jason Chang.
Photo by Wilford Neptune.
Photo by Eric Hunt, plant grown by OrchidMania.


to





Common Name Wallis' Phragmipedium [German Orchid Coillector]
Flower Size to 24" in length
A Colombian and Ecuadorian lithophytic species on fully exposed cliff faces on granite rocks or lava flows from 600 to 2800 meters in altitude that prefers a warm to cold environment with a short, erect stem enveloped completely by imbricate, conduplicate leaf-bearing sheaths each carrying a disitchous, stiff, yellow-green, obtuse, conduplicate from the middle to the base leaf and blooms at any time of the year on an erect, 14 to 16" long, terminal, few flowered inflorescence with lanceolate bracts that has simultaneously opening, large velvety flowers.
Distinguished from others in the genus by the stiff, erect leaves, simultaneously opening flowers and a staminode with arcuate-retrose lateral lobes and a rounded midlobe as well as a saccate lip with 2 anthers.
Synonyms Cypripedium caudatum var. wallisii (Rchb. f.) J.H. Veitch 1894; *Cypripedium wallisii Rchb.f. 1873; Cypripedium warscewizianum Rchb.f 1852; Paphiopedilum caudatum var. wallisii (Rchb. f.) Stein 1892; Paphiopedilum wallisii (Rchb. f.) Pfitzer 1894; Paphiopedilum warszewiczianum (Rchb.f.) Pfitzer 1894; Phragmipedium caudatum var. wallisii (Rchb. f.) Schltr. 1921; Phragmipedium wallisii [Rchb.f]Garay 1978; Phragmipedium warscewiczianum [Rchb.f] Schlechter 1922 ; Phragmopedilum caudatum var. wallisii (Rchb. f.) Schltr. 1921; Phragmopedilum warscewiczianum (Rchb. f.) Schltr. 1922; Selenipedium caudatum var. wallisii (Rchb. f.) Rolfe 1895; Selenipedium wallisii (Rchb.f.) Rchb.f. 1878; Selenipedium wallisii (Rchb.f.) Linden 1887; Selenipedium warszewiczianum Rchb. f. 1866;
References W3 Tropicos, Kew Monocot list , IPNI ; Xenia Orchidaceae vol 2 Rchb.f 1874 drawing fide; Otia Botanica Hamburgensia Rchb.f 1878 Selenipedium wallisii; Die Orchideen Schlechter 1915 as Phragmopedilum caudatum var wallisii; Orchid Digest Vol 34 #1 1970 as P caudatum var wallisii photo fide; Orchid Digest Vol 36 No 2 1972 as P caudatum var wallisii photo fide; Orchid Digest Vol 42 No 6 1978 photo as P caudatum var wallissii; Flora of Ecuador No 9 225[1] Garay 1978; AOS Bulletin Vol 50 No 11 1981 photo fide; Icones Planetarum Tropicarum plate 482 Dodson 1982 drawing fide; Icones Planetarum Tropicarum plate 1248 Dodson 1985 as P warscewiczianum drawing ok; AOS Bulletin Vol 55 No 4 1986 photo fide; AOS Bulletin Vol 60 No 6/543 1991 photo fide; AOS Bulletin Vol 60 #6 1991 as P warscewizcii; Native Colombian Orchids Vol 3 COS 1991 photo fide; Orchid Digest Vol 62 #4 1998 photo fide; Guatemala Y Sus Orquideas Behar & Tinschert 1998 as P warscewiczii photo fide; Rudolf Schlechter Die Orchideen Band 1C lieferung 40 pg 2492 - 2564 Brieger 2000; AOS Bulletin Vol 72 No 3 2003 drawing fide; AOS Bulletin Vol 72 No 8 2003 photo fide; AOS Bulletin Vol 72 No 8 2003 as P warscewiszii photo fide; Native Ecuadorian Orchids Vol 4 Dodson 2003; Orquideologia Vol. 23 No 2 2004 as P warscewiczii photo fide; Australian Orchid Review Vol 69 No 6 2004/5 photo as P warscewiczii; AOS Bulletin Vol 76 #12 2007 photo fide; AOS Bulletin Vol 78 #6 2009 as P warscewiczii photo fide; AOS Bulletin Vol 79 #1 2010 photo fide; Orquideas del Peru Freuler 2010 as P caudatum var wallisii photo fide; AOS Bulletin Vol 79 #2 2010 as P warsewiczianum photo fide; AOS Bulletin Vol 80 #10 2011 as P lindenii subsp wallisii photo fide; Orquideologia Vol 29 #1 2012 photo fide; Orchid Digest Vol 78 #2 2014 as P warzewiczianum drawing/photo fide; AOS Bulletin Vol 83 #4 2014 as P warscewiczii photo fide; AOS Bulletin Vol 85 #6 2016 photo fide; AOS Bulletin Vol 86 # 7 2017 as P warscewiczii photo fide;
--------------------------------------------------------------------------------------------------------------------------
-----------------------------------------------------------------------------------------------------------------------