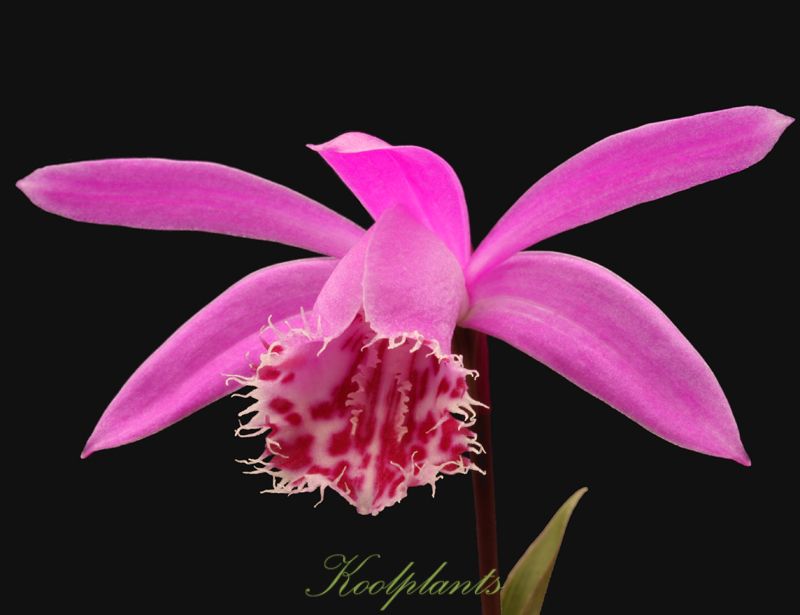 Pleione limprichtii Schltr. 1922 SECTION Pleione
Photos by © David Llewelyn and The Kool Plants UK Website



and

Common Name or Meaning Limpritch's Pleione [German Plant Collector central Asia early 1900's] - In China Si Chuan Du Suan Lan
Flower Size 2 to 2.4" [5 to 6 cm]
Found in western Sichuan and northwestern Yunnan provinces of China in humus rich soils or on mossy rocks in forests at elevations of 2000 to 2500 meters as a miniature to small sized, cool growing terrestrial orchid with green to purple, conic-ovoid, elongated neck pseudobulbs carrying a single, apical, erect, immature at flowering, lanceolate, papery, acute leaf that blooms in the spring and summer on an erect, 4 to 4.2" [10 to 12 cm] long, single to rarely 2 flowered inflorescence with pale pueplish red, oblanceolate, exceeding the ovary floral bracts.
Often cited as conspecific with P bulbocodiodes but differs in the smaller flower, shorter column and the almost circular lip.
Considered by some to by conspecific with P bulbocodioides and P limprichtii but now accepted as separate species within the P bulbocodioides complex which includes P bulbocodioides, P limprichtii, P plenoides, P formosana, and P chunii .
Synonyms Pleione bulbocodioides var. limprichtii (Schltr.) P.J.Cribb 1981
References W3 Tropicos, Kew Monocot list , IPNI ; Die Orchideen Band 1B lieferung 16/17/18 945-1128 Brieger, Senghas 1985 photo good; AOS Bulletin Vol 67 No 4 1998; The Genus Pleione Cribb & Butterfield 1988 drawing fide; The Manual Of Cultivated Orchid Species Bechtel, Cribb & Launert 1992 as P bulbocodioides var limprichtii photo fide; AOS Bulletin Vol 67 No 4 1998 photo; Orchids of Huanglong Perner, Tang Si-Yuan 2007 as P bulbochiloides var limprichii photos fide; Flora of China Vol 25 Zhengyi, Raven & Deyuan 2009;
--------------------------------------------------------------------------------------------------------------------------