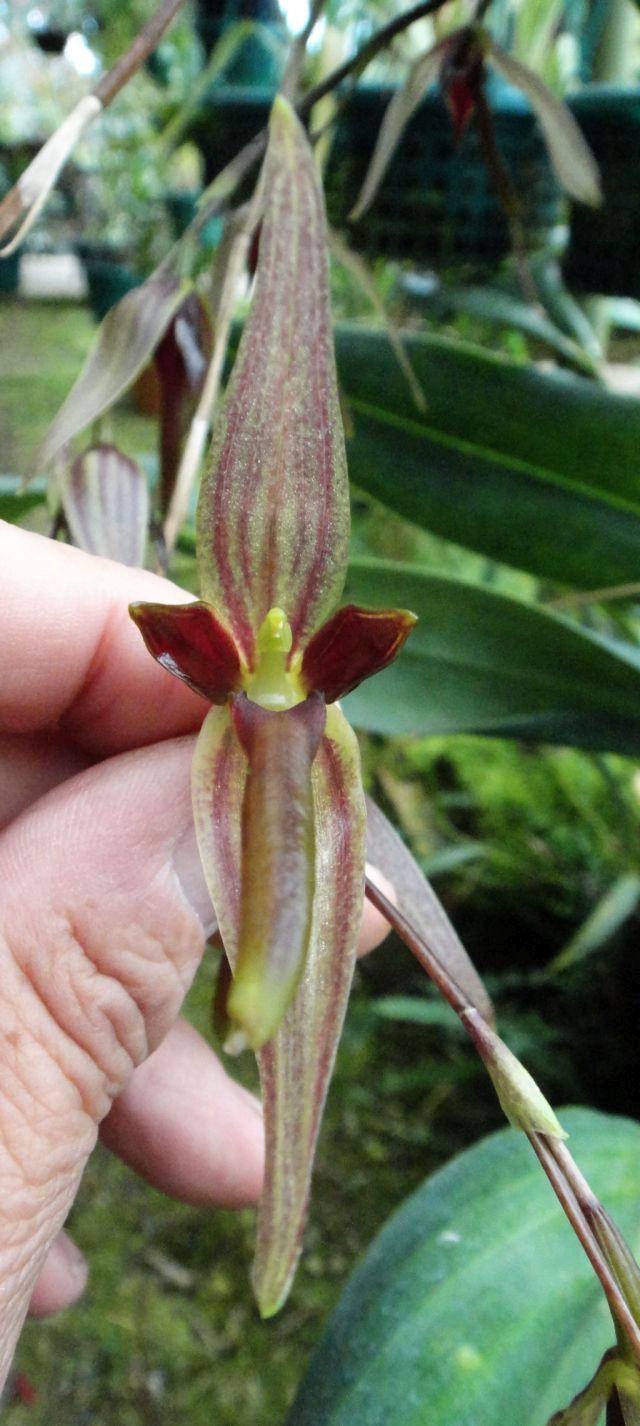 Pleurothallis excelsa Garay 1968 SUBGENUS Elongatia SECTION Elongatae Lindl.
Plant and Inflorescence Photo by Jay Pfahl
Side View Photo courtesy of Eric Hunt
Frontal View of Flower Photo courtesy of © Lourens Grobler




Common Name or Meaning The Tall Rising Pleurothallis
Flower Size 2" [5 cm]
Found in Colombia and Ecuador in virgin forests at elevations around 1600 to 1900 meters as a large sized, cool growing epiphyte or terrestrial in rich shaded humus with stout, erect ramicauls enveloped basally by a purple spotted, tubular sheath below the middle and 2 at the base carrying an apical, single, erect, thickly coriaceous, elliptical-ovate, subacute, sessile, gradually narrowing below into he cuneate base leaf that blooms in the winter and spring on a suberect to arching, loose, subsecund, 20 to 24" [50 to 60 cm] long, simultaneously several flowered, racemose inflorescence arising through a basal spathe and has infundibular, acute floral bracts.
This species is one of the largest racemose species in the genus vegetatively.
Synonyms Elongatia excelsa (Garay) Luer 2004; Stelis excelsa (Garay) Pridgeon & M.W. Chase 2001
References W3 Tropicos Kew Monocot list , IPNI ; Icones Pleurothallidinarum Systematics of Pleurothallis Vol 3 Luer 1986; Icones Pleurothallidinarum Vol XI Systematics of Lepanthes subgenus Brachycladium and Pleurothallis subgen Aenigma, subgen Elongata, Subgen Kraenzlinnella Luer 1994 drawing fide; Native Colombian Orchids Vol 6 COS 1998 phot ofide; Lindleyana Vol 16 No 4 2001 as Stelis excelsa; Icones Pleurothallidinarum Vol XXVI Luer 2004 as Elongatia excelsa
--------------------------------------------------------------------------------------------------------------------------