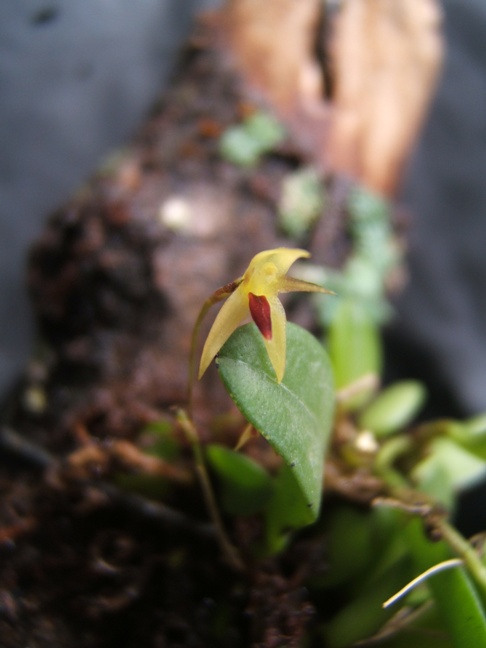 Pleurothallis minutalis Lindl.1859 SUBGENUS Specklinia SECTION Muscosae Lindl. 1842
Photos by Noble Bashor.
Photo by Egon Krogsgaard.
Drawing by © Carl Luer




Common Name The Insignificant Pleurothallis
Flower Size .2" [5 mm]
Michoacan Mx. as well as Guatemala, 2023m elev., 9.5 klm south of Uruapan, in old lava beds,
Found in Jalisco, Michoacan, Guerrero, Oaxaca and Chiapas states of Mexico as well as Guatemala at elevations of 1500 to 2200 meters as a creeping, mat forming, mini- miniature sized, cool to cold growing, shortly repent epiphyte on trees or lithophyte with near full sun. This diminutive species in found as small tufts or moss-like pads high up in trees, so it often goes un-noticed and has very short, slender, erect to reclining ramicauls carrying a single, apical, elliptic, obtuse, tridenticulate or emarginate apically, gradually narrowing below into the short, petiolate base leaf that blooms in the winter on 1 to several, arising from the apice of the ramicaul, .4 to .8" [1 to 2 cm] long, racemose, successively single, few [1 to 3] flowered inflorescence with a minutely glandular to scabrous, as long as the pedicel floral bract and carrying the flowers held at mid-leaf.
"Characterized by the shortly creeping rhizome, short ramicauls and thick, erect leaves that vary from elliptical to narrowly obovate. The inflorescence is shorter than the leaf, the peduncle bears the flower, sometimes followed by a second, or sometimes two flowers simultaneously, the floral bracti minutely glandular to scabrous, the sepals are glabrous and acute, the petals are acuminate and more or less microscopically erose and the dark red to purple lip is ovate and thick with a convex surface to either side of a shallow, medial groove." Luer 2006
In my experience this species is extremely small and easily overlooked in the wild, as it comes from open, tall forests with the plants growing in the upper branches and usually are only found on newly felled timber. One of my favorite plants to show friends the diversity of orchids, this on the small end of orchids and Grammatophyllum speciosum on the other.
Synonyms Anathallis minutalis (Lindl.) Pridgeon & M.W.Chase 2001; Humboltia minutalis (Lindl.) Kuntze 1891; Palmoglossum crassifolium Klotzsch 1856; Panmorphia minutalis (Lindl.) Luer 2006; Pleurothallis crassifolia Rchb.f. 1850; Specklinia minutalis (Lindl.) Luer 2004;
References W3 Tropicos, Kew Monocot list , IPNI ;
Xenia Orchidaceae Rchb.f 1854 drawing;
Orchids of Guatemala and Belize Ames & Correll 1952;
Miniature Orchids Northen 1980;
Flora Novo-Galaciana Vol 16 Orchidaceae Mc Vaugh 1985 drawing fide;
Icones Pleurothallidinarum Systematics of Pleurothallis Vol III Luer 1986;
Lindleyana Vol 16 No 4 2001 as Anathallis minutalis;
Icones Pleurothallidinarum Vol XXVI Luer 2004 as Specklinia minutalis;
Algunas Orquideas de Oaxaca Suarez 2004 as Anathallis minutalis photo fide;
Orchids of Mexico Hagsater, Soto, Salazar, Jimenez Lopez & Dressler 2005 as Anathallis minutalis photo fide;
Icones Pleurothallidinarum Vol XXVIII A Reconsideration of Masdevallia Systematics of Specklinia Luer 2006 as Panmorphia minutalis
Icones Pleurothallidinarum Vol XXVIII A Reconsideration of Masdevallia Systematics of Specklinia Luer 2006 as Panmorphia minutalis drawing fide;
Icones Orchidacearum fascile 10 plate 1001 Hagsater & Soto 2008 as Anathallis minutalis drawing fide;
Orchid Genera and Species in Guatemala Archila, Szlachchetko, Chiron, Lipinska, Mystkowska and Bertolini 2018 as Anathalis minutalis;
Pleurothallids Neotropical Jewels Vol 1 Karremans & Viera 2020 as Anathallis minutalis photo fide
--------------------------------------------------------------------------------------------------------------------------
-------------------------------------------------------------------------------------------------------------------------