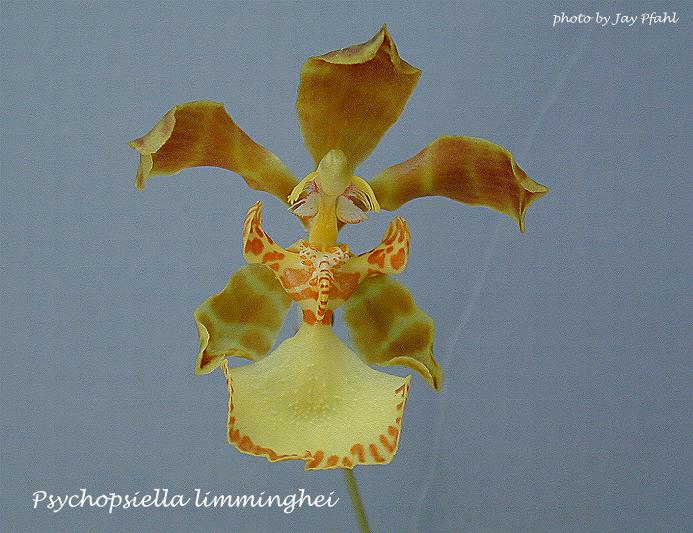 !Psychopsiella limminghei (Morren ex Lindl.) Lückel & Braem 1982
Photo by © Jay Pfahl
Photos by © Milan Vagner



to

Common Name Limminghe's Psychopsiella [Belgian Noble and Botanical Angel 1800's]
Flower Size 1 1/4" to 1 1/2" [3 to 4 cm]
Found in Brazil and Venezuela as a mini-miniature sized, warm to cool growing epiphyte with pseudobulbs and leaves that grow flat against the tree with small heart shaped, overlapping, compressed psuedobulbs enveloped basally by several white, prominently nerved sheaths that are evanescent with 2, elliptic, obtuse mottled red, dull green leaves and does best mounted on cork or treefern to accomodate the ascending rhizome that blooms in the late spring thropugh fall on an erect to arcuate, basal, 6" [15 cm] long, one to few [to 5], successively flowered, wiry inflorescence that has lanceolate, acute bracts and all arising with a new growth.
Mount on cork, give moderate light, high humidity, and warm to cool temperatures
Synonyms Oncidium echinophorum Barb. Rodr. 1881; *Oncidium limminghei Morren ex Lindl 1855; Psychopsis limminghei ?
References W3 Tropicos, Kew Monocot list , IPNI ; Die Orchideen Schlechter 1915 as Oncidium limminghei; Atlas des Orchidees Cultivees Constantin 1920 as Oncidium limminghei drawing good; Das Pflanzanreich Regni Vegetabilis Conspectus Odontoglossum/Oncidium Kranzlin 1922 as Oncidium limminghei; Das Pflanzanreich Regni Vegetabilis Conspectus Odontoglossum/Oncidium Kranzlin 1922 as Oncidium echinops; AOS Bulletin Vol 26 No 4 1957 as Oncidium limminghei drawing fide; Flora de Venezuela Volumen XV Part 5 Foldats 1970 as Oncidium limminghei drawing fide; Venezuelan Orchids Illustrated Vol 6 Dunsterville & Garay 1976 as Oncidium limminghei drawing fide; Orchidaceae Brasilenses Band 2 Pabst & Dungs 1977 as Oncidium limminghei drawings ok; Orchids of Venezuela, An Illustrated Field Guide Vol 2 Dunsterville & Garay 1979 as Oncidium limminghei drawing fide; AOS Bulletin Vol 51 No 9 1982 as Oncidium limminghei drawing/photo fide; Orchids Travel By Air A Pictoral Safari Mulder, Mulder-Roelfsema and Schuiteman 1990 photo fide; The Manual Of Cultivated Orchid Species Bechtel, Cribb & Launert 1992 photo fide; Schlechteriana Vol 4 No 1/2 1993 drawing fide; Rudolf Schlechter Die Orchideen Band 1C lieferung 33 - 36 2057 - 2308 Brieger 1997 drawing/photo fide; AOS Bulletin Vol 68 No 7 1999 photo fide; Orchids of Venezuela [An illustrated field guide] Vol. 2 Ramiro and Carnevali 2000 drawing fide; The Pictoral Encyclopedia of Oncidium Zelenko 2002; AOS Bulletin Vol 74 No 3 2005 photo fide; Orchid Species Culture Oncidium, Bakers 2006; AOS Bulletin Vol 78 No 1 2009 photo fide; Mille et Une Mini Orchideees Roguenant 2009 photo fide; Orchids of Brazil Vol 1 Oncidinae Baptista, Harding & Neto 2011 photo fide
--------------------------------------------------------------------------------------------------------------------------