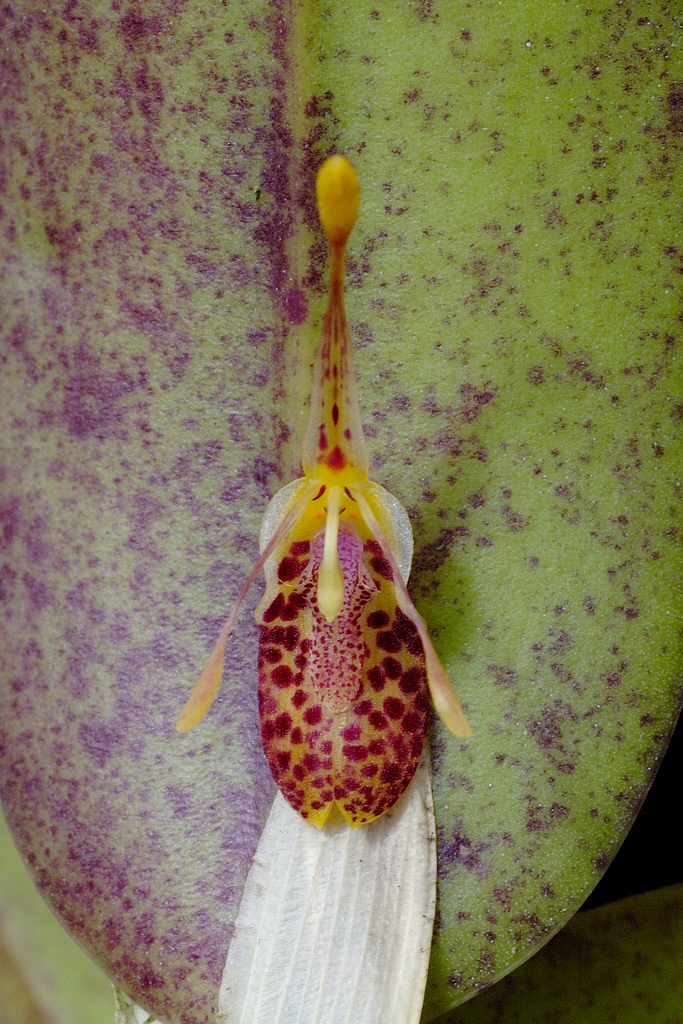 Restrepia muscifera (Lindl.) Rchb. f. ex Lindl. 1859 Restrepia SUBGENUS Restrepia SECTION Pleurothallopsis Schltr. 1918 Photo by © Eric Hunt and His Orchid Website.
Another Flower Color Colombia Side View Photos by © Milan Vágner



to


to

Common Name The Fly-Carrying Restrepia
Flower Size about 1" [2.3 cm]
This miniature to small sized, epiphytic, caepitose, warm to cool growing species is found from Mexico, Belize, Guatemala, Honduras, El Salvador, Nicaragua, Costa Rica, Panama, Colombia Ecuador at elevations of 300 to 2500 meters in tropical and montane rainforests with thin ramicauls covered with scarious sheaths and a single, apical, lanceolate or oblong, coriaceous, acute to obtuse leaf where it blooms on 1 to 2, 1/2" [2 cm] long fasciles that produce several successive opening, faintly fragrant flowers appearing in the summer through winter and are held near the leaf base. Grows well both mounted and in a pot with chopped tree fern, pine bark and chopped sphagnum in cool to warm temperatures with semi-shade and high humidity.
Synonyms Pleurothallis dayana [Rchb.f] Lo Williams 1940; *Pleurothallis muscifera Lindl. 1842; Restrepia dayana Rchb.f 1875; Restrepia lansbergii Rchb.f 1861; Restrepia muscifera f. dayana (Rchb.f.) O.Gruss & M.Wolff 2007; Restrepia muscifera subsp. shuttleworthii (Rolfe) H. Mohr; Restrepia powellii Schlechter 1922; Restrepia shuttleworthii Rolfe 1892; Restrepia tonduzii Schlechter 1922
References W3 Tropicos, Kew Monocot list , IPNI ; Repert. Sp. Nov. Regni. Veg. Beih. 17:25. Panama Schlechter 1922 as R powellii; Die Orchideen Schlechter 1915 as R xanthophtalma; Atlas des Orchidees Cultivees Constantin 1920 as R xanthophtalma drawing fide; Repert. Sp. Nov. Regni. Veg. Beih. 19: 203. Costa Rica Schlechter 1923 as R dayana; Repert. Sp. Nov. Regni. Veg. Beih. 19: 291. Costa Rica Schlechter 1923 as R tonduzii; The Orchids of Panama L.O. Williams & P Allen 1946 as Pleurothallis xanthophthalma; Orchids of Guatemala and Belize Ames & Correll 1952 as Pleurothallis xanthophthalma; Encyclopedia of Cultivated Orchids Hawkes 1965 as Pleurothallis xanthophtalma; Las Orquedias De El Salvador Vol 2 Hamer 1974 as R xanthophthalma drawing/photo fide; Die Orchideen 3 Auflage Bd 1 Sonderabdruck aus Schlechter Lieferung 7 385 - 448 Brieger, Maatsch and Senghas 1975 as R xanthophthalma drawing fide; Icones Planetarum Tropicarum Palte 1144 Hamer 1984 as R xanthophthalma drawing ok; Icones Orchidacearum I Plate 96 Hagsater & Salazar 1990 drawing fide; Orchids Travel By Air A Pictoral Safari Mulder, Mulder-Roelfsema and Schuiteman 1990 photo fide; Native Colombian Orchids Vol 4 COS 1992 photo fide; Icones Planetarum Tropicarum Plate 1576 Atwood 1993 drawing fide; Icones Pleurothallidinarum Vol XIII Systematics of Restrepia Luer 1996 drawing/photo fide; Oasis Vol 1 No 2 2000 photo; Native Ecuadorian Orchids Vol 4 Dodson 2003 photo ok; Manual de Plantas de Costa Rica Vol 3 Hammel, Grayum, Herrera and Zamora 2003 drawing fide; Algunas Orquideas de Oaxaca Suarez 2004 photo fide; Orquideas de la Serrania del Baudo Misas Urreta 2006 drawing/photo fide; Libro Rojo de Plantas De Colombia Vol 6 Primera Parte Saenz 2007; Orchids of Costa Rica Vol 2 Morales 2009 photo fide; Algunas Orquideas De Mexico Tomo 1 Suarez 2012 photo fide; Guia de Orquideas de Chiapas Carlos Rommel Beutelspacher Baigts 2013 photo fide
--------------------------------------------------------------------------------------------------------------------------
---------------------------------------------------------------------------------------------------------------------