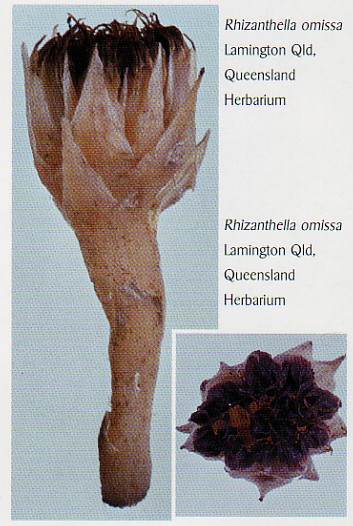 Rhizanthella omissa D.L.Jones & M.A.Clem. 2006 Photo by © The Queensland Herbarium .




Common Name The Forgotten Rhizanthella - In Australia The Lamington Underground Orchid
Flower Size .8 to 1" [2 to 2.5 cm] Flowerhead - .32 to .4" [.08 to 1 cm] wide individual flower
Found in Queensland Australia at elevations of 1200 meters in in tall forests with numerous large she-oaks and sparse shrubby understory as a mini-miniature sized, warm to cool growing underground terrestrial orchid. Only the flower breaks the surface of the ground, so most of the orchids life is spent totally underground. This undergound marvel consists of a fleshy, white, sparsely hairy rhizome with sparse small, triangular bracts that blooms in the spring on an erect, tapered, [4 to 6 mm] long, flower stem with a few scattered bracts carrying a concave, fleshy flowerhead with about 25 triangular, overlapping, drab white floral bracts and 15 to 30 flowers held in a tight spiral. The plant is erect if below ground becoming prostrate if above gound
Collected only once in 1958 when a road track was being made.
References W3 Tropicos, Kew Monocot list , IPNI ; Native Orchids of Australia Jones 2006 photo good
--------------------------------------------------------------------------------------