Rhynchostylis page
SITE LAST UPDATED 1/20/98

This Site Dedicated to Orchid Lovers Everywhere!

SUBFAMILY Epidendrodeae, TRIBE Vandeae, SUBTRIBE Sarcanthinae. This vandanaceous genus with 6 species is used in hybridization often and can be found from India southeast to the Philippines. This genus difers from Vandas by the one-lobed lip and unlike vandas they like indirect light instead. It is a monopodial genus with leathery leaves that support fragrant racemes of spicy flowers. They like wood slat basket culture with little or no potting material and will grow massive fleshy roots entangled throughout the basket if given uniform water and fertilizer. Rhynchostylis was first described in 1825 by Blume and his type species was Rhynchostylis retusa which is pictured below. The individual species of this genus are commonly called Foxtail Orchids for their long thin densly packed inflorescences. Most of the species of this genus are sweetly scented.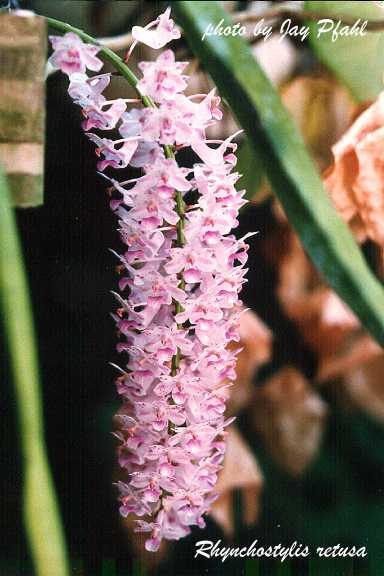 Rhynchostylus Species List
The species list below was composed with information from the following sources.

The Illustrated Encyclopedia of Orchids by Alec Pridgeon. Published by the Timber Press

The Manual Of Cultivated Orchid Species By Bechtel, Cribb and Launert, Published by The MIT Press

Growing Orchids, Book 3, J.N. Rentoul, published by Lothian

Species names that are synonyms of an accepted species are denoted with a ~.

coelestis Rchb.f.
- Indochina - Flowers in Summer - Warm grower
densiflora L.O.Wms.
-
gigantea [Lindl.]Rdly.
- Burma, Indochina, China, Malaysia, Borneo and the Philippines - Flowers in winter

var. alba - pure white flowers

var.petotiana - pure white flowers

var. rubra - red flowers

~gurwalica Rchb.f. - See retusa

~guttata Rchb.f. - See retusa

~latifolia Fisch - See Scoenorchis latifolia - Mysore

~papillosa Heynh. - See Saccolabium papillosum

praemorsa Blume
The Philippines - Flowers Summer til Autumn - Fragrant - Warm Grower
retusa [Linn.] Blume
- India, Burma, Sri Lanka, Malaysia, Indo china and the Philippines - Flowers in Late Spring
violacea
- Luzon,The Philippines