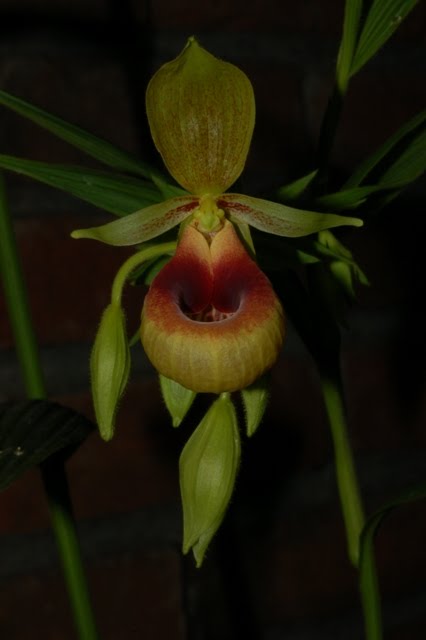 !Selenipedium chica Rchb.f. & Warsz. 1854 Photo by © Patricia Harding
Drawing Drawing By Rchb.f



Common Name The Beautiful Selenipedium
Flower Size 1" [2.5 cm]
Found in Panama, Choco, Cauca and Narino Colombia, Ecuador and Peru in well drained very humid areas on roadside banks and the floor of woodlands at elevations of 60 to 90 meters as a large to giant sized, hot growing terrestrial with an elongate, pubescent stem carrying longly acuminate, basally cuneate-oblong, plicate, narrowly elliptic leaves that blooms in the fall on a terminal, erect, densely pubesce3nt, racemose, many flowered inflorescence with a lanceolate, acute floral bract.
Natives of Panama use the fruits of this species to concoct an extract much like vanilla.
This is the undoubtedly the tallest orchid in the new world.
Synonyms Cypripedium chica (Rchb.f.) Pfitzer 1881
References W3 Tropicos, Kew Monocot list , IPNI ; *Xenia Orchidaceae Rchb.f 1854 drawing; Atlas des Orchidees Cultivees Constantin 1920 drawing ok; Flora Brasilica Vol XII I Hoehne 1940 drawing fide; Vanishing Beauty, Native Costa Rican Orchids Vol 1 Pupulin 2005 drawing/photo fide; AOS Bulletin Vol 28 No 5 1959; Encyclopedia of Cultivated Orchids Hawkes 1965 drawing fide; Die Orchideen 3 Auflage Bd 1 Sonderabdruck aus Schlechter Lieferung 3 129 to 192; Brieger, Maatsch and Senghas 1971 drawing ok; AOS Bulletin Vol 47 No 6 1978; Phylogeny and Classification of the Orchid Family Dressler 1993 photo fide; Native Colombian Orchids Vol 6 COS 1998 drawing/photo fide; AOS Bulletin Vol 76 # 11 2007 photo fide; Libro Rojo de Plantas De Colombia Vol 6 Primera Parte Saenz 2007; Orquideologia Vol 28 #1 2011 photo fide;
--------------------------------------------------------------------------------------------------------------------------