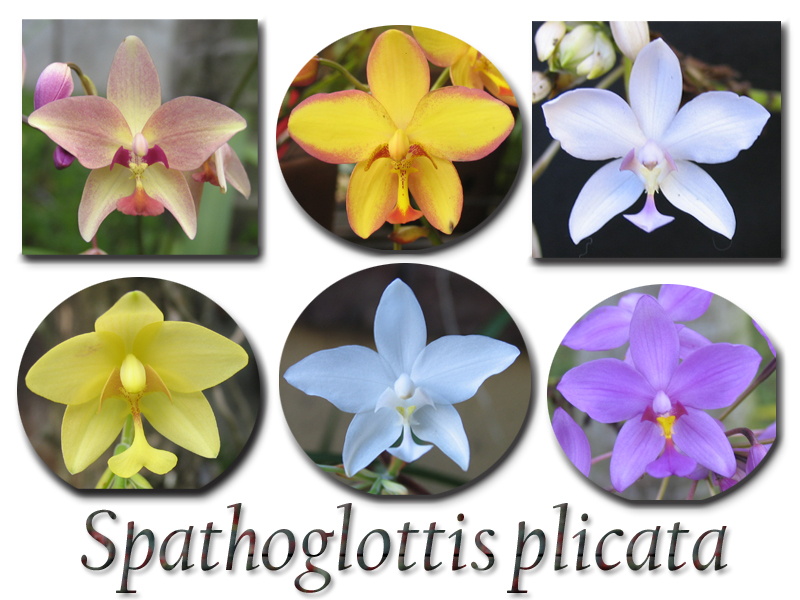 !Spathoglottis plicata Blume 1825 SECTION Lilacinae
Photo by Joji Castaneda-Lapuz


to

MOSTLY

and

Common Name Pleated Leaf Spathoglottis - In Japan - Koto-shi-ran - In China Zi Hua Bao She Lan - In Australia The Large Purple Orchid
Flower Size 1 1/2" [4 cm]
A medium to large sized, hot to cool growing terrestrial species found at elevations of 700 to 2000 meters on rocky grassland slopes, in semi-deciduous and deciduous dry lowland forests and savana-like woodlands in Bangladesh, eastern Himalayas, Assam, India, Sri Lanka, Andaman Islands, Myanamar, Thailand, Laos, Cambodia, Vietnam, Borneo, Java, Malaysia, Sumatra, Moluccas, Philippines, Sulawesi, Bismark Islands, New Guinea, Solomon islands, Queensland Australia, Fiji, Niue, New Caledonia, Samoa, Tonga, Vanuatu, Santa Cruz, Wallis and Futna, Carolines Islands, Marianas, Taiwan and the Ryukyus and as an invasive species Hawaii and the Caribbean. They can take full sun year round and require regular waterings and fertilizer year round. It has ovoid 3" [7.5 cm] psuedobulbs with numerous apical, stalked, linear-lanceolate, pointed, plicate, membraneous, and up to 3' [90 cm] long. The stiff, erect, up to 2 1/2' [75 cm] long, terminal inflorescence has a head of 5 to 25, successive opening, nonfragrant flowers that can bloom several times in a year but most often througth the spring and summer.
This species is often found in conjunction with ants and may benefit from their presence.
In the Moluccas the leaves are heated up and applied as a poulstice to aching and rheumatic joints.
Synonyms Bletia angustifolia Gaud 1829; Calanthe poilanei Gagnep. 1951; Paxtonia rosea Lindley 1838; Phaius rumphii Blume 1856; Spathoglottis angustifolia (Gaudich.) Benth. & Hook.f. 1883; Spathoglottis daenikeri Kraenzl. 1929; Spathoglottis lilacina Griff 1851; Spathoglottis plicata var. minahassae Schltr. 1925; Spathoglottis rosea (Lindl.) G.Nicholson 1886; Spathoglottis spicata Lindley 1859;
References W3 Tropicos, Kew Monocot list , IPNI ; Bonplandia Rchb.f 1857; Xenia Orchidaceae Vol 3 Reichenbach 1893; Orchids of Burma Grant 1895/1995; Studies in the Family Orchidaceae Vol 1 Ames 1905; Die Orchideen Von Java J.J.Sm. 1905; Die Orchideen Von Java Figuren Atlas J.J.Smith 1908 drawing fide; Studies in the Family Orchidaceae Fascile 2 Ames 1908 drawing fide; Die Orchideen Schlechter 1915; AOS Bulletin Vol 26 No 2 1957; Flora of Malaya Vol 1 Holttum 1957; AOS Bulletin Vol 28 No 4 1959; AOS Bulletin Vol 28 No 5 1959; AOS Bulletin Vol 28 #10 1959 money photo fide; The Orchids of Thailand Seidenfaden & Smitinand 1961; Encyclopedia of Cultivated Orchids Hawkes 1965; AOS Bulletin Vol 36 #8 1967 photo fide; AOS Bulletin Vol 39 No 10 1970 photo fide; Orchids of Southern Ryukyu Islands Garay & Sweet 1974;The Native Orchids of the United States and Canada Luer 1975 drawing/photo fide; Beautiful Thai Orchid Species Kamemoto & Sagarik 1975 photo fide; AOS Bulletin Vol 47 No 6 1978; Orchid Digest Vol 42 No 5 1978 photo fide; The Orchids of Papua New Guinea An Introduction Millar 1978 photo fide; Indian Orchids, Guide to Identification and Culture vol 2 Pradhan 1979 drawing fide; The Complete Writings on Philippine Orchids Quisumbing 1981; AOS Bulletin Vol 51 No 12 1982 stamp fide; Die Orchideen 3 Auflage Bd 1 Sonderabdruck aus Schlechter Lieferung 15 881 - 944 Brieger, Maatsch and Senghas 1984 drawing/photo fide; Orchidiana Philipiniana Vol 1 Valmayor 1984; AOS Bulletin Vol 56 No 7 1987 photo fide; Orchids of Vanuatu Lewis & Cribb 1989 drawing fide; Orchids of Java Comber 1990 photo fide; The Orchids of the Solomon Islands and Bougainville Lewis & Cribb 1991 drawing/photo fide; The Manual Of Cultivated Orchid Species Bechtel, Cribb & Launert 1992 photo fide; The Orchids of Penninsular Malaysia and Singapore Wood & Seidenfaden 1992 drawing/photo fide; Thai Orchid Species Rakpaibulsombat 1992 photo fide; Orchids of Malaya Segerback 1992 photos fide; Ferns and Orchids of the Mariana Islands Raulerson & Rinehart 1992 photo fide; The Plants of Mount Kinabalu Vol 2 Orchids Beaman, Wood, Beaman & Beaman 1993; A Checklist of the Orchids of Borneo Wood & Cribb 1994; Lowland Orchids of Papua New Guinea O'Byrne 1994 drawing/photo fide; Lowland Orchids of Papua New Guinea O'Byrne 1994 as S papuana; Identification of the Orchids [Orchidaceae Juss.] Vietnam Averyanov 1994; An Orchid Flora of Peurto Rico and the Virgin Islands Ackerman 1995 drawing fide; The Orchids of Samoa Cribb & Whistler 1996 photo/drawing fide; Living with Orchids in Sumatra Landau 1996 photo fide; Orchids of Papua New Guinea Millar 1999 photo fide; AOS Bulletin Vol 69 No 5 2000 photo fide; A to Z of South East Asian Orchid Species Vol 1 O'Byrne 2001 photo fide; Orchid Flora of Kamrup District, Assam Iswar Chandra Barua 2001 drawing fide; Orchids of Sumatra Comber 2001 photo fide; A field Guide to the Wild Orchids of Thailand Vaddhanaphuti 2001 photo fide; Orchids of Sarawak Beaman, Wood & Beaman etal 2001; photo fide; The Orchids of the Phillipines Cootes 2001 photo fide; Lindleyana Vol 17 No 1 2002; AOS Bulletin Vol 71 #1 2002 drawing fide; Orchids of Bhutan Pearce & Cribb 2002; Flora Malesiana Orchids of the Philippines Vol I Agoo, Shuiteman and de Vogel 2003; AOS Bulletin Vol 73 No 8 2004 photo fide; Wild Orchids in Myanamar Vol 2 Tanaka 2004; A field Guide to the Wild Orchids of Thailand Vaddhanaphuti 2005 photo ok; Native Orchids of Australia Jones 2006 photo fide; Orchids of India A Glimpse Misra 2007 drawing fide; Flora Malesia Orchids of New Guinea Vol V 2008; AOS Bulletin Vol 77 No 9 2008 photo fide; Wild Orchids of the Cameron Highlands REACH 2009 photo fide; Native Orchids From Gaoligongshan Mountains, China Xiaohua, Xiaodong and Xiaochun 2009; AOS Bulletin Vol 79 #10 2010 photo fide; Flora of China Vol 25 Zhengyi, Raven & Deyuan 2009; AOS Bulletin Vol 79 #1 2010 photo fide; Flora of China Illustrations Vol 25 Zhengyi, Raven & Deyuan 2010 drawing fide; The Wild Orchids in Yunnan Xu Xiang Ye & Liu 2010 photos fide; The Orchids of Mount Kinabalu Vol 2 Wood, Beaman, Lamb, Chu Lun and Beaman 2011; Orchids of Penninsular Malaysia Ong, O'Byrne, Yong & Saw 2011 photo fide; AOS Bulletin Vol 81 #2 2012 photo fide; AOS Bulletin Vol 81 #3 2012 photo fide; Orchid Digest Vol 78 #3 2014 photo fide; Orchid Digest Vol 80 #2 2016 not fragrant; Orchid Digest Vol 82 #2 2018 Photo fide; Orchid Digest Vol 83 #1 2019 photo fide; Orchid Digest Vol 83 #2 2019 photo fide; AOS Bulletin Vol 89 #1 2020 photo fide; Atlas of Native Orchids of China Vol 2 Jin Xiaohua, Li Jianwu and Ye Deping 2019 photo fide;
--------------------------------------------------------------------------------------------------------------------------