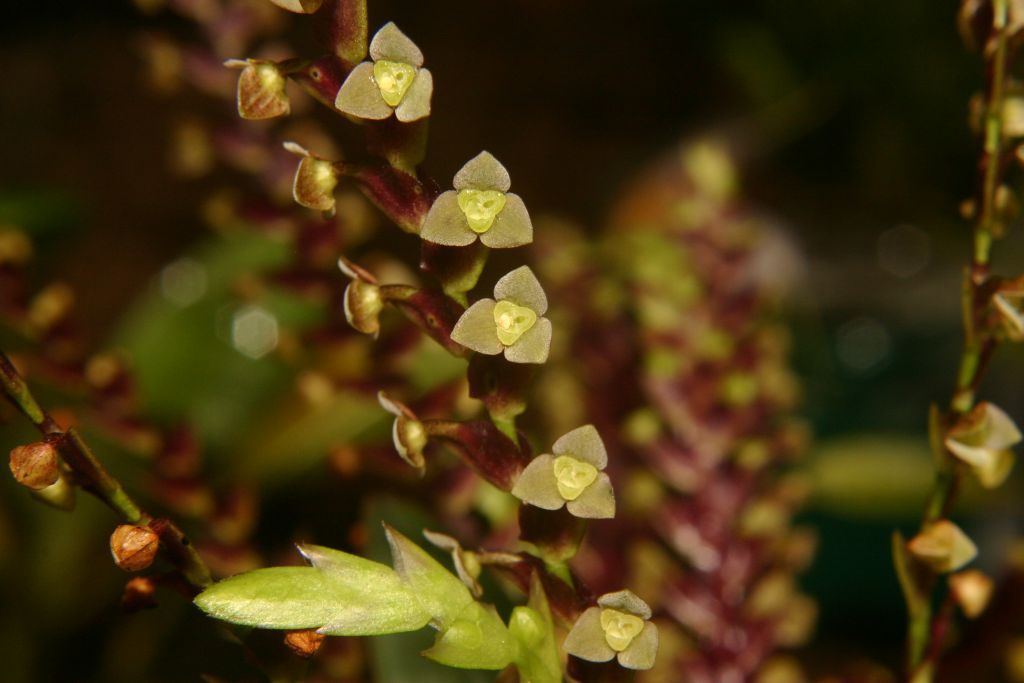 Stelis loxensis Lindl. 1845 SECTION Stelis Photo by © Patricia Harding
Drawing Drawing by © Carl Luer and The Swiss Orchid Foundation at the Jany Renz Herbaria Website




Common Name The Loja Stelis [A town in Ecuador]
Flower Size .4" [1 cm]
Not positive with this determination.
Found in Ecuador in cloud forests at elevations of 2000 meters as a miniature sized, cool to cold growing epiphyte with erect, slender ramicauls enveloped basally by 2 to 3, tubular, adpressed sheaths and carrying a single, apicall, erect, coriaceous, narrowly elliptical, snooth or rugise, purplish on the margins, obtuse to subobtuse, tridenticulate, attenuate into he petillate base leaf that blooms in the summer on 1 to 2, erect, distichous, laxly many flowered 3.2 to 4.8" [8 to 12 cm] long, racemose inflorescence arising through a spathe and with large, cuculate,-ovate, imbricate, translucent, red or clear with red streaks, minutely serrulate floral bracts.
The large, imbricate, translucent, red or clear with red streak floral bracts with small, red or green flowers easily distinguish this species.
The species Stelis brachyrachis Luer & Hirtz, Monogr. Syst. Bot. Missouri Bot. Gard. 95: 143 2004 may be a synonym but I have not been able to review the type and see a written description of this newer taxon to see if it is valid or a synonym.
Synonyms
References W3 Tropicos, Kew Monocot list , IPNI ; Fieldiana Botany Vol 33 1st Supplement to the Orchids of Peru Schweinfurth 1970; Orchidaceae Stelis Swartz A Compendium Duque 2008 OK; Icones Pleurothallidinarum Vol XXX Luer 2009 drawing ok to the photo fide to the drawing;