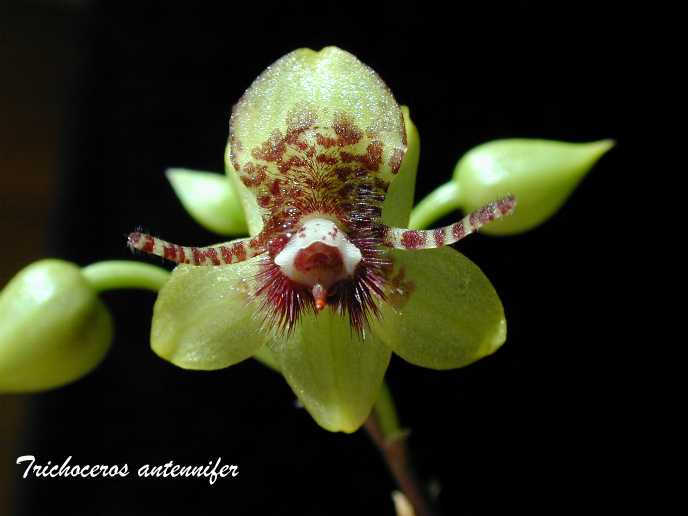 !Trichoceros antennifer [Humb. & Bonpl.] Kunth 1816
Photo by Scott McGregor.


to


to

Common Name The Antennae Trichoceros
Flower Size under 1" [under 2.4 cm]
Found from Colombia, Ecuador, Peru and Bolivia as a small sized, wandering, cool to cold growing terrestrial or lithophytic orchid found on dry, exposed, steep mossy slopes amidst shrubs in cloud forests at altitudes of 1800-4100 meters with a creeping, distant, ovoid, small pseudobulb, almost obscured in the center with several, basal pairs of distichous, imbricating, ovate-lanceolate to ovate-elliptic, long acute, coriaceous, gray green, foliaceous sheaths, and carrying a single, apical small, rudimentary leaf and blooms on an axillary, lateral, to 10" [25 cm]long, much longer than the leaf, inflorescence held well above the leaves with ovate to ovate-lanceolate, acuminate bracts and flowers that open in succession occuring in the late fall through spring.
Synonyms *Epidendrum antenniferum Humb. & Bonpl 1806; Trichoceros armillatus Rchb.f 1856; Trichoceros muscifera Kraenzel 1906; Trichoceras parvifloris H.B.K. 1816;
References W3 Tropicos, Kew Monocot list , IPNI ; Xenia Orchidaceae Rchb.f 1854 as T parviflorus drawing; Xenia Orchidaceae Rchb.f 1854 as T armillatus drawing fide; Bonplandia Rchb.f 1856 as T armillatus; Xenia Orchidaceae Vol 3 Reichenbach 1878 as T parviflorus; Otia Botanica Hamburgensia Rchb.f 1878 as T parviflorus; Encyclopedia of Cultivated Orchids Hawkes 1965 as T parviflorus; AOS Bulletin Vol 37 # 6 1968 photo fide; Icones Planetarum Tropicarum Plate 597 Dodson 1984 drawing ok; AOS Bulletin Vol 57 No 2 1988 photo as T parviflorus; Orchids Travel By Air A Pictoral Safari Mulder, Mulder-Roelfsema and Schuiteman 1990 as T parviflorus photo fide; The Manual Of Cultivated Orchid Species Bechtel, Cribb & Launert 1992 photo fide; Icones Orchidacearum Peruviarum Plate 195 Bennett & Christenson 1993 drawing fide; Rudolf Schlechter Die Orchideen Band 1B lieferung 30 1841 - 1904 Brieger 1994 photo drawing/fide; Orquideologia Vol 22 #2 2002 photo fide; AOS Bulletin Vol 71 No 3 2002 drawing fide; Native Ecuadorian Orchids Vol 5 Dodson 2004 drawing/photo fide; Australian Orchid Review Vol 72 No 4 2007 photo; Orchid Species Of Peru Zelenko & Bermudez 2009 photo fide; Orquideas del Peru Freuler 2010 photo fide; Orchideen Series C Band 74 Thiv & Worz 2012 as T sp photo fide; AOS Bulletin Vol 83 #7 2014 drawing fide; Orchid Digest Vol 80 #2 2016 photo fide; AOS Bulletin Vol 85 #3 2016 as T parviflorusdrawing fide; Orchid Digest Vol 81 #2 2017 photo fide; AOS Bulletin Vol 88 # 1 2019 photo fide;
--------------------------------------------------------------------------------------------------------------------------