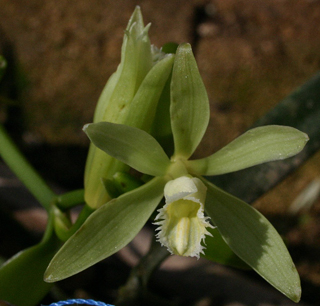 Vanilla odorata C. Presl 1826 Photo by Ecuagenera and their Ecuador Orchid Website




Common Name The Odiferous Vanilla
Flower Size 5" [12.5 cm]
Found from Mexico, Guatemala, Costa Rica, Panama, Trinidad & Tobago, Windward Islands, Fr Guiana, Colombia, Ecuador, Peru, Bolivia and central Brazil in low cloud forests at elevations of 30 to 1100 meters as a large sized, hot to cool growing epiphyte with a thick, robust stem carrying, basally clasping, ovoid, acute, basally clasping leaves with a root that arises opposite the leaf axil and blooms in the summer on an axillary, short, few to several flowered inflorescence with successive opening flowers.
The fruit capsules from this species can retain their aromatic fragrance for years and are used much in the same way as commercial vanilla in South America.
CAUTION I am not sure of this determination so please use with caution.
Synonyms Epidendrum vermifugum Sessé & Moç. 1894; Vanilla denticulata Pabst 1972 publ. 1973; Vanilla ensifolia Rolfe 1892; Vanilla uncinata Huber ex Hoehne 1937
References W3 Tropicos, Kew Monocot list , IPNI ; Flora Brasilica Vol XII II Hoehne 1945 as V ensifolia drawing ? plant only; Flora Brasilica Vol XII II Hoehne 1945 as V uncinata drawing hmm; Flora Brasilica Vol XII II Hoehne 1945 drawing fide; AOS Bulletin Vol 28 No 5 1959; AOS Bulletin Vol 47 No 6 1978; Flora of Ecuador No 9 225[1] Garay 1978 drawing fide; Icones Planetarum Tropicarum Plate 353 Dodson 1980 drawing hmm; Icones Planetarum Tropicarum Plate 1193 Dodson 1984 drawing hmm; Flora of the Venezuelan Guayana Vol 7 Steyermark, Berry, Yatskievych and Holst 2003 drawing hmm; Native Ecuadorian Orchids Vol 5 Dodson 2004 drawing/photo fide
--------------------------------------------------------------------------------------------------------------------------
--------------------------------------------------------------------------------------------------------------------------