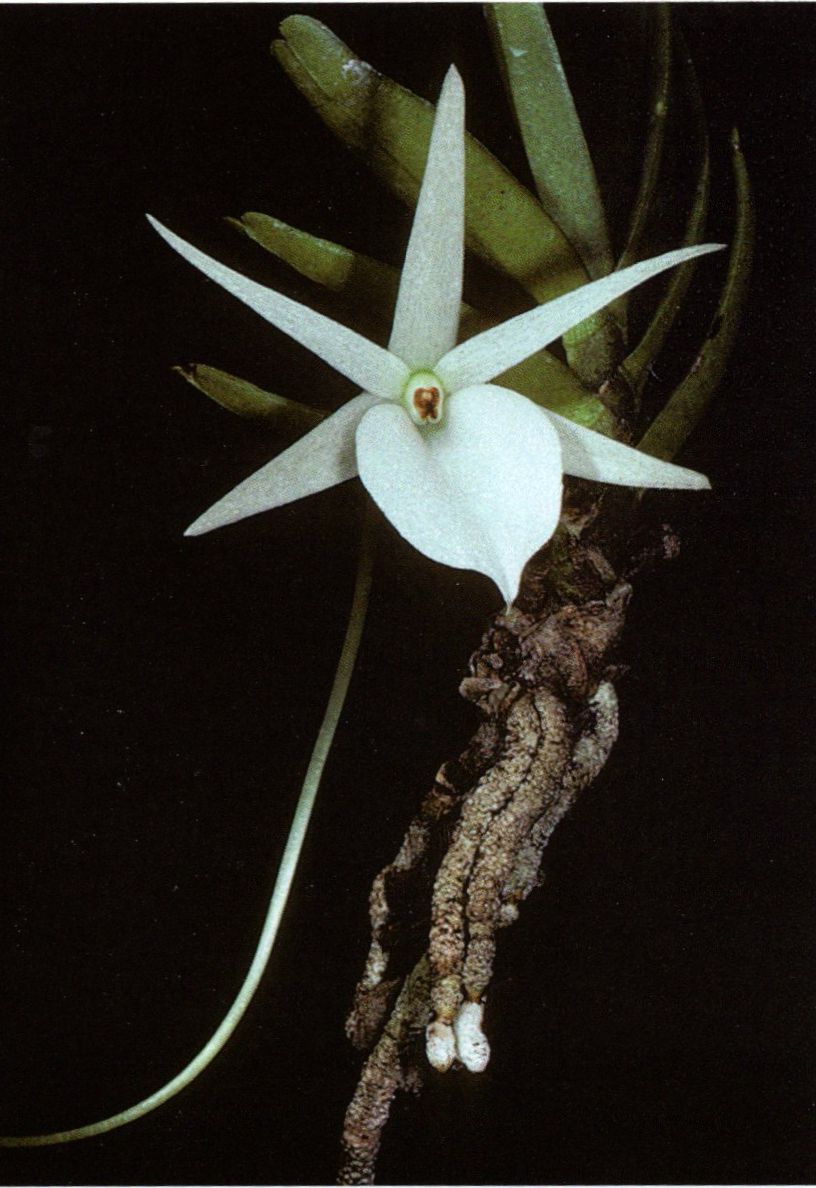 Angraecum didieri Baill. 1902 SECTION Perrierangraecum Schlechter
Photo by Marcel Lecoufle
Drawing by Finet
TYPE Sheet In Paris showing the long stem and shorter than the flower leaves
TYPE by Baill. Drawing by Finet Courtesy of the Museum National d Historie Naturelle Paris France



TO



Common Name or Meaning Didier's Angraecum [French Botanist early 1900's]
Flower Size 2 to 2 1/2" [5 to 6.25 cm] Spur 5 2/3" [14 cm]
Found in eastern an southwestern Madagascar in humid evergreen forests at elevations of 300 to 1500 meters as a miniature sized, hot to coolgrowing epiphyte with a short stem carrying 5 to 7, ligulate, coriaceous, unequally and obtusely bilobed apically leaves that blooms in the spring and summer in the northern hemisphere on a short inflorescence provided with 2 to 3 bracts and carries a solitary, sweet to spicy scented flower.
A miniature to small sized, angraecoid, epiphyte that is best wood mounted and likes hot to cool temperatures and a humid environment.
CAUTION!!!!! Almost all photos of this species on the internet are incorrect. The type sheet is the second photo above and it is absolutely correct!!!!! The Real Angraecum didieri has an an elongate stem carrying in the upper 1/3, very short (smaller than 2" [5 cm]), distichous leaves, smaller flowers than both A elephantinum and A ruttenburgianum and a much more oblong, broader lip.!!!!!!!!
These 4 species, A Didieri, A elephantinum and A ruttenburgianum & A peyrotii are all quite similar but each one differs mostly in the leaves and or in the lip
Synonyms Macroplectrum didieri Finet 1907; Perrierangraecum didieri (Baill. ex Finet) Szlach., Mytnik & Grochocka 2013
References W3 Tropicos, Kew Monocot list , IPNI ; Flora Of Madagascar Perrier 1939/1981; AOS Bulletin Vol 51 No 3 1982 photo fide; Rudolph Schlechter Die Orchideen Band 1B lieferung 16/17/18 945-1128 Brieger, Senghas 1985 drawing pollina only; Cultivated Angraecoid Orchids Of Madagascar Hillerman & Holst 1986 drawing/photo not; A Culture Manual for Angraecoid Orchid Growers Hillerman 1992 photo fide; Manual of Orchids Stewart 1995; AOS Bulletin Vol 69 No 12 2000 drawing; Boletim CAOB #52 2003; Botanica Orchids Laurel Glen 2004; AOS Bulletin Vol 73 no 9 2004 photo fide; AOS Bulletin Vol 74 No 3 2005 photo fide; Flora's Orchids Nash & La Croix 2005; Angraecoid Orchids Stewart, Hermans, Campbell 2006 photo fide; Orchids of Madagascar Hermans, DU Puy, Cribb & Bosser 2007 photo not; AOS Bulletin Vol 10 2008 photo not; Field Guide to the Orchids of Madagascar Cribb & Hermans 2009 photo not; Mille et Une Mini Orchideees Roguenant 2009 photo not; AOS Bulletin Vol 84 #9 2015 photo not; Orchid Digest Vol 80 #2 2016; AOS Bulletin Vol 86 #6 2017 photo fide; AOS Bulletin Vol 85 #7 2016 photo not; A la Recherche des Orchidees de Madagascar Hervouet 2018 photo maybe;
--------------------------------------------------------------------------------------------------------------------------