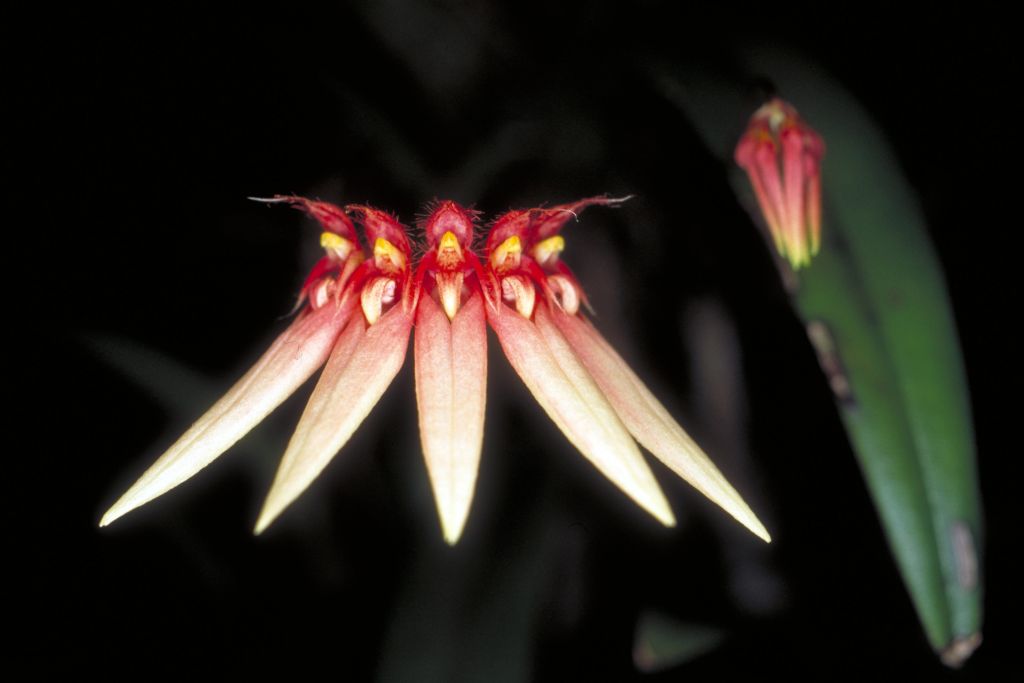 Bulbophyllum acuminatum [Ridl.] Ridl. 1907 SECTION Ephippium Schlechter 1913
Photo by © Peter O'Byrne.
Photo by © Eric Hunt.



to LATE

Common Name The Tapering Flower Bulbophyllum
Flower Size 5/8" [1.75 cm]
Found in the Andaman Islands, Thailand, pennisular Malaysia and Borneo in podosol forests as a miniature sized, hot to warm growing, unifoliate epiphyte at elevations of sea-level to 600 meters with globose to conical pseudobulbs carrying a single, apical, slender, narrowing equally from bilobed apex to base leaf that blooms in the fall to late spring on a basal, slender, 8" [20 cm] long, few to several flowered inflorescence with the flowers held in an apical umbel over the leaf.
This orchid is best mounted or put in a wood slat basket to accomodate the lateral to drooping inflorescence.
Synonyms Bulbophyllum semibifidum [Ridl.] Ridl. 1907; *Cirrhopetalum acuminatum Ridl. 1896; Cirrhopetalum linearfolium Ridl. 1896; Cirrhopetalum semibifidum Ridl. 1896; Bulbophyllum stenophyllum Ridl. 1907
References W3 Tropicos, Kew Monocot list , IPNI ; The Orchidaceae of German New Guinea Schlechter 1913/82; Orchids of Malaya Holtum 1953; Notes on Cirrhopetalum Seidenfaden 1973 drawing fide; Dansk Botanisk Arkiv Bind 33 #3 Orchid Genera in Thailand VIII Bulbophyllum Thou Seidenfaden 1979 drawing good; The Orchids of Penninsular Malaysia Seidenfaden & Woods 1992 drawing ok; A Checklist of the Orchids of Borneo Wood & Cribb 1994 photo fide; A to Z of SE Asian Orchids O'Byrne 2001 photo fide; Orchids of Sarawak Beeman & Wood 2001 photo ok; Wild Orchids of the Cameron Highlands REACH 2009 photo fide
----------------------------------------------------------------------------------------------------------