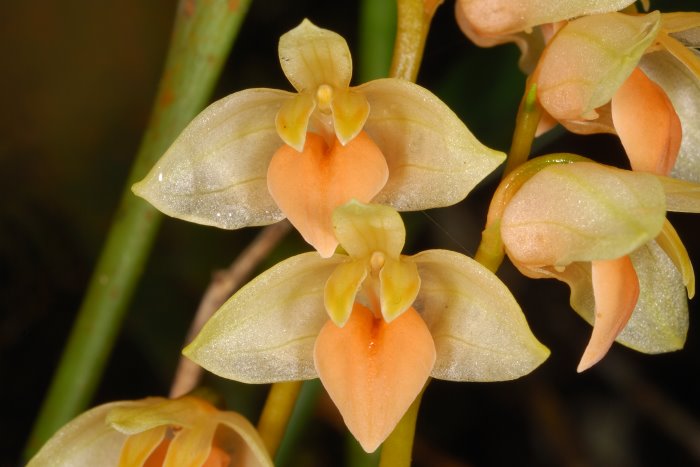 Bulbophyllum conspectum J.J.Sm. 1927 SECTION Stachysanthes (Bl.) J.J. Verm. & P. O'Byrne 2008
Photos by © Eric Hunt.
Photo by © Peter Maxwell


to


Common Name The ? Bulbophyllum
Flower Size to .88" [to 2.2 cm]
Found only in Borneo at elevations around 400 to 1200 meters as a mini-miniature to medium sized, hot to cool growing epiphyte or occasional terrestrial with .8 to 4.4" [2 to 11 cm] between each minute, discoid, not laterally flattened pseudobulb carrying a single, apical, erect, elliptic to ovate, obtuse to acute, sometimes cordate, petiolate base leaf that blooms in the summer on an erect to patent, often somewhat arching, elongate, peduncle .78 to 6" [1.8 to 15 cm] long, lax, 1 to 12" [2.5 to 30 cm] long overall, [1] 2 to 12 flowered inflorescence.
Recent research has determined that all specimens from Borneo are actually B conspectum instead of B sopoetanense. They are separated morphologically by B sopoetanense having 2 pollina, [B conspectum has 4] slightly larger flowers, as well as the vegetative parts that are not suffused with ochre and the flowers are white, tinged with pale [green] yellow.
There are 2 distinct forms of this species with the normal being a medium sized plant, but in lower elevations in exposed situations, the small form has leaves about .8" [2 cm] long, has 1 to 3 flowered inflorescence, and often smaller flowers with thicker flower parts. Also in some samples the tooth just below the stigma is missing, but there is a slight, well rounded swelling lower down on the column foot.
Synonyms
References W3 Tropicos, Kew Monocot list , IPNI ; Orchids of Borneo Vol 2 Vermeullen 1991 as B sopoetanense drawing/photo fide; A Checklist of the Orchids of Borneo Wood & Cribb 1994 as B sopoetanense; The Orchids of Mount Kinabalu Vol 2 Wood, Beaman, Lamb, Chu Lun and Beaman 2011 as B sopoetanense drawing fide; Orchid Digest Vol 77 #2 2013 as B sopoetanense photo fide; A Guide to the Orchids of Kinabalu Wood 2013 as B sopoetanense photo fide; Bulbophyllum of Borneo J J Verm, P O'Byrne and Lamb 2015 photos/drawing fide;
----------------------------------------------------------------------------------------------------------