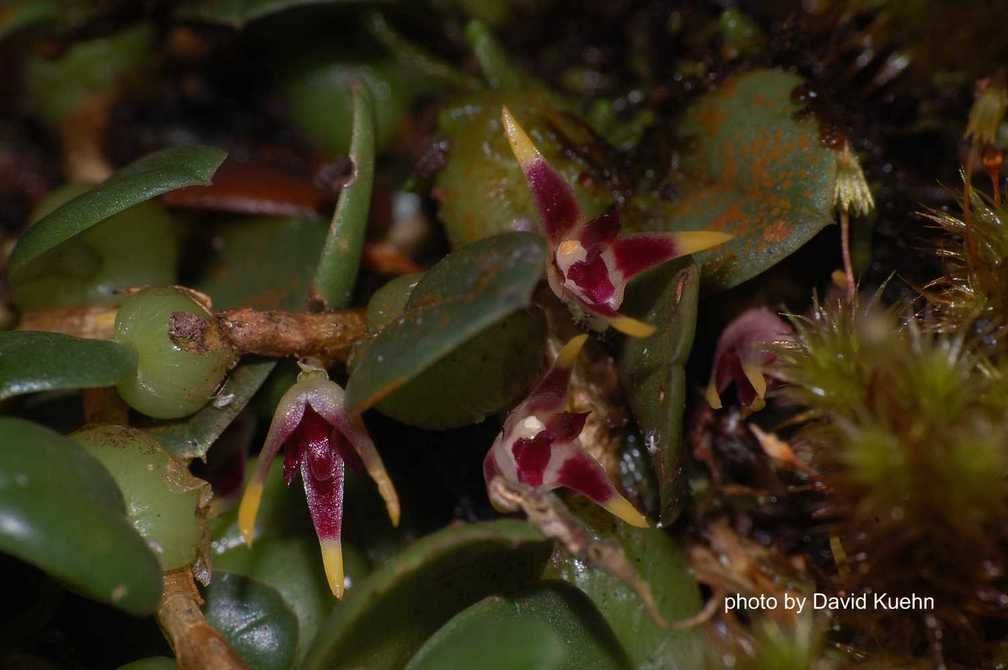 Bulbophyllum depressum King & Pantl. 1897 SECTION Monanthaparva Ridl. 1896
Photos © by David Kuehn
Photo by ©MR.TIPOL RUANGAKSORN and Exotic Bulbophyllum
Photos by Manorot Tangsaveepha Copyright ©, and the Butterfly and Orchids Photo Gallery


to



Common Name The Downward Pushed Bulbophyllum [refers to the prostrate pseudobulbs and leaf]- In China Ji Chun Shi Dou Lan
Flower Size 1/8" [3 mm]
Found in Bhutan, India, China, Thailand, Malaysia, Borneo, Sumatra and Java at elevations of 600 to 2000 meters in hill and lower montane forests usually on trunks and large branches without moss as a miniature sized, warm to cool growing epiphyte with close set [not always], ovoid to ellipsoid, slightly flattened and canted to the side pseudobulbs carrying a single, apical, rather thick, ovate, medium to dark green, shortly petiolate leaf that blooms in the summer and fall on a basal, lateral to arching, 3/4" [1.2 cm] long, single flowered inflorescence arising from the rhizome and carrying tubular floral bracts and a flower that does not open well.
Very similar to B acutilobum but B depressum differs in having acute to acuminate petals and the rounded lateral lobes of the lip.
Similar to both B ciliatum and B comberi. From B ciliatum it differs in not having a median ridge on the adaxial side of the lip, from B comberi it differs in having distinct side lobes to the lip.
Synonyms Bulbophyllum acutum J.J.Sm. 1905; Bulbophyllum hastatum Tang & F.T.Wang 1974; Bulbophyllum sundaicum J.J.Verm. & Schuit. 2008
References W3 Tropicos, Kew Monocot list , IPNI ; Die Orchideen Von Java J.J.Sm. 1905 as B acutum; Die Orchideen Von Java Figuren Atlas J.J.Smith 1908 as B acutum drawing fide; Orchidaceae of German New Guinea Schlechter 1913 as B acutum; The Orchids of Thailand Seidenfaden & Smitinand 1961 as B sp Kerr 0365 drawing fide; Dansk Botanisk Arkiv Bind 33 #3 Orchid Genera in Thailand VIII Bulbophyllum Thou Seidenfaden 1979 as B hastatum drawing ok; Orchids of Java Comber 1990 as B. acutum photo fide; Orchids of Borneo Vol 2 Vermeullen 1991 as Bulb. acutum drawing/photo fide; The Plants of Mount Kinabalu Vol 2 Orchids Wood Beaman & Beaman 1993 as B acutum; A Checklist of the Orchids of Borneo Wood & Cribb 1994 as B acutum; Orchids of Sumatra Comber 2001 as Bulb. acutum photo fide; Bulbophyllum and Their Allies Siegerist 2001 as B acutum; Orchids Of India II Biodiversity & Status of Bulbophyllum Thou Augustine & Kumar 2001 as B hastatum; Bulbophyllum and Their Allies Seigerist 2001 as Bulb. acutum; The Orchids of Bhutan Pearce & Cribb 2002; Orchids of India A Glimpse Misra 2007 as B acutum; Orchids of India A Glimpse Misra 2007; Orchids of India A Glimpse Misra 2007 as B hastatum; Thirty Two New Species of Bulbophyllum (Orchidaceae)from Sulawesi J.J. VERMEULEN 1 AND P. O'BYRNE Gard. Bulletin Singapore 60 (1): 73-153 2008; Flora of China Vol 25 Zhengyi, Raven & Deyuan 2009 as Section Monanthes; Flora of China Vol 25 Illustrations Zhengyi, Raven & Deyuan 2010 as Section Monanthes drawing fide; The Atlas of Wild Orchids in Hainan Island, China Shenyan and Junmei 2010 as B hastatum photo fide; The Orchids of Mount Kinabalu Vol 2 Wood, Beaman, Lamb, Chu Lun and Beaman 2011; Philippine Native Orchid Species Cootes 2011 photo fide; Bulbophyllum of Borneo J J Verm, P O'Byrne and Lamb 2015 photos/drawing fide; AOS Bulletin Vol 85 #4 2016 photo fide; A Century of New Orchid Records in Bhutan Royal Government of Bhutan 2017 drawing/photo fide; Atlas of Native Orchids of China Vol 2 Jin Xiaohua, Li Jianwu and Ye Deping 2019 photo fide;
----------------------------------------------------------------------------------------------------------