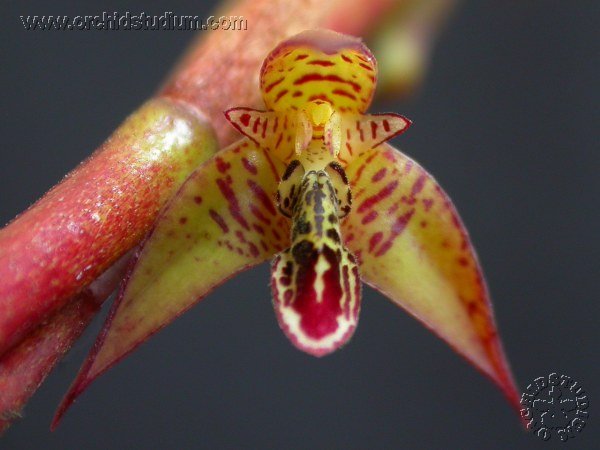 Bulbophyllum exaltatum Lindl. 1842 SECTION Didactyle [Lindley] Cogn. 1902
TYPE for the section
Photo by © Dalton Holland Baptista
Plant and Inflorescence NOT =?
Photos by © Andreas Philipp



Common Name or Meaning The Wingless Bulbophyllum
Flower Size .4" [1 cm]
Found in southern Venezuela, Guyana and northern Brazil at elevations of 800 to 1600 meters as a miniature to small sized, hot to warm growing epiphyte with close set, ovoid, tetragon, each face concave sided pseudobulbs and carries a single apical, erect, coriaceous narrowly ovate, obtuse, constricted below into the short petiolate base leaf that blooms on a basal, erect, to 18" [45 cm] long, several to many flowered, racemose inflorescence with elongate bracts that partly envelop the flower
Many references include B warmingianum as a synonym but I have left them separate pending more research.
Please proceed to B geraense as well as it is a very similar orchid flower. You will see the stated differences there.
Synonyms Bulbophyllum gomesii Fraga 1999; Bulbophyllum longispicatum Cogn. 1893; Didactyle exaltata (Lindl.) Lindl. 1852; Phyllorkis exaltata (Lindl.) Kuntze 1891;
References W3 Tropicos, Kew Monocot list , IPNI ; Venezuelan Orchids Vol 5 Dunsterville & Garay 1966 drawing fide for first photo; Flora de Venezuela Volumen XV Part 4 Foldats 1970 drawing fide for first photo; Orchids of Venezuela, An Illustrated Field Guide Vol 1 Dunsterville & Garay 1979 drawing fide to the first photo; Icones Planetarum Tropicarum Series II plate 0204 Dodson & Vasquez 1989 drawing fide; Native Colombian Orchids COS Vol 5 COS 1994 photo fide; Venezuela; Paraiso de Orquideas Romero 1997 photo hmm; Orchids of Venezuela [An illustrated field guide] Vol. 1 Ramiro and Carnevali 2000 drawing fide to the first photo; Bulbophyllum and Their Allies Siegerist 2001; Orquideas Nativas del Tachira' Cesar Fernandez 2003 photo ok; Flora of the Venezuelan Guayana Vol 7 Steyermark, Berry, Yatskievych and Holst 2003 drawing ok; Orchidees du Bresil, As Orquideas da Serra do Castelo, Espirito Santo Vol 3 Chiron & Bolsanello 2013 drawing fide/photo fide; AOS Bulletin Vol 86 #2 2017 photo fide; Orchids, A Colombian Treasure Vol 1 Ortiz & Uribe 2014 drawing/photo fide; Orquideas de Farallones de Cali Galindo-Tarazona, Haelterman, Zuluaga Trochez and Sebastian Moreno 2020 photo fide
----------------------------------------------------------------------------------------------------------