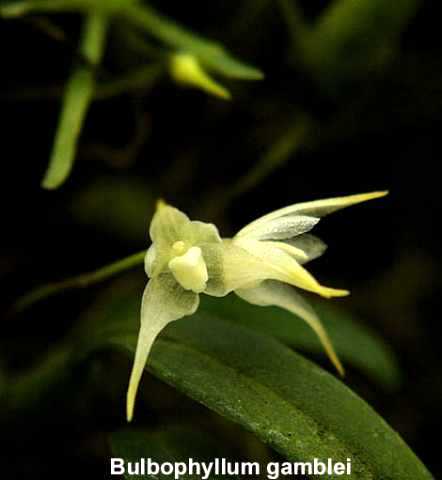 Bulbophyllum gamblei (Hook.f.) Hook.f.1890 SECTION Desmosanthes [Bl.] J.J. Sm. 1933 Photo by © Dale and Deni Borders
Plant and Flowers Photo by © Rudolph Jenny and The Swiss Orchid Foundation at the Jany Renz Herbaria Website.


To

LATE

EARLY

Common Name Gamble's Bulbophyllum [English Botanist in India late 1800's]
Flower Size 3/8" [1.5 cm]
A small, cool to cold growing epiphyte or lithophyte that is found in the eastern Himalayas, Bhutan, Sikkim and Assam India in broad-leafed riverine forests on rocks and trees at elevations of 1800 to 2800 meters with smooth, conical pseudobulbs about 1 to 1 1/2" apart on the rhizome and carrying a single, apical, lanceolate-ovate leaf that blooms in the late spring and early summer on a basal, slender, 1 1/8" [3 cm] long, umbellate inflorescence that carries a few [3 to 6] flowers held amid the leaves.
This cool to cold growing species need to be mounted or done in baskets and given partial shade, ample water,and some air movement to grow well. The Cirrhopetalum like plant with a definite umbel of rose colored flowers that is sold as B gamblei is actually Bulbophyllum fischeri aka Cirrhopetalum gamblei. There has been much confusion with these 2 species over the years.
Synonyms Bulbophyllum gamblei Hook. f. 1911; Bulbophyllum leptanthum var. gamblei Hook.f. 1890;
References W3 Tropicos, Kew Monocot list , IPNI ; Icones Plantarum Vol 21 Hooker 1890 drawing ok; The Orchids of Sikkim-Himalaya Part 1 King & Pantling 1898 drawing fide; Indian Orchids Guide to Identification and Culture Vol 2 Pradhan 1979 drawing good; Bulbophyllum and Their Allies Seigerist 2001 as Cirrhopetalum gambleiOrchids of Bhutan Pearce & Cribb 2002; Orchid Genera in Thailand Vol VIII Bulbophyllum Thou. Seidenfadden 1990
----------------------------------------------------------------------------------------------------------