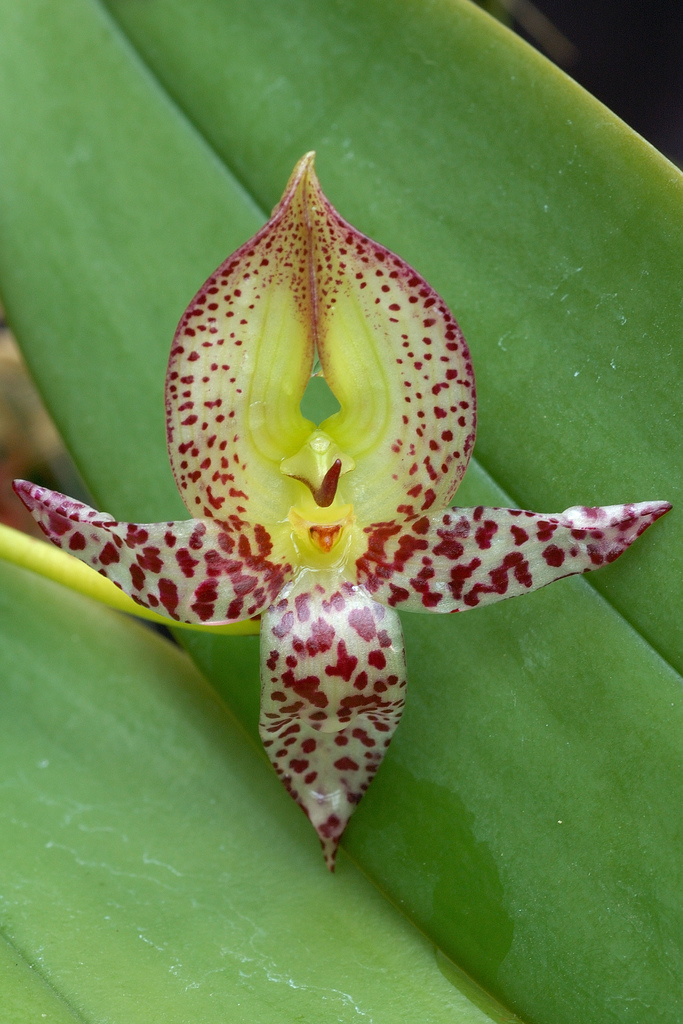 Bulbophyllum macranthum Lindley 1844 SECTION Sestochilos [Breda] Benth & Hook.f. 1883
Photo by © Eric Hunt
Dorsal view of flower, note movable lip at arrow
Photos by Jay Pfahl





and

Common Name The Large Flowered Bulbophyllum
Flower Size 2" Tall [5 cm]
Found in Assam, Myanamar, Thailand, Malaysia, Vietnam, Borneo, Java, Moluccas, The Philippines, Sulawesi, Sumatra, Papua New Guinea and the Solomon Islands at altitudes of [sea-level] 700 up to 1500 meters as a small sized, warm to cool growing epiphyte with a stout, hairy rhizome with well spaced, ovate-elliptic psuedobulbs carrying a single, oblong, fleshy, petiolate leaf, blooms in the spring and fall with a solitary upside down flower [non-resupinate] that has a 2" [5 cm] long, basal, lateral, single flowered inflorescence that holds the fragrant [cloves] flower amid the leaves.
Best grown on a slab of tree fern or cork, given hot temperatures and good shade.
Similar to B praetervisum but if you compare the side photos of the 2 species you can see one of the defining differences. B macranthum has a much finer acute lip apex while B praetervisum has a wider less acute lip apex. The other is the lack of the two triangular stelida on the column which are very prominent on B praetervisum
Among the Borneo species, B. breimerianum is most similar to B. macranthum and B. praetervisum. It is unequivocally distinct at close inspection because of the retrorse 'horns' on the lip, as well as the rounded wings along the lower margin of the stelidia. Among species from elsewhere, B. grandifolium Schltr. is most similar, but this has a lip of .32 to .4" [8 to 10.5 mm] long.
Synonyms Bulbophyllum cochinchinense Gagn. 1950; Bulbophyllum patens Auct. no King ex Hkr. Gagn. 1951; Bulbophyllum purpureum Náves in F.M.Blanco 1880; Carparomorchis macrantha (Lindl.) M.A.Clem. & D.L.Jones 2002; Phyllorchis macrantha (Lindl.) Kuntze; *Sarcopodium macranthum Lindley 1850-1; Sarcopodium purpureum Rchb.f 1859;
References W3 Tropicos, Kew Monocot list , IPNI ; Bonplandia Rchb.f 1856 as Sarcopodium purpureum; The Orchids of Burma Grant 1895/95; Die Orchideen Schlechter 1915; Flora of Malaya Vol 1 Holtum 1957; The Orchids of Thailand Seidenfaden & Smitinand 1961 drawing/photo fide; The Orchids of Thailand Seidenfaden & Smitinand 1965 corrections; Encyclopedia of Cultivated Orchids Hawkes 1965; AOS Bulletin Vol 39 No 2 1970 photo fide; AOS Bulletin Vol 39 No 4 1970 photo; The Orchids of Papua New Guinea An Introduction Millar 1978 photos fide; Dansk Botanisk Arkiv Bind 33 #3 Orchid Genera in Thailand Vol VIII Bulbophyllum Thou. Seidenfaden 1979 drawing fide; AOS Bulletin Vol 50 No 9 1981 photo fide; Manual of Cultivated Orchids Bechtel, Cribb & Laurent 1982; AOS Bulletin Vol 52 No 9 1983 photo fide; Die Orchideen lieferung 13 753 - 816 1983 photo fide; Orchids of Java Comber 1990 photo fide; The Orchids of the Solomon Islands and Bougainville Lewis & Cribb 1991 drawing fide; Orchids of Borneo Vol 2 Vermeullen 1991 drawing/photo fide; Orchids of Penninsular Malaysia and Singapore Seidenfadden and Wood 1992 drawing/photo fide; Thai Orchid Species Rakpaibulsombat 1992 photo fide; The Plants of Mount Kinabalu Vol 2 Orchids Wood Beaman & Beaman 1993; A Checklist of the Orchids of Borneo Wood & Cribb 1994; Identification of the Orchids [Orchidaceae Juss.] Vietnam Averyanov 1994; Living with Orchids in Sumatra Landau 1996 photo fide; Manual of Orchids Stewart 1995; Orchids of Papua New Guinea Millar 1999 photo fide; A to Z of SE Asian Orchids O'Byrne 2000 photo fide; Bulbophyllums and Their Allies Seigerist 2001 photo fide; Botanica's Orchids Laurel Glen 2001 photo fide; A Field Guide to the Wild Orchids of Thailand Vaddhanaphuti 2001 photo fide; Orchids of Sumatra Comber 2001 photo fide; The Orchids of the Philippines Cootes 2001 photo fide; Orchids of Sarawak Beeman & Wood Beaman etal 2001; Australian Orchid Review Vol 67 No 2 2002 photo; Flora Malesiana Orchids of the Philippines Vol I Agoo, Shuiteman and de Vogel 2003; Australian Orchid Review Vol 70 No 3 2005; A field Guide to the Wild Orchids of Thailand Vaddhanaphuti 2005 photo fide; Turczaninowia 19 (3): 5–58 L. V. Averyanov1 , Khang Sinh Nguyen etal 2016 ; Orchids of India A Glimpse Misra 2007; AOS Bulletin Vol 77 No 12 2008 photo fide; New species of Bulbophyllum from eastern Malesia (Orchidaceae) Nordic Journal of Botany 26: 129195, 2008 Vermuellen; Orchid Digest Vol 73 #2 2009 photo fide; Wild Orchids of Penninsular Malaysia Ong, O'Byrne, Yong & Saw 2011 photo fide; Philippine Native Orchid Species Cootes 2011 photo fide; Malesian Orchid Journal Vol 15 O'Byrne & Ong 2015 drawing/photo fide; Bulbophyllum of Borneo J J Verm, P O'Byrne and Lamb 2015 photos/drawing fide; Orchid Digest Vol 79 #1 2015 photo roots only; Orchid Digest Vol 80 #2 2016 photo fide; AOS Bulletin Vol 85 #3 2016 drawing fide; AOS Bulletin Vol 89 #11 2020 photo fide;
--------------------------------------------------------------------------------------
-------------------------------------------------------------------------------------------------------------------