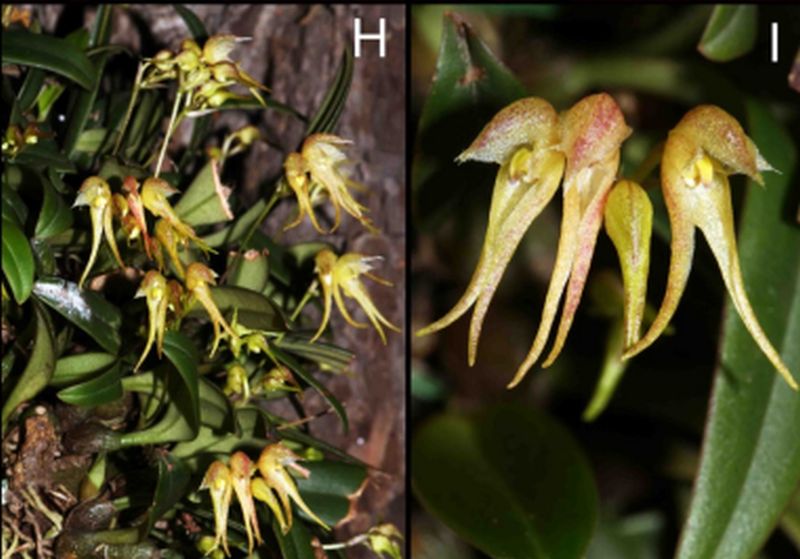 Bulbophyllum psychoon Rchb. f. 1878
SECTION Eublepharon J J Verm., Schuit. & de Vogel 2014
Photos by Averyanov
Andy's Orchids, Copyright © 2002 All rights reserved
Photos by Dale and Deni Borders.





and

Common Name The Butterfly-Like Bulbophyllum
Flower Size 3/8" [.9 cm]
Found in Vietnam, India, Laos and China in evergreen broad-leaves primary forests and mixed forests at elevations of 500 to 1650 meters as a mini-miniature sized, warm to cool growing epiphyte with a creeping, much branching rhizome giving rise to close set, ovoid to conical, ribbed, dark green pseudobulbs carrying a single, erct, fleshy, flexible, thinly leathery, narrowly ovate, acute to obtuse, minutely punctate, and purple suffused beneath, petiolate base leaf that blooms in the spring and summer on an erect to suberect, sometimes reddish, laterally from the base, wiry, 3" [7.5 cm] long, to 8 flowered inflorescence arising on old and new pseudobulbs that has an apical cluster of simultaneously opening, fragrant [foul] flowers.
Kew puts this one as a synonym of B scabratum but Averyanov considers them different and I tend to agree.
Synonyms Phyllorchis psychoon (Rchb.f.) Kuntze 1891
References W3 Tropicos, Kew Monocot list , IPNI ; AOS Bulletin Vol 74 No 5 2005; Orchids of India A Glimpse Misra 2007; A Compendium of Miniature Orchid Species Gerritsen and Parsons 2013 photo fide; Turczaninowia 16(4):26-46 NEW AND RARE ORCHIDS (ORCHIDACEAE) IN THE FLORA OF CAMBODIA AND LAOS Averyanov 2013 photo fide to Averyanov photo; Orchid Digest Vol 78 #2 2014 photo ok; Taiwania 61(4):319-354 November 2016, New Species of Orchids (Orchidaceae) in the Flora of Vietnam Averyanov, Nong, Nguyen and Truong 2016 photo fide to Averyanov photo; Turczaninowia 19 (3): 5–58 L. V. Averyanov, Khang Sinh Nguyen etal 2016 photo fide to Averanov photo;
--------------------------------------------------------------------------------------------------------------------------