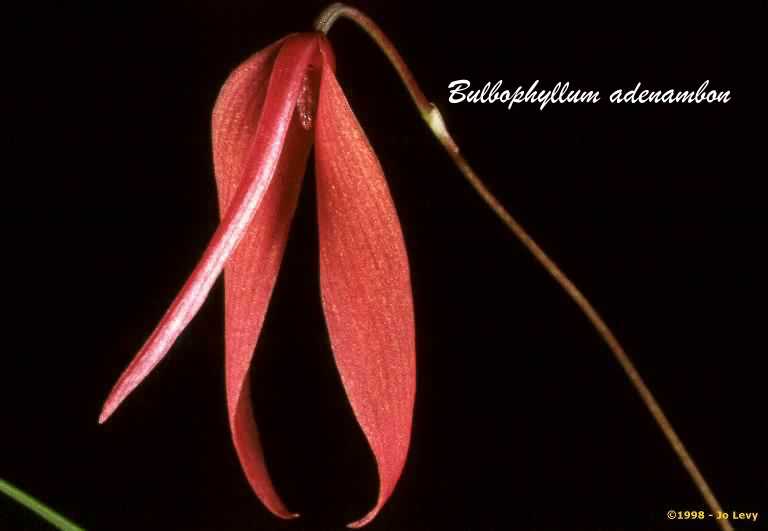 Bulbophyllum adenambon Schltr. 1913 SECTION Ephippium Schlechter 1913
Photo courtesy of Wolfgang H. Bandisch. Photo By Mrs. Ralph Levy. Copyright © 1998, 1999 All rights reserved. And his Papua & New Guinea Orchid Species site



Common Name The Swollen Belly Bulbophyllum
Flower Size .4" [1 cm] wide
Found in Papua New Guinea as a mini-miniature sized, hot growing epiphyte with a squarish pseudobulb 3/4 to 1" [2 to 2.5 cm] apart on the rhizome, carrying a single, apical leaf that blooms in the winter on a basal, wiry, 4 3/4" [12 cm] long, erect, single flowered inflorescence holding the flower well above the leaf.
This species requires light shade, high humidity and ample waterings to insure good health.
CAUTION Jo Levy's photo is listed as B aff adenambon, so it may be incorrect. Kew lists B adenambon as a synonym of B quadrangulare?. I have left them separate pending new references. If I have both species correct they appear quite different but I have never seen the TYPE flowers. So please use with caution!
References W3 Tropicos, Kew Monocot list , IPNI ; *The Orchidaceae of German New Guinea Schlechter 1913 drawing close; Bulbophyllums and Their Allies Siegerist 2001 photo fide;
----------------------------------------------------------------------------------------------------------