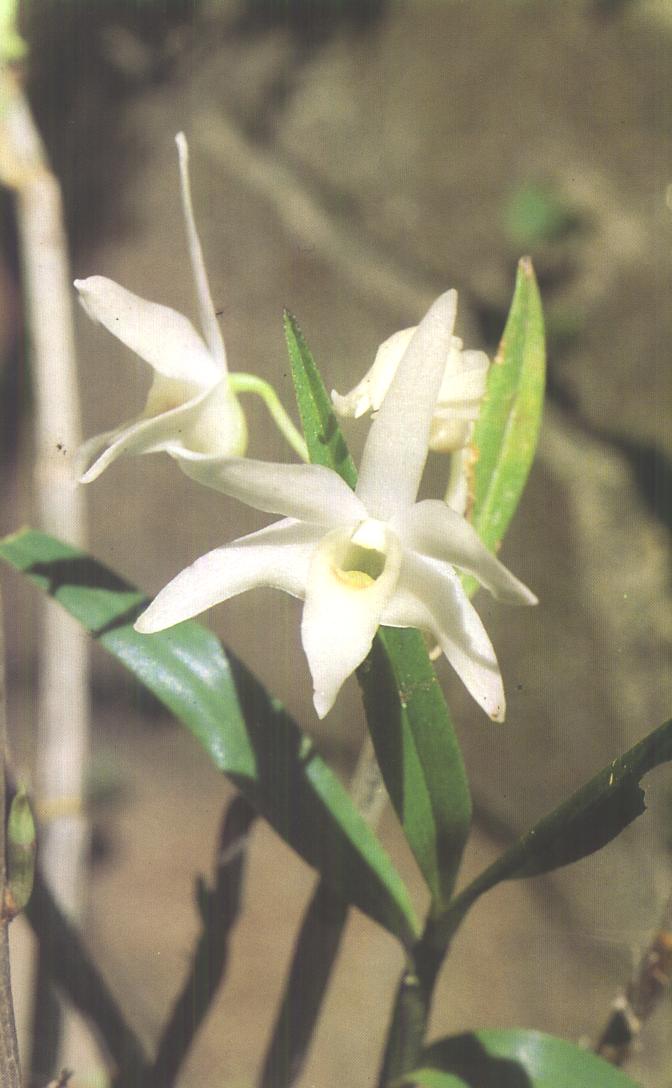 Dendrobium candidum Wall. ex Lindl. 1838 SECTION Dendrobium
L Photo by
Drawing Drawing by J D Hooker






Common Name The White Dendrobium
Flower Size to 1.6" [to 3.5 cm]
Found in the western Himalayas, Assam, eastern Himalayas, Nepal and Myanmar at elevations of 1800 to 3000 meters as a miniature sized, cool to cold growing epiphyte with erect, very slender, straggling canes carrying several, clustered towards the apex, narrowly lanceolate, thin, deciduous leaves that blooms in the spring and summer on a very short, few flowered inflorescence with 1 to 3, nicely scented, long-lasting flowers.
CAUTION See also the closely related D catenatum if your flowers have color and are on leafless canes then see D officianale.
Very similar to and often cited as a synonym of D moniliforme and may well be but I leave them separate for now pending more research.
Synonyms Callista candida (Wall. ex Lindl.) Kuntze 1891; Callista spathacea (Lindl.) Kuntze 1891; Dendrobium spathaceum Lindl. 1859;
References W3 Tropicos, Kew Monocot list , IPNI ; A Century of Indian Orchids Vol 5 Hooker 1895 drawing fide; The Orchids of Sikkim-Himalaya Part 1 King & Pantling 1898 as D spathaceum drawing fide; The Orchids of North-Western Himalaya Vol IX Part II Duthie 1906; Orchidaceae Monandre-Dendrobiinae Fr. Kraenzlin 1910; Orchidaceae Monandre-Dendrobiinae Fr. Kraenzlin 1910 as D spathaceum; Die Orchideen Schlechter 1915; Die Orchideen 2 Auflage Schlechter 1927; AOS Bulletin Vol 27 No 1 1958 as D spathaceum drawing ok; AOS Bulletin Vol 27 No 10 1958 drawing; Encyclopedia of Cultivated Orchids Hawkes 1965; Beautiful Indian Orchids and How to grow them Ghose 1968; Indian Orchids, A guide to Identification and Culture Vol II Pradhan 1979 drawing good; Orchids of Northwest Himalaya Deva & Naithani 1986 drawing fide; Orchids of Kumaun Himalayas Pangtey, Samant and Rawat 1991; Orchid Species Culture; Dendrobium Bakers 1996; Orchid Species Culture, Dendrobium Bakers 1996 as D spathaceum; The Orchids of Bhutan Cribb & Pearce 2002 photo fide; Beautiful Orchids of Nepal Rajbhandari & Bhattarai 2001 photo fide; The Dendrobiums H. P. Wood 2006 photo fide; Orchids of India A Glimpse Misra 2007; Orchids of India A Glimpse Misra 2007 as D spathaceum; The Wild Orchids in Yunnan Xu Xiang Ye & Liu 2010 photos hmmm not white lip seems wrong
--------------------------------------------------------------------------------------------------------------------------