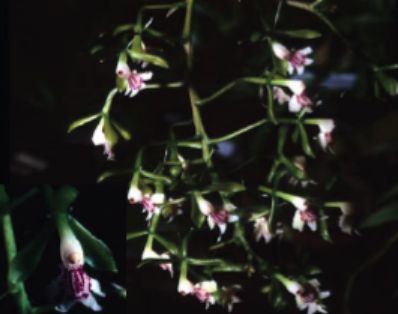 Epidendrum yungasense Rolfe ex Rusby 1855 GROUP Pseudepidendrum SUBGROUP Paniculatum Photo by © Eric Hagsater
Another Flower? Photo by © Eric Hunt, plant grown by Dan Newman of Hanging Gardens.
TYPE Drawing by © Jimenez and The AMO Herbaria Website



Common Name The Yungas Epidendrum [A northern mountain Region of Bolivia]
Flower Size .8" [2 cm]
Found in northwestern Bolivia in wet montane forests at elevations of 1500 to 2200 meters as a small to medium sized, cool to cold growing epiphyte with simple, canelike, laterally compressed , ancipitose, arching-pendent stems enveloped basally by tubular, non-foliaceous sheaths and carrying 7 to 13, all along the apical half of the stem, articulate, distichous, unequal in size [the basal are smallest]; oblong-lanceolate, acute, margin entire leaves that blooms in the summer through fall on a terminal, occuring only once, paniculate, arching, peduncle, thin, laterally compressed, 1.2 to 2.4" [3 to 6 cm] long, with 2 to 3 conduplicate, acuminate, ancipitose bracts, rachis with 2 short, spreading racemes, 1.2" [3 cm] long, simultaneously 40 flowered inflorescence that is 3.2" [8 cm] long overall and has shorter than the ovary, linear-lanceoalte, acuminate floral bracts.
"Epidendrum yungasense belongs to the Pseudepidendrum Group which is characterized by caespitose plants, canelike stems, acute to acuminate leaves, usually apical inflorescence, the mostly filiform petals and the lip usually 3-lobed (with 3 parallel fleshy keels), the apical lobe often bifurcate, the "bird-wing" type pollinia, at least the inner pair, and GROUP Pseudepidendrum SUBGROUP Paniculatum , which has filiform petals, all pollinia "bird-wing" type, green and white flowers, often marked with purple on the disc of the lip and apex of the column. The species is recognized by the small, arching, pendent plants, the stems thin and ancipitose produce keikis from the nodes of the peduncle of lax inflorescences, flowers small, and sepals .24 to .26" [6 to 6.5 mm] long, the column is very thin along the basal half and dilated apically, .24" [6 mm] long. Epidendrum parviflorum Ruíz & Pavón has erect stems, sepals .2" [5 mm] long, a very short, thick column, .12" [3 mm] long, and a single callus on the lip. Epidendrum porphyreodiscum Hágsater, D. Trujillo & E. Santiago is endemic to Peru, and has a solid purple spot on the disc of the lip, the lateral lobes of the lip are rectangular and spreading, not falcate." Hagsater etal 2013
Synonyms
References W3 Tropicos, Kew Monocot list , IPNI ; Repert. Spec. Nov. Regni Veg. Beih. 10: 71 Bolivia Schlechter 1922 as E trichopetalum; Repert. Spec. Nov. Regni Veg. Beih. 10: 72 Bolivia Schlechter 1922; Icones Orchidacearum 3 Plate 302 Hagsater 1999 see recogntion section; Icones Orchidacearum 4 plate 489 Hagsater & Sanchez 2010 see recognition section; Icones Orchidacearum 13 Plate 1340 Hagsater & Dodson 2010 See Recognition section; Icones Orchidacearum 13 Plate 1373 Hagsater & Dodson 2010 See Recognition section; Icones Orchidacearum 13 Plate 1375 Hagsater & Dodson 2010 See Recognition section; Icones Orchidacearum 14 Plate 1472 Hagsater & Sanchez 2013 see recognition section; Icones Orchidacearum 14 Plate 1500 Hagsater & Sanchez 2013 drawing fide
--------------------------------------------------------------------------------------------------------------------------