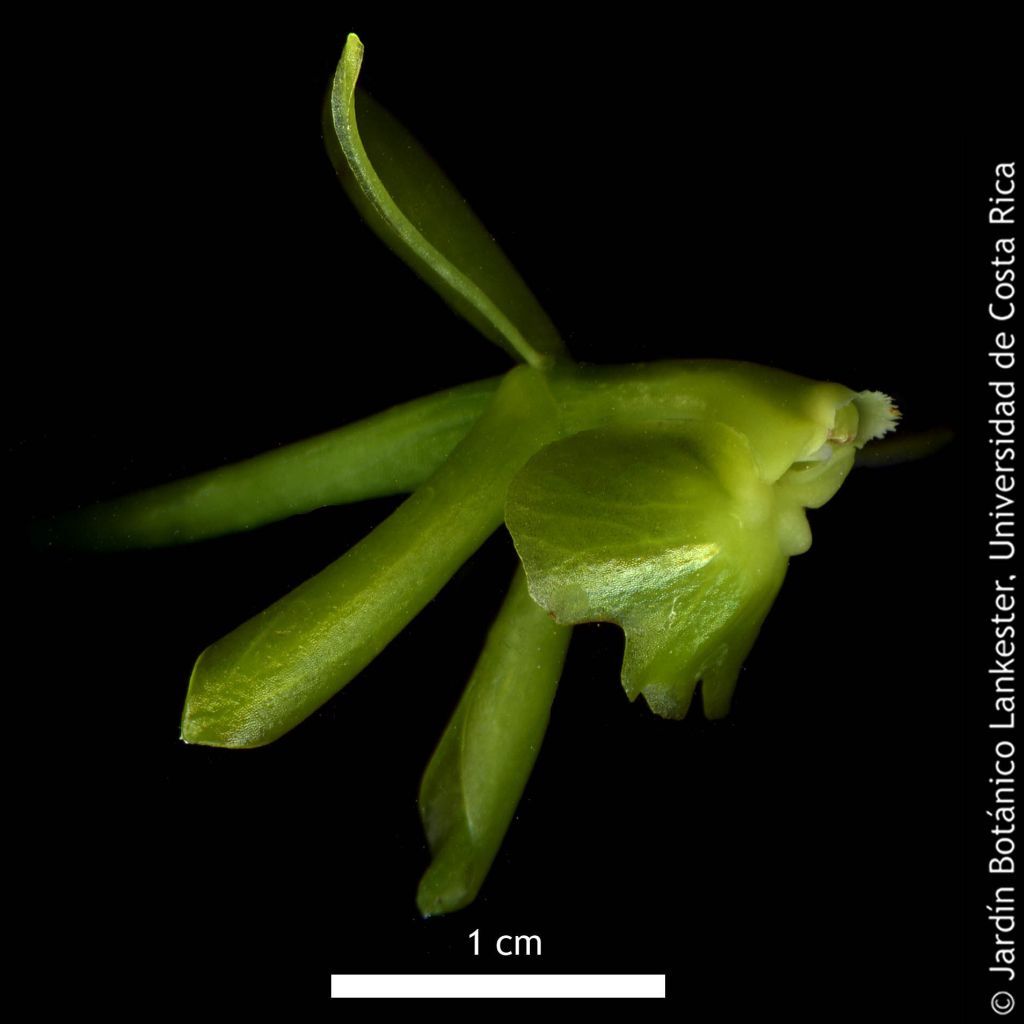 Epidendrum lagenocolumna Hágsater & L.Sánchez 1993 GROUP Difforme
Photo by © Adam Karremans
TYPE Drawing by © Jimenez, Hágsater & E.Santiago and The AMO Herbario Website



to



Common Name or Meaning The Flask Shaped Column Epidendrum
Flower Size 1.4" [3.5 cm]
Found in Honduras, Nicaragua and Costa Rica in humid montane forests at elevations of 400 to 2500 meters as a miniature to medium sized, hot to cold growing epiphyte with reed-like, terete, somewhat flexuous, simple stems carrying 4 to 15, all along the stem, narrowly elliptic, unequally bilobed apically, subcoriaceous, entire margin leaves that blooms in the spring through fall on a terminal, occuring only once, subumbellate, sessile, 4 to 8 flowered inflorescence with simultaneously opening, resupinate, sweetly nocturnally fragrant flowers.
Part of the GROUP Difforme and is characterized by the large elliptic leaves, the 3 lobed lip with 2 subovate, rounded calli, the semi-orbicular lateral lobes, the subquadrangular, retuse midlobe and the basally inflated column with an unusually wide necatary.
Closest relative is E firmum but it has a smaller size, with narrow elliptic to lanceolate leaves, 2 to 4 flowered inflorescence, semiovate lateral lobes of the lip, divergent, acute calli, a fimbriate clinandrium and the base of the column is not inflated.
"Epidendrum lagenocolumna is a member of the GROUP Difforme, characterized by the caespitose, sympodial plants, fleshy, pale green to glaucous leaves, apical inflorescence, sessile, rarely with a short peduncle, one-flowered to many-flowered, and then corymbose, without spathaceous bracts, fleshy, green to yellowish-green rarely white flowers. The species can be recognized by the large plants with elliptic leaves, lip 3-lobed with two subovate, rounded calli, semiorbicular lateral lobes, subquadrangular, retuse midlobe, and column inflated at the base, with the nectary unusually wide. It is closely related E firmum which has smaller plants with narrow elliptic to lanceolate leaves, 2 to 4 flowers, semiovate lateral lobes of the lip, divergent, acute calli, fimbriate clinandrium, and the base of the column not inflated." Hagsater etal 1993
Synonyms
References W3 Tropicos, Kew Monocot list , IPNI ; Icones Orchidacearum 2 Plate 142 Hagsater 1993 see recognition section; * Icones Orchidacearum 2 Plate 150 Hagsater & Salazar 1993 drawing fide; Icones Orchidacearum 3 Plate 386 Hagsater 1999 see recognition section; Field Guide to the Orchids of Costa Rica and Panama Dressler 1993; Icones Orchidacearum 3 Plate 386 Hagsater 1999 see recognition section; Manual de las Plantas de Costa Rica Vol 3 Hammel, Grayum, Herrera and Zamora 2003; Icones Orchidacearum 8 Plate 889 Hagsater 2006 see recognition section; Icones Orchidacearum 9 Plate 937 Hagsater 2007 see recognition section; Orchids of Costa Rica Vol 3 Morales 2009 photo fide; Icones Orchidacearum 14 Plate 1402 Hagsater & Santiago 2013 See recognition section; Orchid Genera and Species in Guatemala Archila, Szlachchetko, Chiron, Lipinska, Mystkowska and Bertolini 2018
--------------------------------------------------------------------------------------------------------------------------