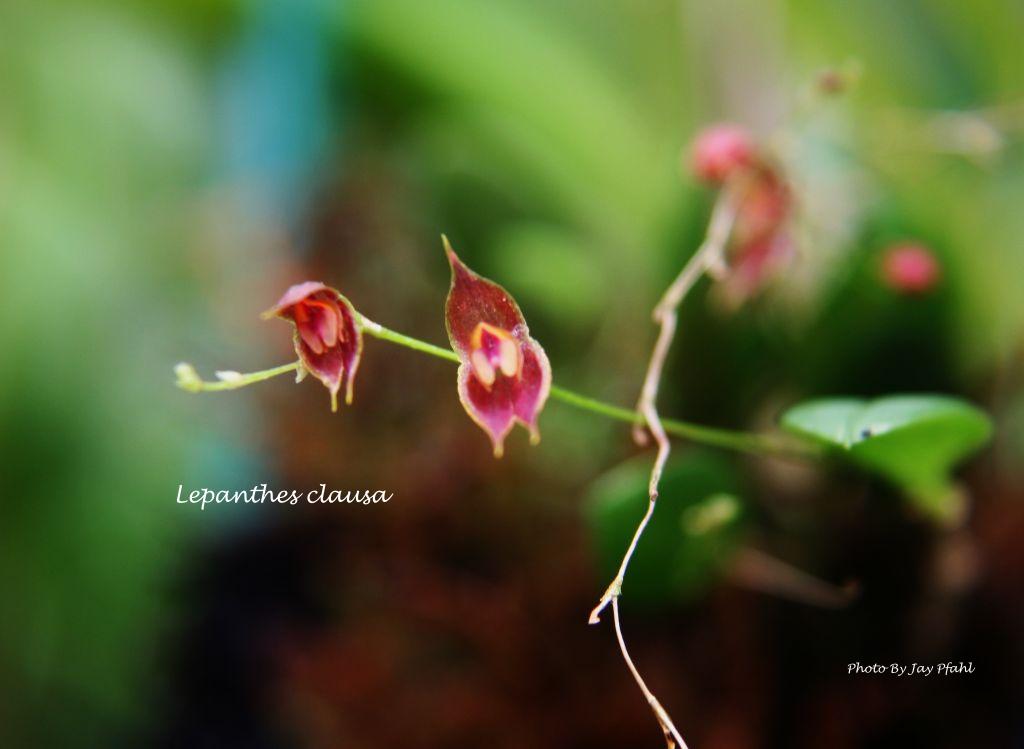 Lepanthes clausa Luer & R. Escobar 1985 SECTION Lepanthes SUBSECTION Lepanthes SERIES Elongatae 1993
Plant and Flowers in situ Cundinamarca
Photos by © Jay Pfahl.
Photo by © Arturo Carrilo.



Common Name The Closed Lepanthes
Flower Size 1/16" [.15 cm]
Found in Cundinamarca and Norte de Santander departments of Colombia in cloud forests at elevations around 2850 meters as a mini-miniature sized, cold growing epiphyte with suberect to erect, slender ramicauls enveloped by 4 to 12, minutely pubescent, lepanthiform sheaths carrying a single, apical, erect, coriaceous, ovate, obtuse, cuneate below into the petiolate base leaf and blooms in the spring on a filiform, loose, 1.6" [4 cm] long including the .6 to .8" [1.5 to 2 cm] long peduncle, successively single, few flowered inflorescence
This is one of three mini-miniature species commonly occuring around the northern Bogata area, the other 2 are, L effusa and Lepanthes matisii Luer, Thoerle & P.Ortiz.
This species very rarely has a flower that opens completely as it seems to be fairly cleistogamus. Most unusual is the lip, with very short connectives bearing the blades of the lip at the base, but with the body connate to the column above the middle. The round lobule of the appex of the appendix lies in contact with the stigma with the tips of the pollina immediately above." Luer 1985.
Synonyms
References W3 Tropicos, Kew Monocot list , IPNI ; * AOS Bulletin Vol 54 No 6 1985 drawing/photo fide; Native Orchids of Colombia Vol 5 COS 1994 photo fide
Checked type w3 Tropicos, differs slightly in shape of petals but exact match for photo in Native Colombian Orchids Vol5 COS 1994; Orchid Digest Vol 75 #1 2011 photo fide; Icones Pleurothallidinarum Vol XXXII Luer 2012 Luer drawing fide; Orchids A Colombian Treasure Vol 3 Ortiz & Uribe 2019 photo fide;
--------------------------------------------------------------------------------------------------------------------------