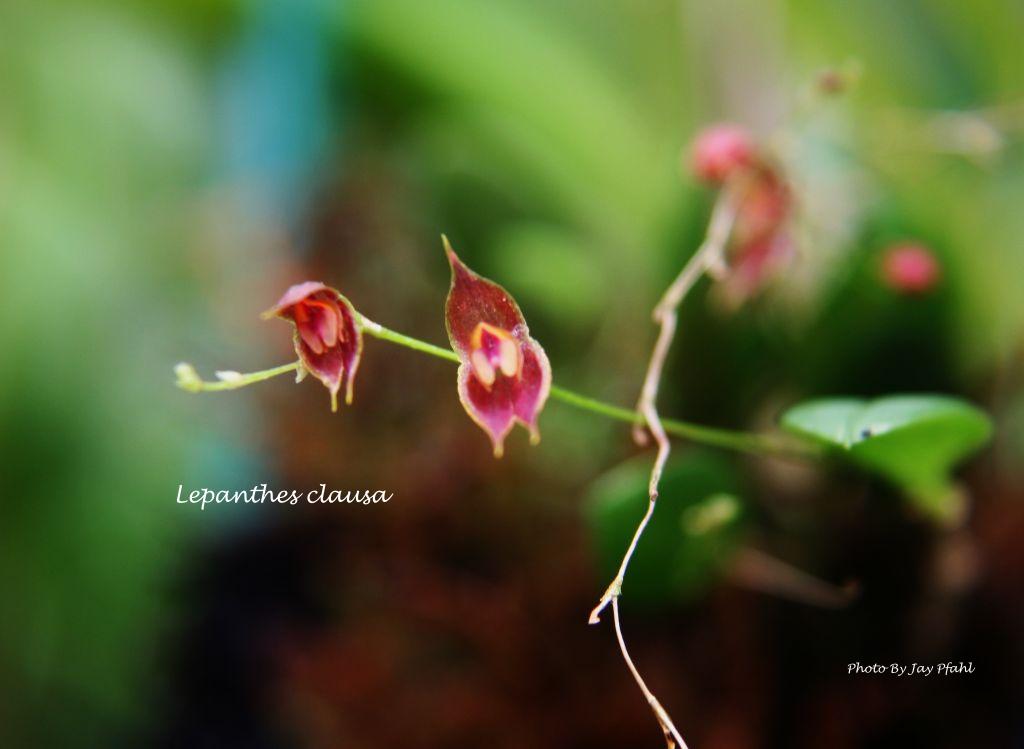 Lepanthes clausa Luer & R. Escobar 1985
Plant and Flowers in situ Cundinamarca
Photos by © Jay Pfahl.
Photo by © Arturo Carrilo.



Common Name The Closed Lepanthes
Flower Size 1/16" [.15 cm]
Found in Cundinamarca and Norte de Santander departments of Colombia in cloud forests at elevations around 2850 meters as a mini-miniature sized, cold growing epiphyte with suberect to erect, slender ramicauls enveloped by 4 to 12, minutely pubescent, lepanthiform sheaths carrying a single, apical, erect, coriaceous, ovate, obtuse, cuneate below into the petiolate base leaf and blooms in the spring on a filiform, loose, 1.6" [4 cm] long including the .6 to .8" [1.5 to 2 cm] long peduncle, successively single, few flowered inflorescence
This is one of three mini-miniature species commonly occuring around the northern Bogata area, the other 2 are, L effusa and Lepanthes matisii Luer, Thoerle & P.Ortiz.
Synonyms
References W3 Tropicos, Kew Monocot list , IPNI ; *AOS Bulletin Vol 54 No 6 1985 drawing/photo fide; Native Orchids of Colombia Vol 5 COS 1994 photo fide
Checked type w3 Tropicos, differs slightly in shape of petals but exact match for photo in Native Colombian Orchids Vol5 COS 1994; Orchid Digest Vol 75 #1 2011 photo fide; Icones Pleurothallidinarum Vol XXXII Luer 2012 Luer drawing fide; Orchids A Colombian Treasure Vol 3 Ortiz & Uribe 2019 photo fide;
--------------------------------------------------------------------------------------------------------------------------