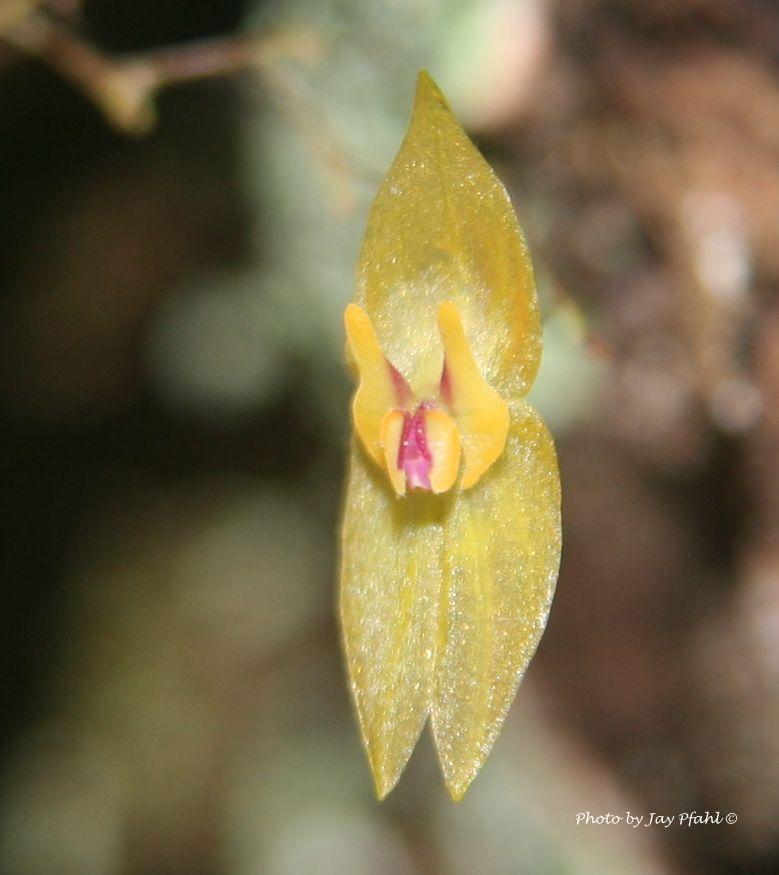 Lepanthes effusa Schltr. 1915 SUBGENUS Lepanthes SECTION Lepanthes SUBSECTION Lepanthes SERIES Lepanthes Novon 1993
Photos By © Jay Pfahl
Photo by Arturo Carrilo ©
Another Flower [Lepanthes millei]
Another view of a flower opening
Photos © by Jay Pfahl
Photo by Bruno Larsen and his Flickr Orchid Photo Website
Photo by Eric Hunt ©.



Common Name The Spread Out Lepanthes [refers to the loose inflorescence]
Found in Cundinamarca department of Colombia at elevations around 2700 to 3200 meters as a mini-miniature sized, cold growing epiphyte with erect, slender ramicauls enveloped by 5 to 8, minutely ciliate-scabrous, lepanthiform sheaths and carrying a single, apical, erect, coriaceous, often purple suffused beneath, elliptical, obtuse, cuneate below into the petiolate base leaf that blooms in the spring on a slender, loose, flexuous, 9 to 10.8" [23 to 27 cm] long including the .4 to 2" [1 to 5 cm] long peduncle, successively single, several to many flowered inflorescence that is longer than the leaf.
Donoso
This is one of three mini-miniature species commonly occuring around the northern Bogata area, the other 2 are, L clausa and Lepanthes matisii Luer, Thoerle & P.Ortiz.
Similar to the sympatric [at least in Antioquia] Lepanthes marthae, which differs in the coarse rather than slender roots, the coarsly pubescent lepanthiform sheaths rather than minutely ciliate and most noticebly, the petals of L marthae join the column above the dilated base.
Synonyms Lepanthes millei Schltr. 1915
References W3 Tropicos, Kew Monocot list , IPNI ; Flora de Venezuela Foldats Volumen XV Part 2 1970 as L millei drawing ok; Icones Pleurothallidinarum Vol XIV Luer 1996 drawing fide; Native Ecuadorian Orchids Vol 2 Dodson 2001 photo fide; Orchid Digest Vol 75 #1 2011 photo fide; Flora of Ecuador No 88 Lepanthes and affiliates Dodson & Luer 2011 drawing fide; Icones Pleurothallidinarum Vol XXXII Luer 2012 drawing fide; Orchids A Colombian Treasure Vol 3 Ortiz & Uribe 2019 photo fide;
--------------------------------------------------------------------------------------------------------------------------