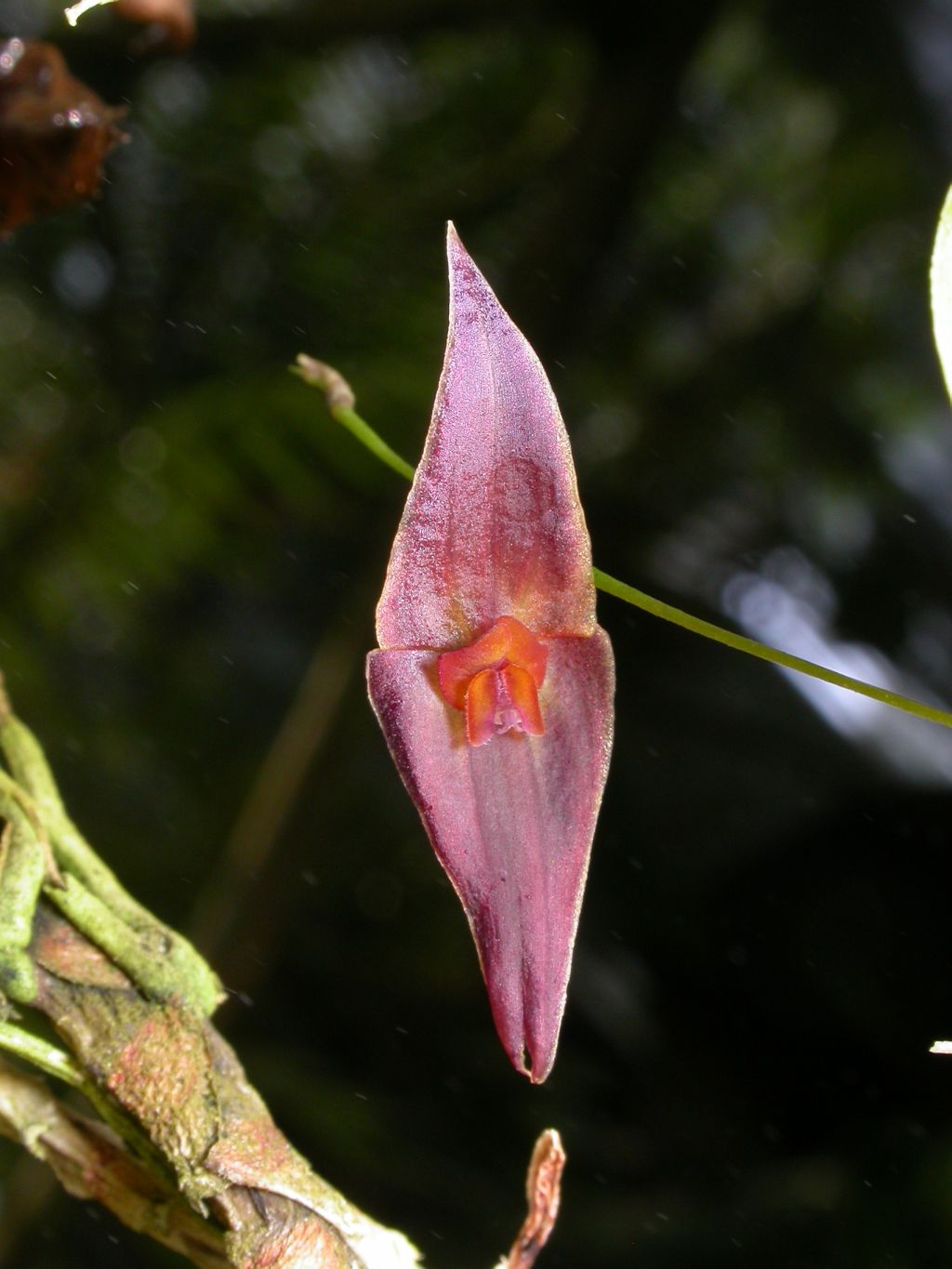 Lepanthes elegantula Schlechter 1915 SECTION Lepanthes SUBSECTION Lepanthes SERIES Elongatae 1993
Photos courtesy of Danny Lentz ©, plant grown by the Atlanta Botanical Garden
Photo by © Milan Vagner
Comparison with L pastoensis on bottom
Photos by Jay Pfahl ©
Photos by Arturo Carrilo ©





to

Common Name The Most Elegant Lepanthes
Flower Size 1/8" [5 mm]
Found in Ecuador as a miniature sized, cold growing epiphyte at elevations of 2800 to 3300 meters in cloud forests with erect, slender ramicauls enveloped basally by 5 to 8, minutely scabrous, lepanthiform sheaths and carrying a single, apical, erect, coriaceous, elliptical, obtuse leaf with the base cuneate into the petiole, that is always in spike or bloom on a loose, strict, successively several flowered, 2 to 2/5" [5 to 6 cm] long, racemose inflorescence. This species is very similar to L capiteana except that this species flowers and leaves are much larger.
Lepanthes capitana is seemingly a miniature version of this species, with flowers and plant at about 1/2 the size.
Also can be confused with L pastoensis but differs mostly in the petals.
References W3 Tropicos, Kew Monocot list , IPNI ; Icones Pleurothallidinarum Vol XIV Systematics of Draconanthes and Lepanthes 1996 drawing fide; Flora of Ecuador No 88 Lepanthes and affiliates Dodson & Luer 2011 drawing fide; Orchids A Colombian Treasure Vol 3 Ortiz & Uribe 2019 drawing/photo fide;
Checked Luer's Drawing
--------------------------------------------------------------------------------------------------------------------------