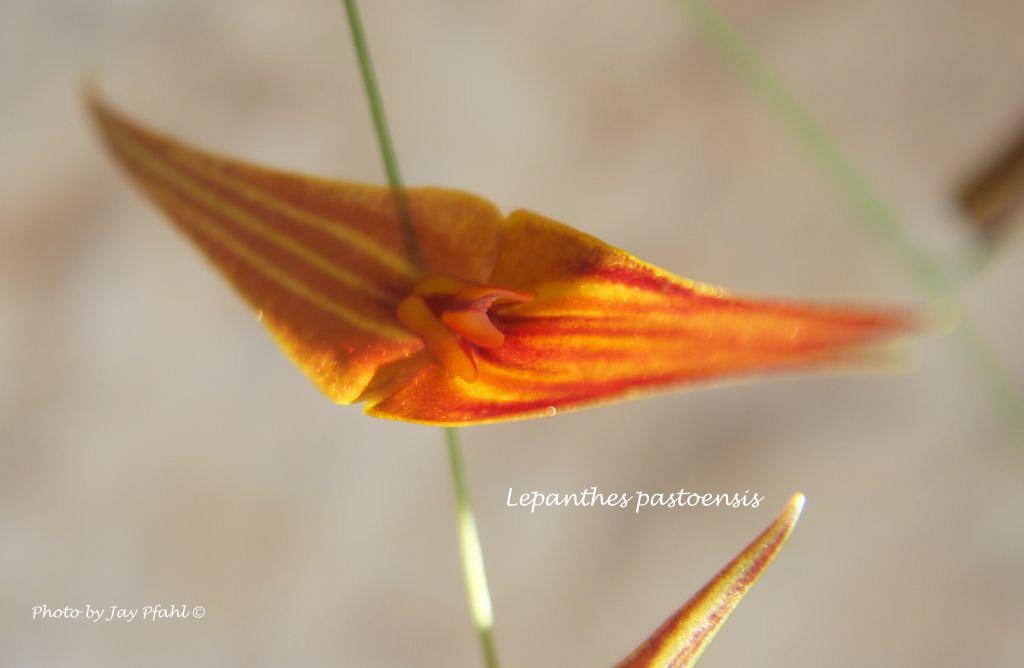 Lepanthes pastoensis Schltr. 1920 SUBGENUS Lepanthes SECTION Lepanthes SUBSECTION Lepanthes Novon 1993 Photo by Jay Pfahl ©
Another Flower View Photo by Jim Hamilton Petite Plaisance Orchids.
Another Color Form Photo by Walter Teague .


LATE


Common Name The Pasto Lepanthes [southern Colombian State]
Flower Size to 1" tall [to 2.5 cm tall]
Found in southern Colombia and northern Ecuador as a miniature sized, cold growing epiphyte around 2300 to 2925 meters in elevation with erect, slender ramicauls enveloped by 7 to 9, minutely ciliate lepanthiform sheaths and carrying a single, apical, erect, coriaceous, elliptical, obtuse, cuneate below into the petilolate base leaf that blooms in the spring through winter on a slender, loose, strict, 2.28 to 3.08" [5.7 to 7.7 cm] long including the 1.6 to 2.4" [4 to 6 cm] long peduncle, successively single, several flowered inflorescence.
References W3 Tropicos, Kew Monocot list , IPNI ; *Die Orchideen der Sudamerikanischen Kordillerenstaaten II Colombia Schlechter 1920; Beitrage Zur Orchideenkunde Von Colombia 27:43 Schlechter 1924; Native Colombian Orchids Vol 2 COS 1991 photo fide; AOS Bulletin Vol 64 No 10 1995 photo fide; Icones Pleurothallidinarum Vol XXXII Luer 2012 drawing fide; Orchids, A Colombian Treasure Vol 3 Ortiz & Uribe 2019 drawing/photo fide
----------------------------------------------------------------------------------------------------------