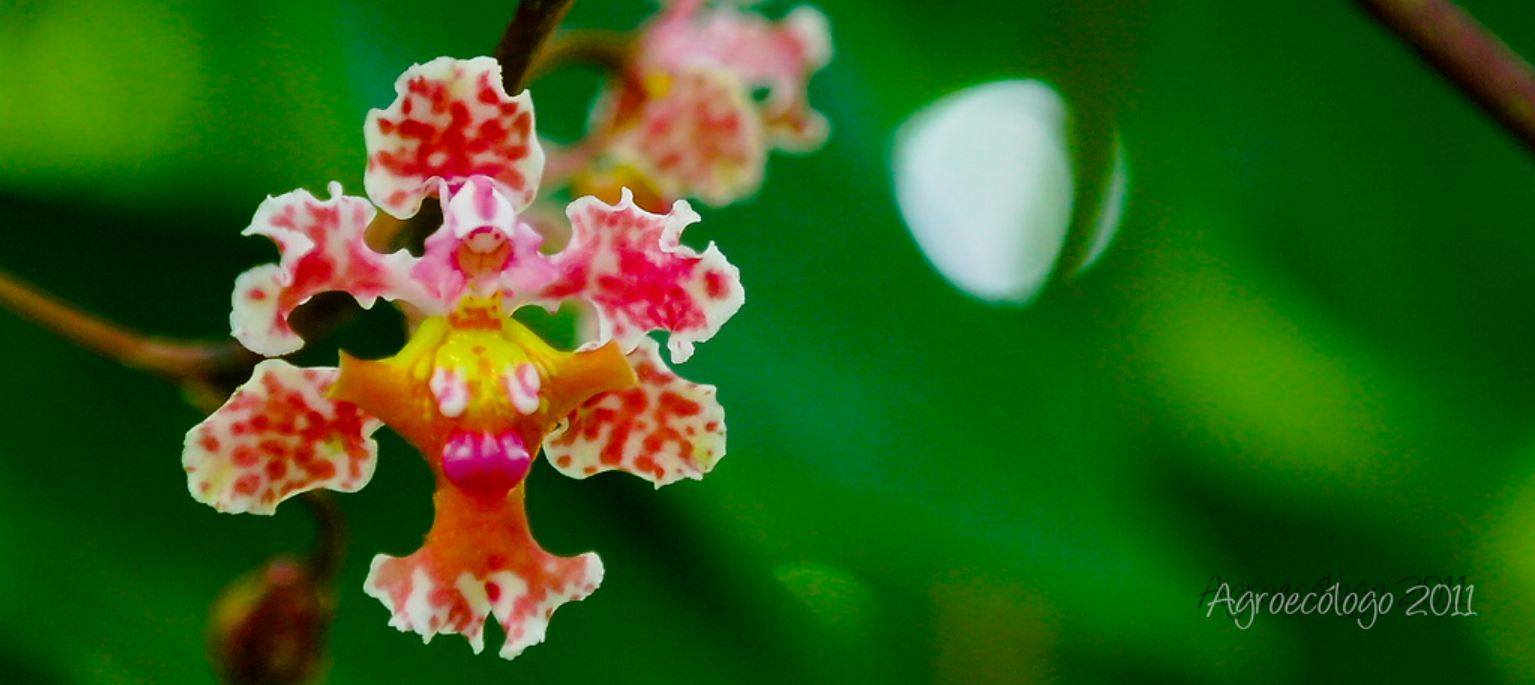 Lophiaris oerstedii (Rchb. f.) Dressler 2000
photo by Esteban Delgado García © Flickr Orchid Photo Website



LATER

Common Name Oersted's Lophiaris [Danish Botanist in Central America 1800's]
Flower Size 3/4" [2 cm]
Found in Mexico, Guatemala, Belize, El Salvador, Honduras and Nicaragua as a as a large sized, hot to cool growing, mule eared epiphyte in humid deciduous forests on tree trunks and large branches that has a small bract covered pseudobulb that has a single, coriaceous to fleshy, elliptic, sharply keeled abaxially leaf that is conduplicate at the base, that blooms in the later spring on a basal, erect to arching, to 5' [to 150 cm] long, many laxly small flowered, panicle that has the peduncle subtended by a scarious sheath and scarious, triangular sheaths at the nodes.
This species is almost always found along river courses in high trees or on the rocks below and needs high light and humidity, a dry rest in the winter after the bloom season. This species grows best mounted on treefern or cork.
CAUTION !!!! This species has been split into three separate entities with Lophiaris oerstedii being found in Mexico, Guatemala, Belize, Honduras, El Salvador and Nicaragua, Lophiaris crispiflorum occurs in eastern Honduras, Nicaragua, Costa Rica and Panama and Lophiaris carthagensis occurs only in Colombia, Venezuela and Brazil. I feel that all records of O carthagenisis in the Caribbean are most likely Lophiaris maculata but I have no absolute proof of this. More soon!.
Synonyms Oncidium carthagenense var. oerstedii (Rchb.f.) Lindl. 1855; *Oncidium oerstedii Rchb.f. 1854; Trichocentrum oerstedii (Rchb.f.) R.Jiménez & Carnevali 2002 publ. 2003
References W3 Tropicos, Kew Monocot list , IPNI ; Repert. Sp. Nov. Regni. Veg. Beih. 19: 259. Costa Rica Schlechter 1923 as Oncidium oerstedii; Las Orquedias De El Salvador Vol 2 Hamer 1974 as Oncidium carthagenense drawing/photo fide; Las Orquedias de El Salvador Vol 3 Hamer 1981 as Oncidium cathagenense drawing fide; Icones Planetarum Tropicarum plate 898 Hamer 1983 as Onc carthagenense drawing fide; Flora Novo-Galaciana Vol 16 McVaugh 1985; An Introdution to the Orchids of Mexico Wiard 1987 photo fide; Orchids Travel By Air A Pictoral Safari Mulder, Mulder-Roelfsema and Schuiteman 1990 as Oncidium carthagenense not = Lophiaris oerstedii photo fide; Algunas Orquideas de Oaxaca Suarez 2004 as Trichocentrum oerstedii photo fide; Harvard Pap. Bot. 5 #2: Carnevali etal. 2001; Guia de Orquideas de Chiapas Carlos Rommel Beutelspacher Baigts 2013 as Trichocentrum oerstedii photo fide; Harvard Papers in Botany Vol 21 #2 Cetzal-Ix Carnevalli and Romero-Gonzalez 2016 Synopsis of the Trichocentrum Clade photo fide; Orchid Genera and Species in Guatemala Archila, Szlachchetko, Chiron, Lipinska, Mystkowska and Bertolini 2018 photo fide; Vanishing Beauty, Native Costa Rican Orchids Vol 2 Lacaena to Pteroglossa Pupulin 2020 photo fide
--------------------------------------------------------------------------------------------------------------------------
----------------------------------------------------------------------------------------------------