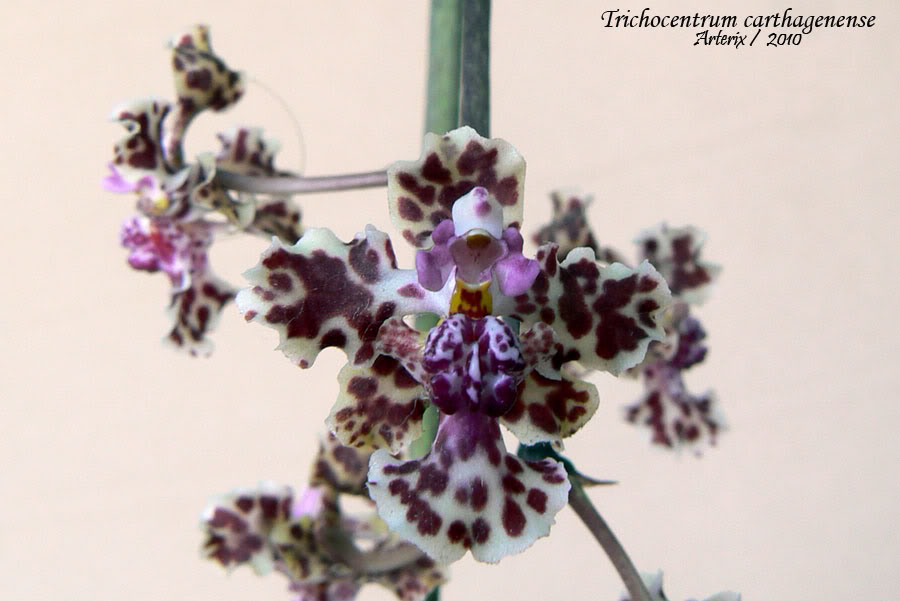 Lophiaris carthagenensis (Sw.) Braem 1993 SECTION Plurituberculata
Photo by © Arterix
Photo by Jay Pfahl



To


and

Common Name The Cartagena Lophiaris [Town In Colombia] - Orejas de burro [mules ear]
Flower Size 3/4" [2 cm]
Found in Colombia, Venezuela and Brazil as a large sized, hot to cool growing, mule eared epiphyte at altitudes of 0 to 1500 meters in humid deciduous forests on tree trunks and large branches that has a small bract covered pseudobulb that has a single, coriaceous to fleshy, elliptic, sharply keeled abaxially leaf that is conduplicate at the base, that blooms in the spring and summer on a basal, erect to arching, to 5' [to 150 cm] long, many laxly small flowered, panicle that has the peduncle subtended by a scarious sheath and scarious, triangular sheaths at the nodes.
Found almost always along river courses in high trees or on the rocks below and needs high light and humidity, a dry rest in the winter after the bloom season and grows best mounted on treefern or cork.
CAUTION !!!! This species has been split into three separate entities with Lophiaris oerstedii being found in Mexico, Guatemala, Belize, Honduras, El Salvador and Nicaragua, Lophiaris crispiflorum occurs in eastern Honduras, Nicaragua, Costa Rica and Panama and Lophiaris carthagensis occurs only in Colombia, Venezuela and Brazil. I feel that all records of O carthagenisis in the Caribbean are most likely Lophiaris maculatum but I have no absolute proof of this. More soon!.
Synonyms Cymbidium undulatum Sw. 1799; *Epidendrum carthagenense Jacq. 1760; Oncidium carthagenense [Jacq]Swartz 1800; Oncidium carthagenense var. klotzschii Lindl. 1855; Oncidium carthagenense var. sanguineum Lindl. 1855; Oncidium carthagenense var. swartzii Lindl. 1855; Oncidium guttatum var. roseum hort. ex Linden 1880; Oncidium henchmanni Lodd. ex Lindl. 1855; Oncidium huntianum Hook. 1840; Oncidium huntleyanum Beer ex Lindl. 1855; Oncidium kymatoides Kraenzel 1922; Oncidium luridum Lindl. var. henchmannii Knowles & Westc. 1840; Oncidium obsoletum A. Rich & Gal. 1855; Oncidium panduriferum Kunth 1815; Oncidium roseum Lodd. ex Lindl. 1855; Oncidium salvadorense Schltr. 1913; Oncidium sanguineum Lindley 1839; Oncidium sanguineum var roseum [Lodd.]Regel 1856; Trichocentrum carthagenense (Jacq.) M.W.Chase & N.H.Williams 2001;
References W3 Tropicos, Kew Monocot list , IPNI ; Bonplandia Rchb.f 1853 as Oncidium sanguinea; Xenia Orchidaceae Rchb.f 1854 as Oncidium carthagenensis drawing fide; Symbolae Antillanae Vol VI Orchidaceae Urban 1909 not = L macuata; Die Orchideen Schlechter 1915; Die Orchideen Schlechter 1915 as O huntianum; Atlas des Orchidees Cultivees Constantin 1920 as Oncidium carthagenense drawing ok; Das Pflanzanreich Regni Vegetabilis Conspectus Odontoglossum/Oncidium Kranzlin 1922 as Oncidium carthagenense; Das Pflanzanreich Regni Vegetabilis Conspectus Odontoglossum/Oncidium Kranzlin 1922 as Oncidium kymatoides; Das Pflanzanreich Regni Vegetabilis Conspectus Odontoglossum/Oncidium Kranzlin 1922 as Oncidium salvadorense; The Orchids of Panama L.O. Williams & P Allen 1946 as Oncidium carthagense not = Lophiaris cripiflorum; AOS Bulletin Vol 27 No 6 1958; AOS Bulletin Vol 30 No 9 1961 as Oncidium carthagenense; Encyclopedia of Cultivated Orchids Hawkes 1965 as Oncidium carthagenense; Venezuelan Orchids Illustrated Vol 4 Dunsterville & Garay 1966 as Oncidium carthagenense drawing fide; AOS Bulletin Vol 36 #9 1967 as Oncidium carthagenense; Flora de Venezuela Volumen XV Part 5 Foldats 1970 as Oncidium carthagenense drawing fide; The Native Orchids Of Florida Luer 1972 Colombian plant Drawing/photo fide; Las Orquedias De El Salvador Vol 2 Hamer 1974 as Oncidium carthagenense not = Lophiaris oerstedii; AOS Bulletin Vol 44 #8 1975 see Lophiaris maculata; AOS Bulletin Vol 48 No 5 1979 as Oncidium carthagensense; Orquideologia VOl 13 No 3 1979; Orquídea (Mexico City), n.s., 7[3]: 1979 as Oncidium carthaginense; Orchids of Venezuela An Illustrated Field Guide Vol 2 Dunsterville & Garay 1979 as Oncidium carthagenense drawing fide; Las Orquedias de El Salvador Vol 3 Hamer 1981 not = L oerstedii; Icones Planetarum Tropicarum plate 898 Hamer 1983 as Onc carthagenense not = L oerstedii; Flora Novo-Galaciana Vol 16 McVaugh 1985 not = L oerstedii; An Introdution to the Orchids of Mexico Wiard 1987 not = l oerstedii; Orchids Travel By Air A Pictoral Safari Mulder, Mulder-Roelfsema and Schuiteman 1990 not = L oerstedii; Native Colombian Orchids Vol 3 COS 1991 photo fide; Orchid Digest Vol 55 No 4 1991 photo fide; The Manual Of Cultivated Orchid Species Bechtel, Cribb & Launert 1992 as Oncidium carthagenense photo fide; *Schlechteriana Vol 4 No 1/2 1993; Icones Planetarum Tropicarum plate 1570 Atwood 1993 as Oncidium carthagenense not = L crispiflorum; Rudolf Schlechter Die Orchideen Band 1C lieferung 33 - 36 2057 - 2308 Brieger 1997 photo hmm; Fieldiana Biology, Flora Costa Ricensis Family # 39 Orchidaceae, subtribes Maxillariinae and Oncidiinae Atwood & Mora 1999 as Oncidium carthagenense not = L crispiflorum drawing not; Orchids of Venezuela [An illustrated field guide] Vol. 1 Ramiro and Carnevali 2000 drawing fide; Lindleyana Vol 16 No 2 2001 as Trichocentrum carthagenense; Harvard Pap. Bot. 5 #2: Carnevali etal. 2001 as Oncidium carthagenensis see excluded species; The Pictoral Encyclopedia of Oncidium Zelenko 2002 as Trichocentrum carthegenense; Orquideas Nativas del Tachira Cesar Fernandez 2003 photo fide; Manual de Plantas de Costa Rica Vol 3 Hammel, Grayum, Herrera and Zamora 2003 drawing not = Lophiaris crispiflorum; Flora of the Venezuelan Guayana Vol 7 Steyermark, Berry, Yatskievych and Holst 2003 as Trichocentrum carthagenense drawing fide; Orquideologia Vol. 23 No 2 2004 as Oncidium carthagenense; Orchid Species Culture: Oncidium, Bakers 2006 as Lophiaris carthegenense; Orchid Digest Vol 70 #1 2006 as Trichocentrum carthagenense photo fide; AOS Bulletin Vol 86 #3 2016 as Oncidium panduriferum not = L maculata; Harvard Papers in Botany Vol 21 #2 Cetzal-Ix Carnevalli and Romero-Gonzalez 2016 Synopsis of the Trichocentrum Clade photo fide; AOS Bulletin Vol 86 # 11 2017 as Trichiocentrum carthagenense photo fide; Orchid Genera and Species in Guatemala Archila, Szlachchetko, Chiron, Lipinska, Mystkowska and Bertolini 2018
--------------------------------------------------------------------------------------------------------------------------