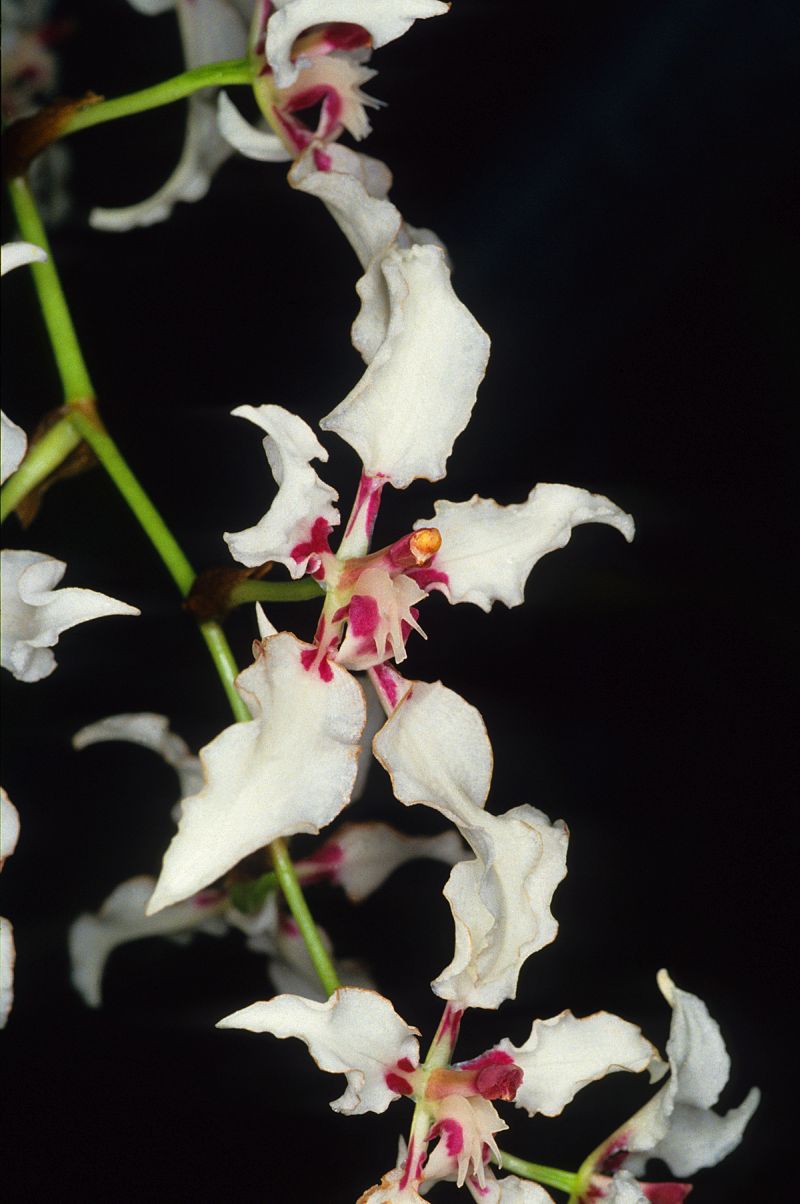 Cyrtochilum ramosissimum (Lindl.) Dalström 2001
Photo by © Stig Dalström
Photo by © Lourens Grobler.
Photo by © Jay Pfahl.
Plant and Flowers in situ Peru







Common Name The Many Branched Cyrtochilum
Flower Size 2" [5 cm]
Found only in Venezuela near the tree line at elevations of 2200 to 3700 meters as a small sized, cold growing epiphyte or terrestrial on steep embankments with closely set, ovate, laterally flattened, pseudobulbs enveloped basally by several disitichous, imbricating sheaths with the uppermost few being leaf-bearing and carrying 2 apical, linear-lanceolate, acute leaves that are conduplicate towards the base into the petiole and blooms on an axillary, erect, to 28" [70 cm] long, paniculate, many [to 100] flowered inflorescence arising on a newly maturing pseudobulb that can occur at any time of the year and carrying faintly fragrant flowers.
Stig Dalstrom most recent investigations has found that C ramosissimum only comes from Venezuela and all other forms of C ramosissimum are either C angustatum or C sodiroi in ed. Pers Comm Stig Dalstrom
Synonyms Cyrtochilum ramosissimum f. albomaculatum (Bockemühl) J.M.H.Shaw 2012; Cyrtochilum ramosissimum f. xanthinum (Rchb.f.) J.M.H.Shaw 2012; Odontoglossum liliiflorum (H.J.Veitch) auct. 1890; Odontoglossum ramosissimum Lindl. 1852; Odontoglossum ramosissimum f. albomaculatum (Bockemühl) O.Gruss & M.Wolff 2007; Odontoglossum ramosissimum f. xanthinum (Rchb.f.) O.Gruss & M.Wolff 2007; Odontoglossum ramosissimum var. coeleste Rodigas 1893; Odontoglossum ramosissimum var. liliiflorum H.J.Veitch 1886; Odontoglossum ramosissimum var. xanthinum Rchb.f. 1880; Oncidium ramosissimum (Lindl.) Beer 1854
References W3 Tropicos, Kew Monocot list , IPNI ; Bonplandia Rchb.f 1853 as Odontoglossum ramosissimum; Otia Botanica Hamburgensia Rchb.f 1878; Die Orchideen Schlechter 1915 as Odontoglossum ramosissimum; Die Orchideen Schlechter 1915 as Odontoglossum ramosissimum var liliiflorum; Atlas des Orchidees Cultivees Constantin 1920 as Odontoglossum ramosissimum drawing good; Venezuelan Orchids Illustrated Vol 3 Dunsterville & Garay 1965 as Odontoglossum ramosissimum drawing fide; Encyclopedia of Cultivated Orchids Hawkes 1965 as Odontoglossum ramosissimum; Flora de Venezuela Volumen XV Part 5 Foldats 1970 as Odontoglossum ramosissimum drawing fide; Orquideologia Vol 12 No 3/4 1977/8; Orchids of Venezuela, An Illustrated Field Guide Vol 2 Dunsterville & Garay 1979 as Odontoglossum ramosossimum drawing fide; Icones Planetarum Tropicarum plate 966 Dodson 1984; Native Colombian Orchids Vol 3 COS 1991 as Odontoglossum ramossisimum photo not = C sodiroi; The Manual Of Cultivated Orchid Species Bechtel, Cribb & Launert 1992 as Odontoglossum ramossissimum photo fide; Rudolf Schlechter Die Orchideen Band 1C lieferung 33 - 36 2057 - 2308 Brieger 1997 as Odontoglossum ramosissimum drawing fide; Rudolf Schlechter Die Orchideen Band 1C lieferung 33 - 36 2057 - 2308 Brieger 1997 as Odontoglossum ramossissimum var xanthinum; Native Colombian Orchids Vol 6 COS 1998 as Odontoglossum ramossisimum photo not = C sodiroi; Orchids of Venezuela [An illustrated field guide] Vol. 2 Ramiro and Carnevali 2000 as Odontoglossum ramossisimum drawing fide; *Lindleyana Vol 16 No 2 2001; The Pictoral Encyclopedia of Oncidium Zelenko 2002 drawing ok; Native Ecuadorian Orchids Vol 3 Dodson 2002 as Odontoglossum ramossisimum photo fide; Orquideas Nativas del Tachira Cesar Fernandez 2003 as Cyrtochilum sp #1 p53 photo fide; AOS Bulletin Vol 74 No 12 2005 drawing fide; Orchid Species Culture: Oncidium/Odontoglossum alliance Bakers 2006; Libro Rojo de Plantas De Colombia Vol 6 Primera Parte Saenz 2007; Orquideologia Vol 25 #2 2008; Orquideología Vol 26 #2 2009 as Odontoglossum ramosissimum photo fide; Orchid Species of Peru Zelenko Bermudez 2009 photo fide; Orquideologia Vol 27 #1 2010 as dontoglossum ramosissimum photo fide; AOS Bulletin Vol 79 #12 2010 photo fide; Flora of Ecuador No 87 225[3] Orchidaceae Dodson & Luer 2010 drawing/photo not = C sodiroi; Orquideas Del Valle De Aburra Medellin Colombia COS 2014 photo fide; Orchids, A Colombian Treasure Vol 1 Ortiz & Uribe 2014 drawing/photo not = C sodiroi; AOS Bulletin Vol 84 #12 2015 photo fide; AOS Bulletin Vol 89 #11 2020 photo fide; LANKESTERIANA 20(1): 21–29 Dalstrom 2020 photo fide

Cyrtochillum ramossisimum fma. albo-maculatum (Lindl.) Dalström 2001
Photos by © Eric Hunt
Synonyms Odontoglossum ramosissimum var. albomaculatum Bockemühl 1986
References W3 Tropicos, Kew Monocot list , IPNI ; Rudolf Schlechter Die Orchideen Band 1C lieferung 33 - 36 2057 - 2308 Brieger 1997 as Odontoglossum ramosissimum var. albomaculatum; Orchid Digest Vol 64 #1 2000 as Odontoglossum ramosissimum var. albomaculatum drawing fide;
--------------------------------------------------------------------------------------------------------------------------
---------------------------------------------------------------------------------------------------------